LEIGH GRIFFITHS was up early yesterday morning, sending the most important text message of his life and making sure that he got his words perfect. He was backtracking on the strop at Firhill which he knew, having slept on it, put his future at the club he has grown to love, in serious doubt.
If he didn't act quick he realised that he may never kick another ball for Celtic.
Brendan Rodgers was already at Lennxtown, the management team at Celtic are early starters and the Irishman would have wondered who was texting him so early. He might have had a good idea all the same.
"I received a message from Leigh this morning at seven o'clock," Rodgers revealed.
The Celtic manager would have been ready to handle the situation one way or another and if the player's attitude had not improved, significantly, then Rodgers would have been absolutely ruthless. Brendan Rodgers has learnt that in football management, you don't take prisoners.
"He's a really good young guy," Rodgers said of Griffiths. "I've a lot of time for him. He has been out a lot and just wants to show me and the supporters he can be fit and playing.
"Unfortunately for him, it's my job to protect the team and the whole group – not just one player – in order for us to succeed.
"He understands that totally now. He was apologetic but I told him to let it go with the wind. It's gone.
"The nature of the message will always be private. We also spoke in the office and it's all done now. Our relationship is strong.
"Outside of football you'd have had a clip round the ear," said Rodgers.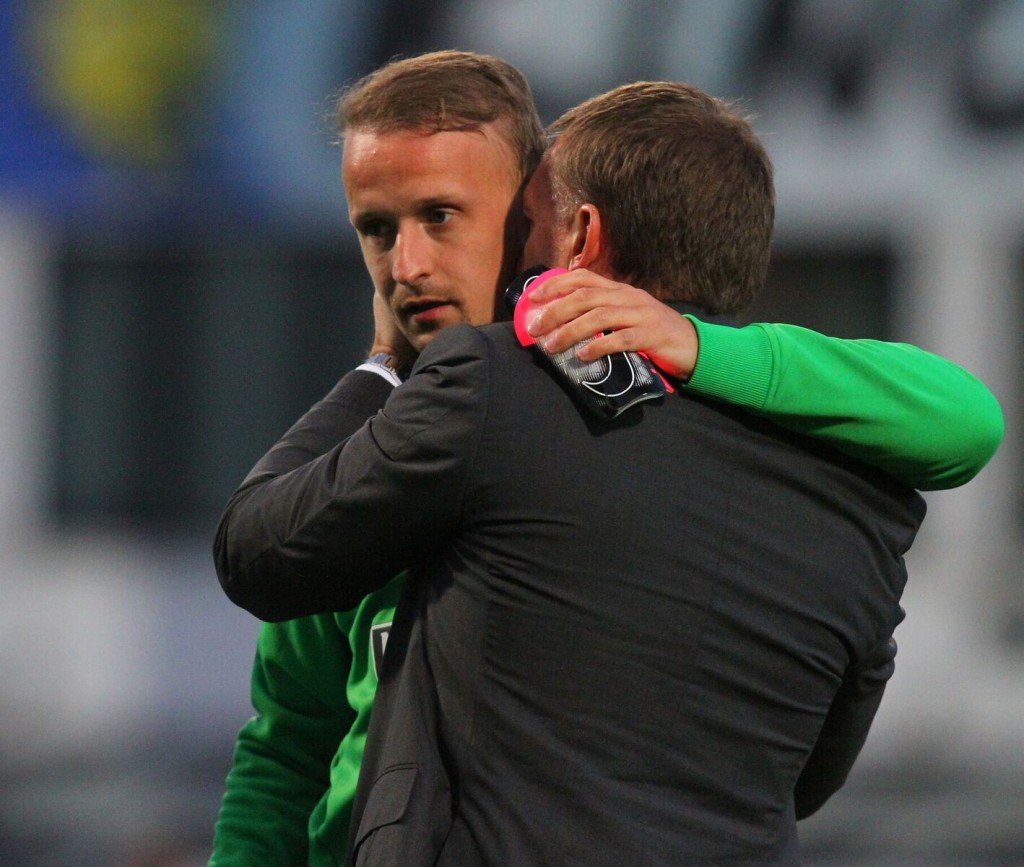 "You can't do things like that today, of course. But my point is you still have to tell people right from wrong and hopefully you get the right behaviours then.Whether they accept it is up to them."
Rodgers did Griffiths a big favour by heading over to the player as the team applauded the away support at Firhill. He had a word in Griffiths' ear, gave him a cuddle and even a wee kiss on the cheek, but all this was doing was telling the player – you know what you have to do to sort this. Rodgers enjoyed a week laugh about the kiss.
"I'm sure it's not the first one he's had," he joked.
And he made it clear that provided there is no repeat, Griffiths will remain in the team and will have a future at the club.
"Will he be dropped? No, not at all," Rodgers confirmed.
"He knows there's a line and if I thought there was something more sinister than that I'd cut it straight away.
"This is about a unified group. Whatever you feel you keep it inside the changing room.
"However, I also have empathy. If I was sat in his shoes or in his little head I'd be thinking, 'Maybe I didn't play and I'm trying to show my manager something.'
"Make no bones about it, he's very much part of what we are doing here.
He's a wonderfully talented boy and for me it's about helping him mature.
This about having to accept these kind of scenarios because you can't play every minute of every game.
"The idea was to give him a rest knowing that he will start at the weekend and get some game time in and be totally ready for the game against Aberdeen."
 That too gives a good indication that Moussa Dembele, if he passes a fitness test next Friday, will start on the bench with Griffiths leading the Treble charge at Hampden.
Get your Jock Stein Lisbon 1967 t-shirt to wear at the Scottish Cup Final, while stocks last. Order now at
www.cqnbookstore.com 
Click Here for Comments >