CALLUM McGREGOR likes playing at Hampden. No wonder.
After a two or three mishaps under Ronny Deila, usually referee related it has to be said,  the msm was full of stories about Celtic's abysmal record at the national stadium.
Yet Brendan Rodgers took the troops their four times last season and won them all beating Sevco Rangers in two semi-finals and Aberdeen in two finals on the way to winning the treble.
Callum McGregor played a starring role in these matches, the highlight being him scoring a memorable goal in the Scottish Cup semi final in April.
Calmac was at Hampden yesterday for the press conference ahead of tomorrow's semi-final against Hibs. The Easter Road side incidentally are still selling tickets for the match, after being given a 50% allocation for the semi-final. This mirrors the situation with Aberdeen last season and we spoke about the need to look at holding back tickets so that any unsold ones in suitable areas of the ground could be transferred over to Celtic if the opposing team can't shift their 50% allocation.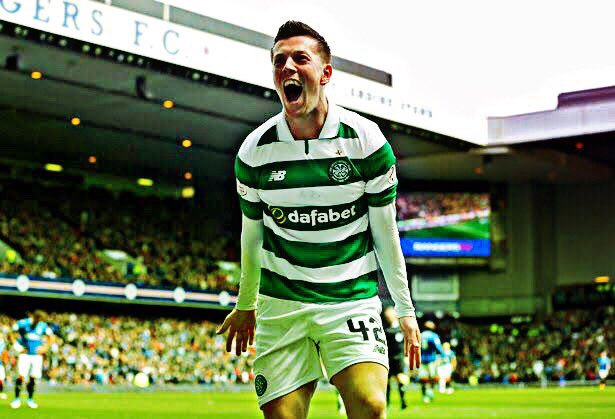 Anyway back to what Calmac had to say.
"It never gets old, coming here," he said looking around the National Stadium.
"And when you play somewhere and have good memories, I think it always gives you that extra little bit of confidence. You think 'I can score goals here' or win things here. It gives you a nice feeling going into the game.
"The first time I ever played here, was a Youth Cup final against Rangers I think, we won 2-1 in extra time. Then we played Queen of the South the following year and won 7-0. I scored a hat-trick that night, and Dylan McGeouch [now of Hibs]got two then got taken off. He was raging because he was wanting a hat-trick too!
"But there have been a few good memories – starting against (Sevco)Rangers and scoring is probably the best. Then there was the Scottish Cup Final against Aberdeen, doing the Treble. And when you play somewhere and have good memories, I think it always gives you that extra little bit of confidence. You think 'I can score goals here' or win things here. It gives you a nice feeling going into the game."
Calmac admitted that the pride the players have in their long unbeaten run in domestic football under Brendan Rodgers is not something they plan to give up anytime soon. That's part of the motivation to beat Hibs tomorrow and get to another final.
"It's a great unbeaten record and we want to see how far we can go," Calmac said.
"We don't know when we're beaten and we've scored late goals to which boosts confidence to boost the run. You look at the game we played against Hibs recently when they went 2-1 up with 13 minutes to go and pretty much everyone looked at each other in the stadium and thought this could be the one.
"But we got back in the game and scored and might even have had a penalty as well."
McGregor admitted that the preference for Celtic to play on the Sunday rather than be first up at Hampden for the Saturday lunchtime kick-off is not ideal. The starting 11 against Bayern Munich put in a real shift, chasing after World Cup winners and their world class colleagues. Yesterday we spoke to Lisbon Lion Jim Craig and he observed that perhaps only the Lions in their prime of all the Celtic sides he has seen would have been able to have coped with Bayern Munich on Wednesday.
"That would have been some game," he observed.
"The timing of the game is not ideal but everybody will rest today and tomorrow. It's a big game and adrenalin will play a big part as well, and the boys are fit anyway. It's obviously not ideal but we will be ready for the game,"  Calmac said.
"It would have been nice if we could have played the Sunday, had that extra day.
"It takes its toll, flights there and back, the mental preparation for the game. But you are a professional footballer, so you have to be able to play two or three games a week and be OK. And the adrenaline gets you through, especially in semi-finals and finals at Hampden.
"We'll be ready," Calmac stated.
"I'm sure the manager and the coaching staff will get our team ready and prepare properly, and when we step out there on Saturday, everybody will know what their job is and how they have to perform.
"When you have played and scored in a stadium, you get a good feeling the next time you go there, that you can do it at that level and you can play there and score goals. It's certainly a nice feeling for me going into the game knowing I can do it at that level.
"As a player you want to play in as many big games as you can. I have said it before, we have a big squad, with good quality and I will be champing at the bit to try and play on Saturday.
"It's a massive game. Any semi-final and any game and semi-final for Celtic is a big game. We know what pressure we are under to perform and get a result and we know what Hibs did when they came to Celtic Park. They put in a great performance and they will make it difficult for us as well but we need to make sure we are ready for that challenge.
"They are a good side. We knew that going into that game anyway. They caused us problems and, looking at the game, it could have gone either way, so we need to guard against that and prepare properly for it."
"It was two different systems going up against each other and it was an interesting battle on the day so we need to be ready and prepared for that."
Calmac, an unused sub on Wednesday, reflected on the 3-0 defeat to Bayern Munich, and like his manager, he saw some positives.
"When you go away to a top team you are going to suffer a wee bit without the ball, but there were definitely spells in the game where you could see we are getting better at this level and starting to implement our game-plan into these big games and these big arenas," he stated.
"The manager has a certain way of playing and the players believe in that as well.
"You see the success we have had since he came in terms of doing the treble and going unbeaten and I think we are getting better in the European competitions when we play that way.
"He has a clear structure in the way he wants to play, and the players agree with that 100 per cent and they believe in it, so I think we will keep playing in the same way."
McGregor is likely to start tomorrow alongside the three subs from Wednesday, Tom Rogic, James Forrest and Moussa Dembele. This will certain help add 'fresh legs' to the team.
Celtic also have to travel to Pittodrie on Wednesday to play a top of the league clash against an Aberdeen side that will have had almost two weeks rest since their last match.
——————
OUR SECOND CQN PODCAST this week, featuring interviews with ex-Celts Alan Stubbs and Chris Sutton, previewing the big games this week against Bayern Munich and Hibs at Hampden on Saturday.
Stubbs gives an insight into Liam Henderson as a player and talks about where his career should go from here.
Speaking on behalf of BT Sport, Alan Stubbs also spoke about his regret at leaving Hibs, and looks ahead to the League Cup semi-final between two of his former clubs.
Click Here for Comments >