ERIK SVIATCHENKO scored his first goal of the season with his long-range effort in the 2-0 win over Ross County at Parkhead on Wednesday night.
But the Danish international defender won't be bothered if he doesn't repeat the feat at Ibrox tomorrow afternoon – just so long as Celtic emerge victorious for the third time against Mark Warburton's side.
Sviatchenko explained his rarity against the Highlanders: "I just thought: 'Why not try for once?'
"I had the ball and came across the halfway line. It was a fairly long distance out, but what a strike!
"It's about opportunities when they are there and it was there. It was a combination of skill and a bit of luck, so I was happy. It was good. As long as we score on Saturday, I'll be happy. If it's me that's fine, but it can be whoever from the team."
Brendan Rodgers' side have enjoyed success in the two previous derby meetings with Sevco Rangers this season – a 5-1 victory in the league clash at Parkhead and a 1-0 win in the Betfred League Cup semi-final at Hampden.
Sviatchenko understands the Hogmanay confrontation it will be a difficult game in a tough environment. He also believes it's one in which he and his team-mates can thrive.
He added: "When you win games, you want to continue winning and we'll still be doing our best to go into the game and perform at the highest level we can.
"It will be my first time at Ibrox and I've heard the atmosphere can be a bit tense, but I'm looking forward to it.
"We'll do our best to be where we have been these past couple of months, when we've been really good.
"But you always talk about gaps and you also know that one game can change that perception of it, so it's most important just to be respectful and say that we're doing our job and Rangers (sic) are doing their job.
"If, at the moment, we are number one, that means something and we'll do our best to keep that. We're doing really well and we need to focus on ourselves."
Bertie Auld signed a second batch of copies of the authentic Lisbon Lions book That Season in Paradise – Ten Months of Celtic Heaven for CQN just before Christmas.
If you would like one of these signed copies please order at www.cqnbookstore.com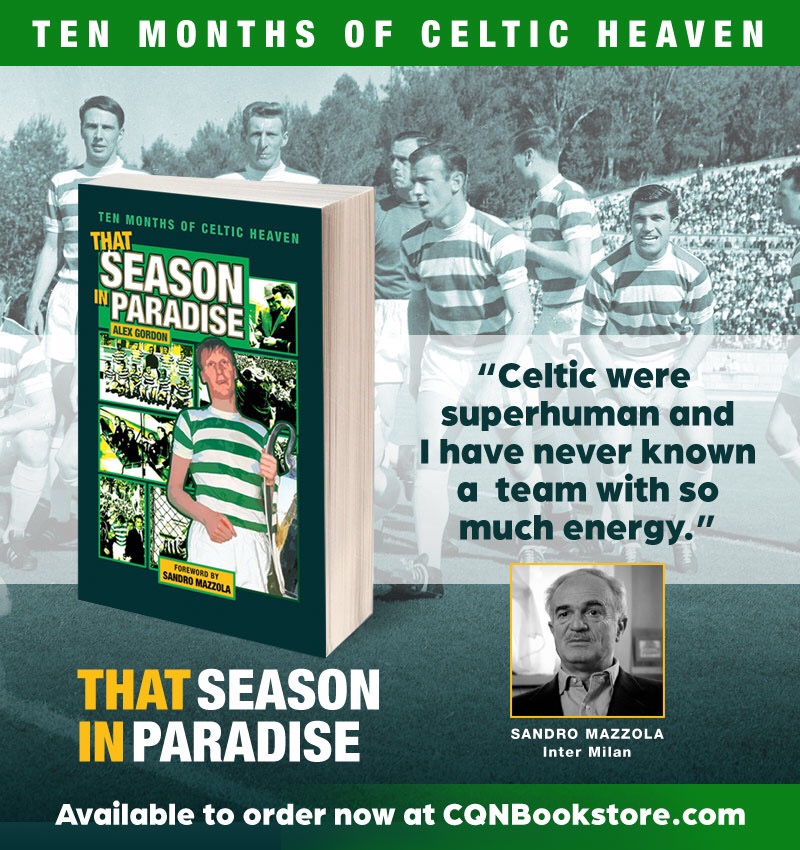 Click Here for Comments >