LEIGH GRIFFITHS is on the brink of becoming the first Celtic player to score 40 goals in a season since Henrik Larsson.
The Scotland striker has four games left to add to his 38-goal haul to emulate the achievement of the Swedish legend 12 years ago.
Even departing coach Ronny Deila has admitted the form of the prolific hitman has taken him aback during an eventful campaign.
The Norwegian said: "In some ways, yeah, Leigh has surprised me.
"I have so much respect for him and for what he has achieved this season. I would love to see him score 40 goals because it is such a tremendous milestone.
"What he has done this season has been phenomenal.
"He took everything on board that we asked him to. He listened, he worked hard and he has got a reward.
"The thing with Leigh – and with Kieran Tierney, too – is that they wanted to get better.
"On Sunday, he scored with his right-foot – bang, right into the top corner – and that is not luck. That is his weaker foot.
"That takes practice, practice, practice. He wants it. He will still want it next season – and he will keep delivering, if he keeps working.
"He is a great person, a good character in the dressing room and I have a lot of admiration for what he has achieved this season.
"Leigh will continue with it, I am sure of that."
Deila, preparing the team for the visit to Tynecastle to face Hearts on Saturday and a possible title victory, added: "It is not easy when there is so much anger around the club. I understand it. I know why it is there.
"But the end is in sight and my job now is to keep the focus of my players on winning the league.
"I have not been here for a long time, only two years, but I think I am right to say that it is a long time since this club won the title for five times in a row. It has to be what we are thinking about.
"I want this week to be quieter, calmer. Our energy has to go on the training ground, not on things going on around the club.
"We want to win our last games and we want to win well,but our energy has been elsewhere.
"Now we need to regroup. We owe it to ourselves as a team and as a club and we owe it to the fans to lift the performance.
"It has not been good enough."
—————————————————
CHARLIE GALLAGHER? WHAT A PLAYER! is published this week by CQN – order your SIGNED copy
HERE
or click on the image below.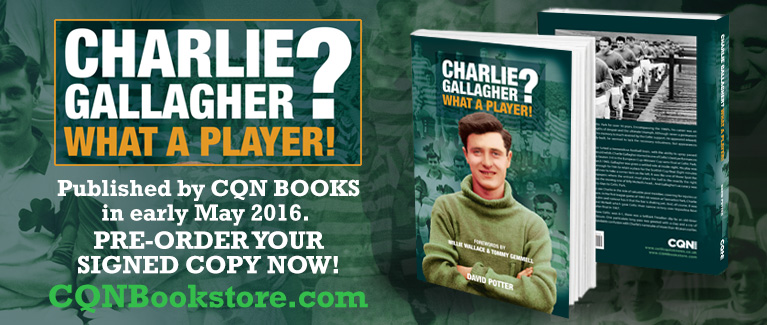 Click Here for Comments >