LEIGH GRIFFITHS admits he let himself and everyone else down by returning overweight for pre-season training.
Neil Lennon immediately axed the 30-year-old striker from his squad for the three-game trip to France and it has been an uphill struggle for the Scotland international ever since to cement a regular first-team place.
But the frontman, who has thumped in 121 goals for the club in almost seven years, insisted he has got himself back in shape and is ready to play his part in the battle for a historic tenth successive title.
And that will continue with the rearranged Premiership fixture against his boyhood favourites Hibs at Parkhead tonight.
Asked about the difference in his fitness, Griffiths, speaking to the Daily Record, answered: "Night and day. I think the manager would say that, too.
HAMPDEN HERO…Leigh Griffiths celebrates his Cup Final strike against Hearts last month.
"It was just about getting a consistent run of games.
"I let myself down. I let everybody down. But I'm trying to repay them bit by bit by helping the team, scoring goals and getting the team points.
"I had to take a long hard look at myself because I was a disgrace when I came back. Well, when I say a disgrace, I wasn't because when I left in March and came back I was only 2.5kg over what I was before, but I wasn't as fit as I should have been.
"That's down to me and my professionalism. I've been slaughtered for that publicly and in-house.
"I took it on the chin, went away and worked extremely hard. Then I had a couple of injuries.
"But now you've seen since I came back that I've played well, tried to link up with Odsonne Edouard as much as I could and we're winning games, albeit the Rangers match was a bit disappointing.
"But before that we were playing well and winning games comfortably."
Griffiths, who was signed by Lennon from Wolves for £1.2million, has claimed three goals – including the crucial third counter against Hearts in last month's delayed Scottish Cup Final – in the past five games is convinced he has the answers to his detractors.
He added: "I've been criticised for a number of months now by ex-players and managers who want to give their tuppence worth.
"But they weren't saying that when I was playing and scoring for them.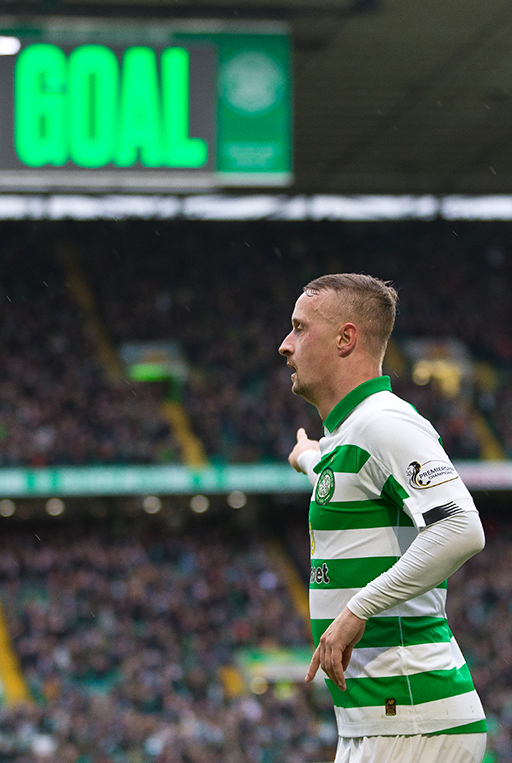 SIGN OF THE TIMES…Leigh Grfiiths on his way to a hat-trick against St Mirren last March.
"I think a few ex-players are jealous of what I've achieved at Celtic so far, but I've still got a lot of business to be done and a lot of goals to contribute.
"When I first signed, people were questioning if I could cope, could I step up to the plate and score at certain levels?
"I keep proving people wrong. Most importantly, I need to keep proving to myself I'm still available and willing to do the hard work. I'm still getting selected and can play at the top level.
"I'm not going to get carried away. I've still got a lot of work to do to make sure I'm in the manager's plans.
"But long-term, that's where you want to be – at a club like Celtic for eight, nine, 10 years, getting talked about in terms of testimonials.
"It would be great, but I've got a lot of hard work in front of me. I didn't think it was curtains because I knew that if I knuckled down and got myself back to where I was in January, February then I would be okay.
"I think 150 goals is very doable. If I stay injury free, I'll get chances."
* DON'T miss the unbeatable match report from Celtic v Hibs this evening – only in your champion CQN.
Click Here for Comments >