BOBBY MURDOCH went through all sorts of agonies as Celtic gatecrashed the European big-time in Lisbon.
The painful experience was highlighted in author Alex Gordon's tribute book, 'The Lisbon Lions: The 40th Anniversary Celebration', which was published in 2007.
The club legend, who would have been 79 today, was a thoughtful midfielder with a delightful touch as well as possessing a shot of sledgehammer proportions.
However, he was hindered on that memorable day in the Portuguese capital following a stamp on his right foot by a desperate Inter Milan defender early in the game.
The midfielder would later say: "The pain shot right through me. It was probably an accident, but it was a dull one. If there had been outfield substitutes available back then, I might have had to go off. As it was, though, we only had substitute goalkeeper John Fallon on the bench that day.
"Big Jock told me: 'Run it off, Bobby, you'll be fine.' As the game progressed towards half-time, I looked down and my right ankle seemed to be twice the size it was at the kick-off.
BY THE LEFT…Bobby Murdoch thunders in a vicious shot at the Inter Milan goal.
"People must have wondered why I was favouring my left foot that day. Fortunately, I was two-footed, but my right was undoubtedly the stronger of the two. I even managed to get a couple of left-footed shots on target that day, but both were saved."
Murdoch's midfield ally Bertie Auld remembered: "I saw Bobby grimace at one point and I asked him what was the matter. He pointed to his right foot and I could clearly see that his ankle was beginning to swell up. I said: 'I don't like the look of that, Bobby.'
"'I'm no' too chuffed myself, Bertie,' came the reply.
"What a performance he put in that day on one foot. The Italians got lucky – could you even start to imagine what he would have done to them if he could have used both feet!"
Jim Craig backs up the story: "The fans will always remember that I was the guy who pulled the ball back for Tommy Gemmell to thump in our equaliser. However, I had an even better run and cross before that and this time picked out Bobby. I had seen him leather those sort of balls past the keeper before they had a chance to move.
"On this occasion, though, he allowed the ball to run across him onto his left foot. That gave an Inter Milan defender the opportunity to get at him and, in that split-second, the chance was gone.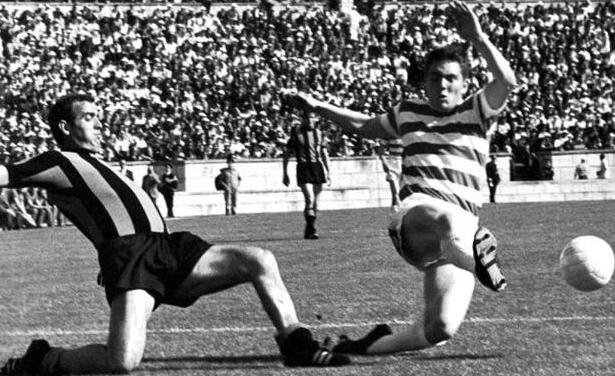 JUST IN TIME…Bobby Murdoch cuts out a cross with Mario Corso menacing.
"That was most unlike Bobby, but it does illustrate how uncomfortable he was with his right foot. His display against the Italians was as brave as any I have ever witnessed. Thankfully, he and the rest of us got our reward at the end."
Billy McNeill recalled: "As Bobby said at the time, we didn't have a substitute to cover for him if he had gone off. Listen, there was no way Bobby was going off that day. No chance. He would have played on with his leg hanging off if need be!"
On May 25, 1967 Bobby Murdoch realised a dream. He strode the immaculate surface of the Estadio Nacional in Lisbon with a grace and guile that bewildered Inter Milan.
He was in the thick of everything. Adding his powerful frame to defensive duties, making himself available for passes from the defence, patrolling the middle of the park with Bertie Auld, spraying the ball around with gravity-defying accuracy and plunging into attack to bombard the overworked Sarti in the Italians' goal.
All with one good foot!
DENIED…Bobby Murdoch watches Inter keeper Giuliano Sarti make a fabulous one-handed save from his close-range header.
It was a truly glorious performance from the masterful Murdoch. Inter Milan, doyens of their defensive craft, had no answer to the gifted linkman. Inevitably, he was involved in both goals that brought the European Cup to Celtic Park. No surprise, really.
Murdoch, never gifted with electrifying pace, was playing in the old inside-right position when Stein arrived in 1965. His ability to hit devastating, defence-shredding passes wasn't being utilised as much as might have been.
His talent for hitting screaming shots at goal wasn't being seen at its best, either, as he often played in packed penalty areas as support to the centre-forward, usually Stevie Chalmers or John Hughes.
AGONY AND ECSTASY…an emotional Bobby Murdoch is led off the Lisbon pitch by Bob Rooney and the Celtic fans.
Stein, much against the wishes of the-then chairman, Sir Robert Kelly, had the courage of his own convictions to push Murdoch back into a deeper midfield role.
"He is not a wing-half," said Kelly.
"You will soon see that he is," countered Stein.
The move clicked from day one as Murdoch went onto become one of the greatest-ever Celts and a genuine world class player.
Alas, this wonderful personality was taken from us far too early at the age of 56 on May 15 2001. However, he left each and everyone of us with so many joyous moments to savour and behold.
But if you ever want to witness a midfield player in his absolute prime and doing everything with breathtaking precision, just look again at the European Cup Final of 1967.
Bobby Murdoch, with one good foot, was on the greatest platform in football and, to everyone's delight, this wonderful and self-deprecating character played a pivotal role in the club's most famous triumph.
Click Here for Comments >