KIERAN TIERNEY has made a spectacular impact since being introduced to the Celtic first team on a consistent basis after taking over the left-back slot from Emilio Izaguirre this season.
However, the 18-year-old defender, who made his full Scotland debut in the 1-0 win over Denmark last month, has admitted he still needs to improve and has got a ling way to go before he can consider himself a regular at the Hoops. The photograph above shows Kieran starring for Celtic Development squad before breaking into the first team, where his performances and Leigh Griffiths' goals have been the only highlights.
He said: "I am obviously not the biggest and it is always at the back of your mind that someone might decide that you are too small, too slight to make it.
"For me, I always tried to over-compensate with working hard on the technical side of my game.
"Obviously, you can't do anything about your height, but it meant that I always listened and worked on my awareness and technical aspects of the game.
"I don't think I ever took it for granted that I would make it all the way into the first team. I am still like that. I just want to learn and get better. It has been an amazing season for me, but I do think there are loads that I can still improve on.
"I know what I will be working on – my heading, my weaker foot, my positioning, how to get better going forward. These are the main things for me just now.
"I don't want it to be the case that I have one good season and then fall out of the team. I want to be here to stay and at a club like Celtic there is always going to be competition, so you need to prove yourself all the time.
"I do feel as though I have developed and learned so much just from playing first team football. The step up from Under-20s is big, but I have taken on board so much and I definitely feel so much fitter and stronger than I did a year ago.
"It is just crazy how much has gone on this year. I wouldn't ever have been able to imagine it going as well as it has.
"But I do think that I owe so much to Ronny Deila. I have said it before that he believed in me and gave me my chance and I honestly don't think I would be at this stage now without him.
"He isn't the only one. The senior lads have all been brilliant and have given me plenty of advice, either during games or at Lennoxtown when we have been training."
Tierney added: "Leigh Griffiths has scored an amazing amount of goals, but he has been good at taking time to explain where he wants the ball and stuff and that has helped me when I have been going forward.
"I am delighted for him because he is getting a lot of praise now and he deserves it. People don't realise how hard he trains or how much he works at it.
"He deserves to win the PFA Scotland Player of the Year award because he has been outstanding for us this season."
Tierney is also in the running for the Young Player of the Year and both Celts are likely to be honoured on Sunday by their fellow-professionals.
—————————-
CHARLIE GALLAGHER? WHAT A PLAYER! is published this week by CQN Books. Written by Celtic historian David Potter and with forewords from both Willie Wallace and Charlie Gallagher, this tells the story of one of the most talented footballers ever to have played in the Hoops. Charlie will be remembered for his key contributions in getting Celtic to Lisbon and European glory.
Order your SIGNED copy
HERE
or click on the image below. With Father's Day coming up, it will make a PERFECT gift.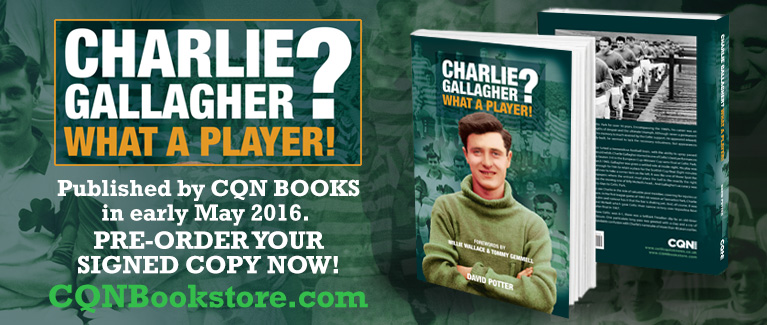 Click Here for Comments >