AS Ange Postecoglou prepares his Celtic players for this afternoon's Viaplay League Cup Final against Michael Beale's side, we can only hope we are discussing the actual football at the conclusion of the silverware showdown.
VAR has made far too many controversial intrusions on the Hoops since it was introduced to the champions in the 4-3 win over Hearts at Tynecastle on October 22.
The controversial refereeing decisions from that encounter and subsequent games have been well chronicled by CQN over the past four months – and it's our fervent wish we don't have to mention new technology interruptions after the Hampden showpiece.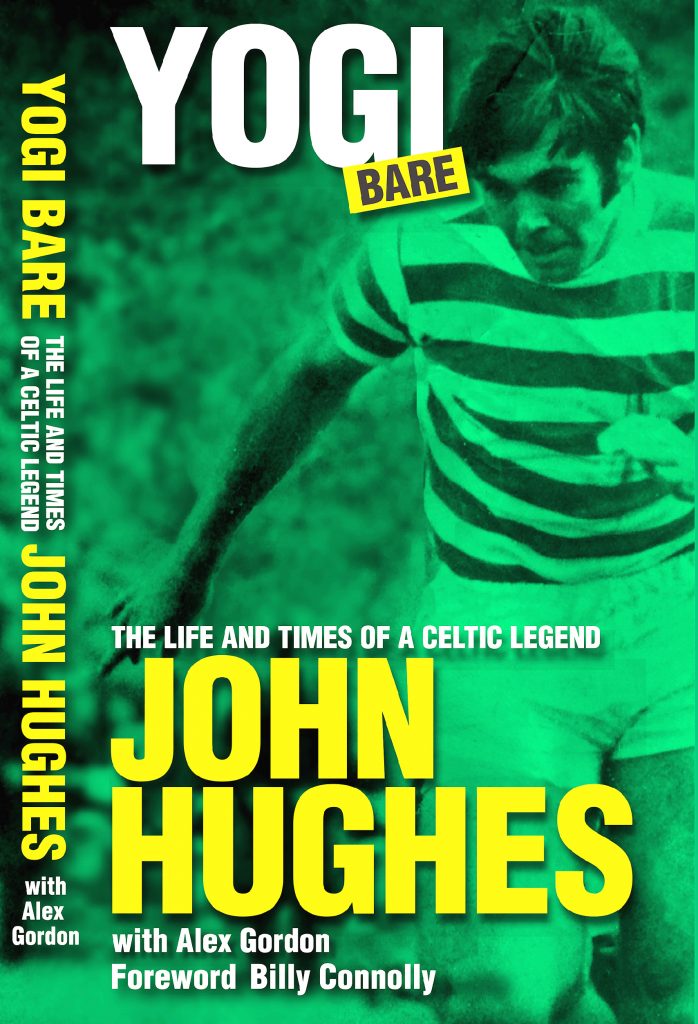 However, club legend John 'Yogi' Hughes, who sadly passed away in August last year at the age of 79, would have been grateful VAR had not even been thought of following an incident-laden powderkeg meeting with Rangers back on August 20 1969.
The fans' favourite, the club's eighth-highest scorer with 189 goals, revealed all in his autobiography, 'Yogi Bare: The Life and Times of a Celtic Legend', written in conjuction with author and friend Alex Gordon.
In another CQN EXCLUSIVE, we publish an extract from the memoirs of a genuine Celtic icon who thrived on the challenges of such demanding fixtures.
Please enjoy.
I SHOULD have seen red against Rangers in a particularly bruising League Cup-tie at Celtic Park in 1969. My crime? Well, the newspapers described it as 'an ugly incident'.
I hold my hands up all these years later and readily admit I should have been banished and, if that had been the case, I accept I couldn't have offered a valid argument. I was guilty and I knew it. I was prepared to accept the consequences which, of course, would have included facing the full wrath of a furious Jock Stein. And that, trust me, was never a pleasant experience.
BEAR IN THE AIR…John Hughes puts aerial pressure on Rangers keeper Gerry Neef and skipper John Greig. 
That inevitable repercussion never even entered my thoughts that fateful evening in the midst of a typically explosive and aggressive Old Firm encounter. Tackles were flying in all over the place, elbows were working overtime and all sorts of threats were being issued. It was all part and parcel of a Glasgow derby and, of course, I had been through it all before.
On this occasion, though, I blew a gasket. I'm ashamed to admit it, but I reacted violently to a crude insult from Rangers forward Willie Johnston, a feisty wee character at the best of times.
Johnston picked the wrong moment to verbally abuse me at the height of the battle. As I recall, we were winning 1-0 through a rare headed goal from Tommy Gemmell and our oldest foes were desperately trying to get back into the game. I was tracking back as they mounted another attack and I was aware of Johnston's presence close by.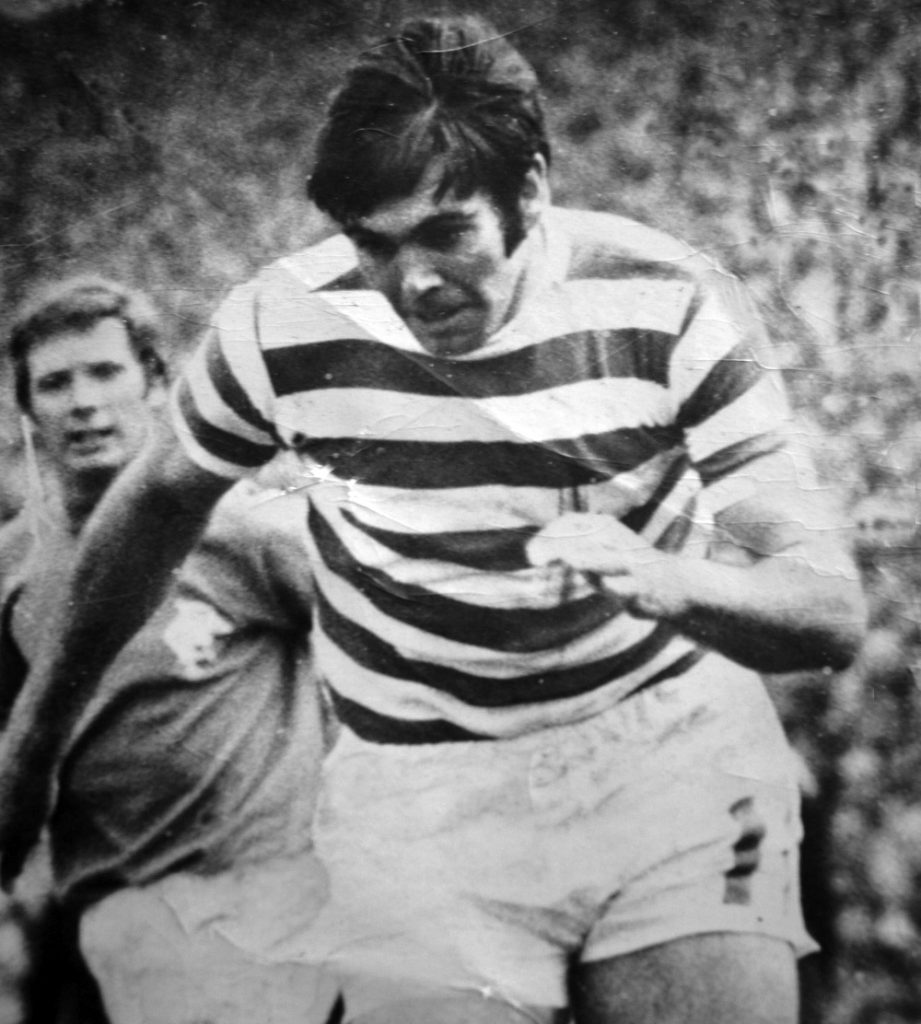 FULL THROTTLE…John Hughes races away from Rangers' Alex MacDonald.
Now, I had been booked in the first-half and I fully realised that another caution would see me sent packing. So, I was on my best behaviour until Johnston let fly with a hardly-articulated vocal slur.
It went along the lines of 'You big —— bastard' – I'll let your imagination fill in the missing word – and the red mist descended. Maybe the Rangers winger had just got caught up in the heat of the battle and sanity can often depart the scene in those circumstances.
I'm sorry for what happened next, but I couldn't help myself. I accept what I did was inexcusable. We confronted each other and I don't know if Johnston thought I was some sort of coward, but he had this smirk on his face that drove commonsense out of the equation.
I pulled up my right knee and connected with a very delicate part of his anatomy. If it had landed with more accuracy he might have been walking and talking funny for the rest of his life. Unsurprisingly, he went down as though he had been shot.
NUMBER ONE…John Hughes sends Rangers keeper Billy Ritchie the wrong way from the penalty spot to open the scoring in the 1965 League Cup Final.
The referee, Jim Callaghan, had his back to the incident, but the linesman on the Jungle side saw everything. He waved his flag furiously to attract the attention of the match official, who was blissfully unaware of what had just happened outwith his view.
Sure enough, Callaghan detected his assistant's flag, stopped play and went over for a confab. I stood there for a moment and thought to myself, 'What the hell have I done?' Then I turned away to start the long walk back to the dressing room. I believed it was inevitable that I would be sent off. It didn't matter that I had been cautioned earlier because I knew what I had done merited a straight expulsion from the field of play.
Listen, anyone who knows me will tell you I am no thug. As is often the case, the sinned-against are punished when they get a bit tired of continually turning the other cheek. That's what happened that particular evening. Anyway, as I headed for the tunnel, I was amazed when I was called back by the referee. I was even more astonished when I realised he wasn't about to tell me to get packing.
NUMBER TWO…John Hughes fires another spot-kick beyond the sprawling Billy Ritchie to make sure of silverware success at Hampden in 1965.
I've been asked about this incident countless times and people have queried why I wasn't ordered off. To this day I can only give the same answer. 'I don't know.' I have been told Jim Callaghan might have heard Johnston's unacceptable remark and taken a lenient approach. Maybe he reacted sympathetically to the vulgar and offensive comment.
I haven't a clue. What I do know is that he restarted the game with a free-kick to Rangers and I was let off with a stern warning. I sighed with relief, but, as you might expect, the Rangers hierarchy went potty afterwards, especially as we held onto our one-goal advantage and eventually qualified from the section – we had lost 2-1 at Ibrox in the earlier match – by one point.
Rubbing salt into the Ibrox wounds, we went on to lift the League Cup by beating St.Johnstone 1-0 in the Final with a second-minute goal from Bertie Auld as I added to my medal collection.
HEADS I WIN…Tommy Gemmell dives full length to nod the ball past a stranded Rangers keeper Gerry Neef to give Celtic a 1-0 League Cup victory in August 1969.
That wasn't the end of the situation, sadly. Rangers sent an official letter of complaint to the Scottish Football Association and the Scottish League. We all knew the Scottish football bosses were notoriously slow in reacting to any sort of objection from one of their member clubs. Not in this case, though.
The game took place on August 20 and inside a month Jim Callaghan had been suspended for eight weeks. It was remarkably swift action from the SFA and League supremos. Indecent haste, you may even observe.
Let's make this clear. Jim Callaghan was a first-rate referee and had even been in charge of the Scottish Cup Final the previous season when, coincidentally, Celtic thumped Rangers 4-0.
Not even the Ibrox side could grumble after that one-sided affair that saw us three goals ahead by the interval. Jim Callaghan was also on the FIFA referees' list and was a well-respected international match official.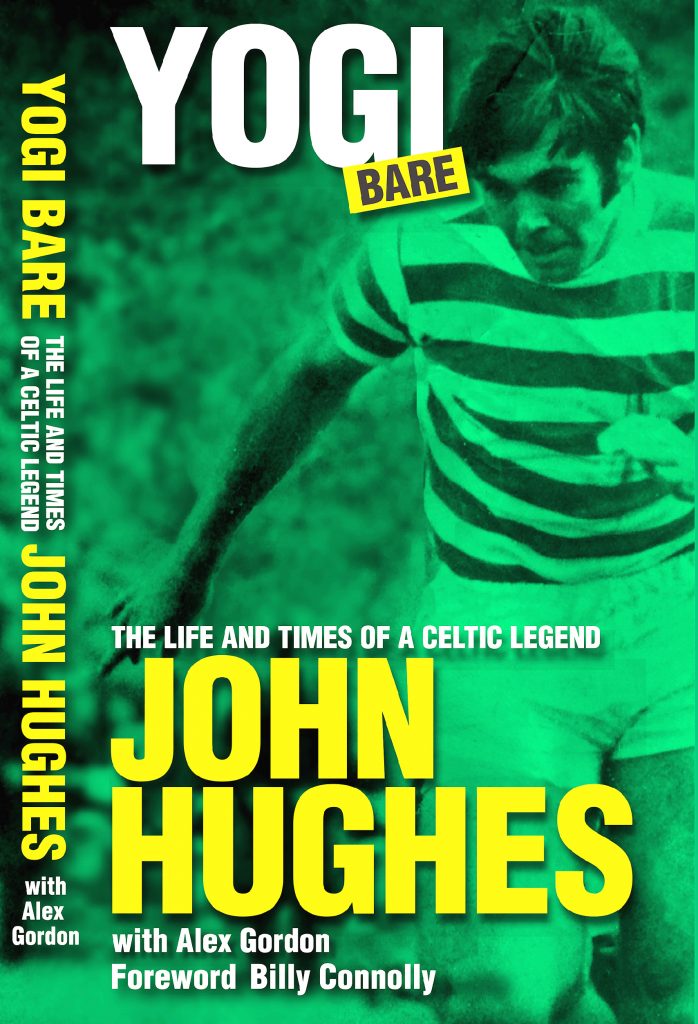 However, the SFA slapped a two-month suspension on him. They must have been pretty upset that I wasn't removed from proceedings that particular evening. Yes, as I've already admitted, I was culpable and should have been expelled from the field of play. I could never argue with that.
But that ban on the referee was ridiculously harsh and only served to demonstrate the influence Rangers yielded over Scottish football at the time. Read into that what you will.
* DON'T miss the unbeatable match report and best action images from Celtic v Rangers this afternoon – only in your champion CQN.
Click Here for Comments >