KIERAN TIERNEY, Scotland's Young Player of the Year, admits he just loves playing in Paradise – and it's his aim to become a Celtic legend.
The 18-year-old defender has made the left-back position his own after taking over from Hunduran international Emilio Izaguirre this season.
Tierney said: "Celtic are my dream club. I have been here for 11 years and I am playing first-team football for the club I grew up supporting.
"I'm enjoying every minute of it. I tend not to look at stories about me too much, although sometimes you cannot avoid it. I've been linked with big clubs, but it's just Celtic for me.
"Like I say, it's the dream. I've probably used the word dream a lot this season, but it really is for me to be playing in the first team at Celtic.
"I need to realise how lucky I am to be in this position and I try my best every day to be so grateful for it. When you are a wee guy, you want to grow up and become a Celtic legend.
"Obviously, I am miles off that just now because my career has only just started. I just hope I can keep on playing for Celtic. That's all I want.
"I used to love going to the games as a ball boy. You would go to the ground really early and hit some shots, then give the players the ball back when they hit their shots during the warm-up.
"So, I know exactly how the current boys will be feeling and their dream will be the same as mine was, to go on and play for the first team.
"And if you saw me at Tynecastle, you would have noticed that I didn't want to come off the pitch. I honestly didn't want the celebrations to end.
"Obviously, it was such an amazing occasion for me and I was really passionate about it – that's why I was celebrating with the fans.
"It was a dream come true, but the other reason I stayed on the park so long was that I was searching for my family!
"I knew they were in the ground somewhere but I couldn't catch their eye because I didn't know which seats they were in.
"Naturally, I didn't want to go back to the dressing room without seeing them, but I had to. I couldn't spot them. It turned out that they were up the back of the stand, which is why I missed them."
———————————————
CHARLIE GALLAGHER? WHAY A PLAYER! is out now on CQN Books. Order your signed copy
HERE
or click on the image below.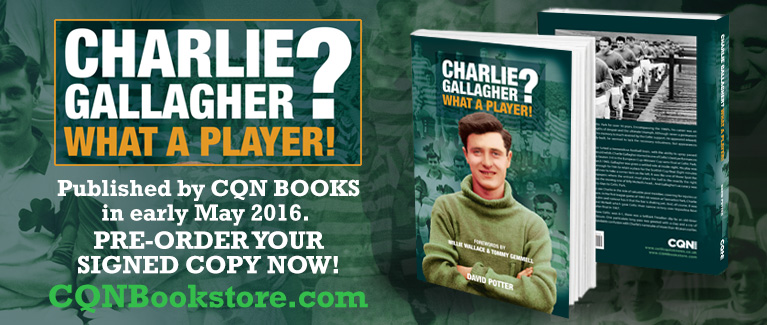 Click Here for Comments >