CELTIC made history when they won the title at Ibrox in 1967 after a fascinating rollercoaster of an epic encounter in treacherous conditions.
Author Alex Gordon opens the files once more to relate the tale in an edited extract from his book, 'That Season In Paradise,' which was published by CQN in 2016.
Please enjoy…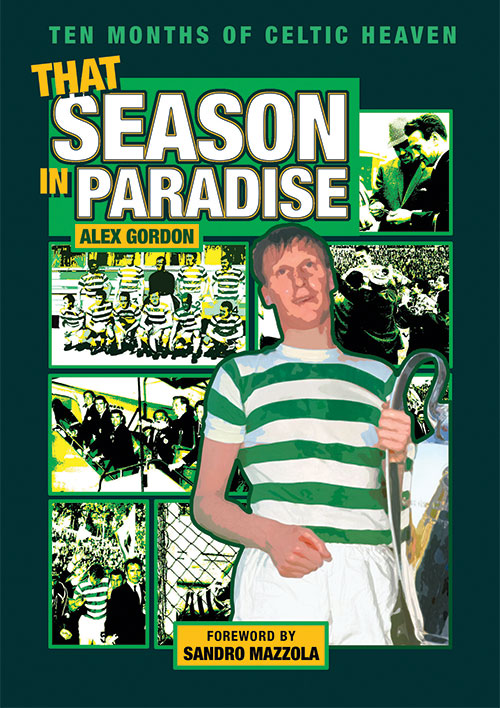 ON A STORM-LASHED Saturday afternoon of May 6 1967 at Ibrox Stadium, Celtic set out to make history by lifting their second successive championship at the ground of their greatest rivals.
The bloated grey skies over Glasgow had burst from early morning and the torrential rain poured down vigorously, practically in rivulets, creating havoc with the electrics throughout the city and bringing the underground to a virtual standstill.
Even the attendance was shy of the 90,000 anticipated with 78,000 fans in the stadium in time for kick-off. Various travel services had been severely curtailed during the freakish monsoon conditions.
The Ibrox playing surface very swiftly resembled a quagmire. However, the underfoot swamp failed to prevent the players from both teams from serving up breathtaking entertainment with little Jimmy Johnstone taking top billing in a fascinating 2-2 draw where Celtic were a mere nine minutes away from their first league win in Govan in nine years.
KNOCK ON WOOD…Bobby Lennox slides a shot under Rangers keeper Norrie Marton, but his effort strikes the post. Jimmy Johnstone is poised to pounce.
NUMBER ONE… Jimmy Johnstone is first to react to the rebound and beats right-back Kai Johansen to prod the ball into the net.
Tommy Gemmell recalled: "Jinky was immense that day. What made the achievement even more remarkable was the fact the entire game was played in a downpour. The heavens opened and I'm fairly sure I saw a bloke in a large ark packed with animals floating past at one point!
"Jinky, though, was in his element. He should have disappeared in the mud, but he decided to turn it on. His shirt was drenched and sodden and falling off his shoulders, his boots were just about submerged in the glaur, but nothing was going to deter him taking centre stage. Up against him that afternoon was Davie Provan, who was a tall, rangy guy.
"Inter Milan manager Helenio Herrera was in the stand that day and he must have noted that the Rangers player was being torn apart by Jinky. Inside, outside, through his legs – it didn't matter to the Wee Man. He was in the mood and he was unstoppable. The much-vaunted Hererra was known as The Magician in Italy and I bet he wished he could somehow make the Wee Man disappear.
MUDDY MARVEL…Jimmy Johnstone races away in joy after hitting the equaliser.
"If he had arrived in Glasgow believing Jimmy Johnstone was merely a run-of-the-mill outside-right, then he got on his Milan-bound flight  with different ideas. Jinky capped a wonderful display – easily one of the best I have ever seen by an individual player anywhere – with a soaring left-foot shot into the roof of the net from about twenty-five yards.
"Norrie Martin was in the Rangers goal that afternoon and he took off in determined fashion, but there was no way he was going to prevent that effort from rattling the rigging. By the way, I did say left foot. A lot of folk thought that was the one Jinky used for merely standing on, but, take it from someone who used to get tied in knots attempting to stop him in training, he could use both feet with equal ability."
After his usual careful deliberation before any game, but particularly against Rangers, Jock Stein fielded the same team he would choose to represent Celtic in the dramatically-changed circumstances of Lisbon later that month. He was resolute in his determination to clinch the club's second successive championship at Ibrox.
CONCERNED…Jock Stein is open-mouthed as he he watches the action along with Sean Fallon and Neilly Mochan.
So, the Celtic manager would have been far removed from best pleased when Rangers scored their first goal against Celtic that season after their 4-0 trouncing in the Glasgow Cup, the 2-0 loss in the league at Parkhead and the 1-0 defeat in the League Cup Final at Hampden.
At least, Ronnie Simpson wouldn't be in the direct line of fire from Stein; there was little the veteran could do to repel Sandy Jardine's right-foot twenty-yard thunderbolt as it crashed behind him, abruptly shaking loose a cascade of raindrops from the net at the same time.
The Ibrox players must have thought the strike had presented them with a half-time lead as it arrived in the forty-first minute. However, Celtic, displaying the qualities expected of genuine champions, equalised within sixty seconds.
Bobby Lennox squeezed a low drive away from the sprawling Norrie Martin and then groaned in dismay as the ball collided with the far post. His disappointment dissipated in a heartbeat as Johnstone, lurking with intent and reacting more swiftly than the Rangers defence, plonked the rebound into the net.
JINKY'S WONDER GOAL…Jimmy Johnstone sends an unstoppable effort high pst the diving Norrie Martin.
PICK IT OUT…even the best effort from the flying Norrie Martin can't prevent Jimmy Johnstone putting the Hoops 2-1 ahead.
In the seventy-fourth minute, Celtic's miniature sorcerer conjured up an inspirational virtuoso moment that was immediately seared into the memory banks of anyone fortune enough to witness his generous gift of the extraordinary.
The slight winger, after gliding on to a right-wing throw-in from Stevie Chalmers, somehow dredged himself across the soaking marsh with Rangers defender Davie Provan quite content to pass him inside onto his 'weaker' left foot.
From somewhere within that slight frame, Johnstone found the reserves of strength to take a touch and then heave an utterly unstoppable shell high past Martin into the keeper's top right-hand corner of his net.
NET PROFIT…Jimmy Johnstone races away to be congratulated by his team-mates as spreadeagled keeper Norrie Martin sits this one out.
He was immediately submerged by his delighted team-mates as the home defenders argued among themselves. They had just been in the presence of genius and had no need to attempt to apportion blame. Johnstone, swinging his arms like a happy schoolboy, trotted over to his outside-right berth as Rangers prepared to recentre the ball.
With time running out, Willie Henderson cut inside to drill a low shot across Simpson towards the far corner. The mud-spattered custodian got down to it in a flash, but, unhappily though, he couldn't keep hold of the greasy ball and it squirmed loose into the tracks of Roger Hynd, a muscle-bound wing-half converted to centre-forward for this game, and he couldn't fail to miss from four yards.
Nine minutes later, referee Willie Syme, a match official who would never receive a Christmas card from Jock Stein, blew for time-up. Sportingly, John Greig, the despondent Rangers captain, was the first to congratulate Johnstone with Provan next in line. At least, they realised they had faced an irresistible force that damp day in Govan.
TITLE TRIUMPH…Celtic players come off the Ibrox pitch with their beaten opponents after clinching the crown.
"It was a strange sensation to win the league championship at Ibrox," recalled Gemmell. "Obviously, our supporters were showing their delight and, like Fir Park the previous season, we had been made to make absolutely sure away from our own stadium.
"But I also remember the Rangers fans cheering well after the final whistle. No, they weren't applauding us, but I think they were more than a little relieved they hadn't seen their team turned over again.
"Besides, it was also the Ibrox side's last domestic game of the season before they prepared for their Cup-Winners' Cup Final against Bayern Munich.
"So, we had both sets of Old Firm fans happy at full-time – that had to be a first!"
* TOMORROW: DON'T MISS ANOTHER MEMORABLE IBROX FLASHBACK
Click Here for Comments >