BRENDAN RODGERS has admitted he will be ruthless as he puts his Celtic masterplan together.
The new Hoops boss said: "For me, it is always about the team. That is the most important thing. There is no individual player bigger than the club.
"Take what happened with Steven Caulker and Garry Monk five years ago when I was at Swansea. We had just got promoted to the Premier League, and Garry was my captain, the man who had led us there.
"He had been brilliant for me over the course of a few seasons.
"But I dropped him and put a 19-year-old kid, Steven Caulker, on loan from Spurs, in his place in central defence.
"I made that choice because I knew he could help the team. You take that emotion out of it and you just focus on that one question – will this action help us?
"And, of course, it did. Steven came in and was terrific for us. He went to the Olympics, he played for England and, subsequently, for Liverpool.
"It was tough for Garry, and I knew silence would have been the death sentence in this case. I explained it so he could understand exactly why I was dropping him.
"He still had a very important role as the leader of the group. He was then able to get involved with the other side, which was coaching.
"Since then, of course, he has gone on to be a manager himself, at Swansea and he's now in charge at Leeds United.
"But If the same situation arises here at Celtic, then I will do the same thing again.
"If I feel the 17-year-old is better than the 27-year-old, then it will be the 17-year-old who plays – because it is for the best of the team."
Rodgers admitted the fact he grew up a Celtic fan was a big factor in him heading north to take the manager's job.
He believes potential signing targets who head to Glasgow's East End for a look round will quickly be bitten by the bug He added: "I see Celtic as one of the great institutions in the world.
"We all know the league is different to the one down south and the market is not the same.
"However, the experiences players can get with us, well, there are not many clubs in England who can give them that.
"Which is why there may come a day when these young players we have on loan – the likes of Patrick Roberts – might want to return to us on a permanent basis, which would be great."
ONCE UPON A TIME IN THE KINGDOM OF GOVANIA
Let's all laugh at Rangers, let's all laugh at Sevco…the story of the two Ibrox clubs told brilliantly by CQN poster Mea Culpa and illustrated by Cartuja. This is a fantasy story book for grown-ups and is the funniest thing you will read all year!
Once Upon a Time in the KINGdom of Govania is an Escape Goat Production for Celtic Quick News and Internet Bampots.
Available to order now exclusively from 
www.cqnbookstore.com 
– copies arrive this Friday! If you're going on holiday soon take this to read on the beach…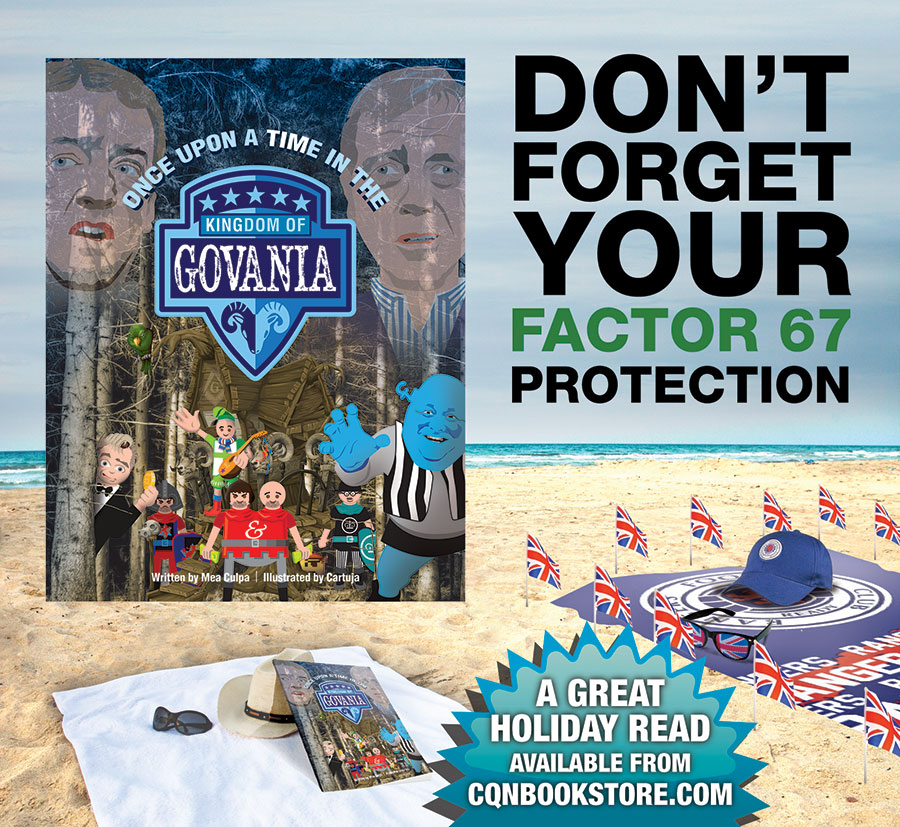 Click Here for Comments >