CELTIC skipper Scott Brown wil answer the call from the next Scotland manager and lead his country if required. He does however recognize what his own body clock is telling him and he is anxious to stop the end of career alarm bell ringing for as long as possible.
"I need to think about playing for as long as I can and doing what's best for me," Broony said.
"If it comes to it, stuff everybody else to be perfectly honest. I've got to make sure that I can play as long as I possibly can.
"It's the thing I enjoy best and it's the only thing I really know how to do. So for me sometimes I need to take a step back and think about it for myself and then go from there."
He added: "I love playing for Scotland, the Euro finals in 2020 have games in Glasgow which would be great but I don't even know if I'll still be playing by then!
"But I love playing for Scotland. I enjoy it and I really enjoy being captain of Scotland. It's a huge honour but sometimes you need to look after your own body. I retired the last time due to me not being fit enough. I couldn't set the standards I wanted to set for Celtic or Scotland.
"It was hard but since the manager came in here he's freshened everything up and I feel good again now. But that's a thing I need to keep in the back of my mind, that I don't kill myself going away with Scotland for ten days and two big games.
"I need to be playing for Celtic as well so I need to make sure I'm fine for the best of both worlds really.
"We'll see who comes in," Broony said. "Then we'll see what happens.
"Listen, I've not made any decision whatsoever. The way I'm playing I'm enjoying my football. I play as many games as I can, If the Scotland games come and the new manager wants me to come along then I'm happy to go.
"But it could be that he doesn't want me!
"With me it's still about fitness, and the fact that any manager who comes in picks who he wants. He names 25 or 26 to come along so if you're not in the squad that's that.
"I might get to turn up and have a coffee with the lads and that's it!"
The CQN Podcast: A Celtic State of Mind (EP28) with former Celtic director Tom Grant
Paul John Dykes and Kevin Graham are joined by Celtic's ex-director, Tom Grant, who offers a fascinating insight into the running of the club in the 1980s and 1990s.
Tom Grant explains exactly why Celtic refused to complete the Mo Johnston transfer in 1989, and lifts the lid on audacious efforts by Billy McNeill to recruit Peter Beardsley and Steve Bruce.
Tom Grant also dissects his relationship with Fergus McCann, and the impact of the 'Celts For Change' movement in overturning the 'family dynasty' board in 1994.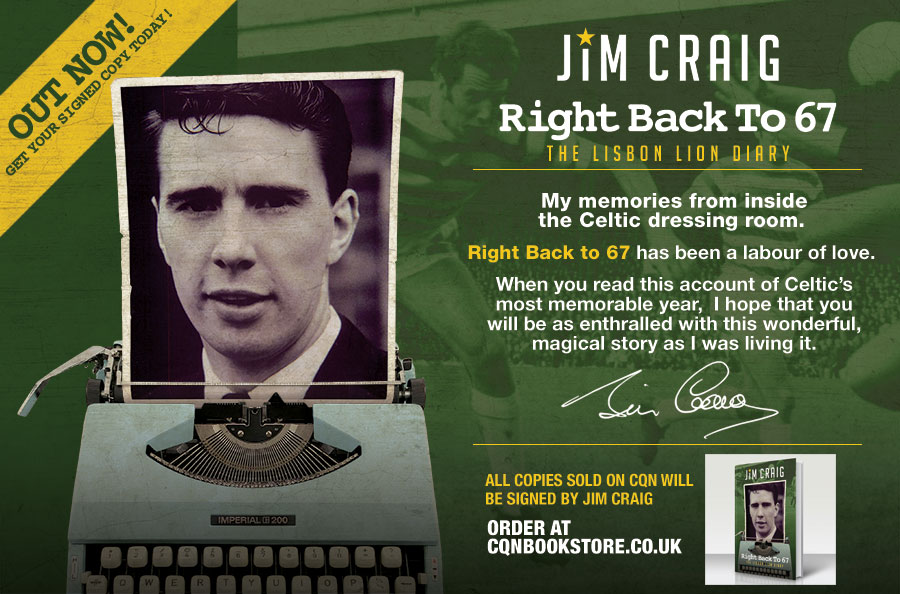 Jim Craig made two of the three goals in the 1967 European Cup Final. Get Jim's new Lisbon Lion Diary – Right Back to 67 from CQNBookstore.co.uk and you will receive a signed copy from the man himself plus a FREE copy of That Season in Paradise – Ten Months of Celtic Heaven signed by fellow Lisbon Lion Bertie Auld! Simply order Jim Craig – Right Back to 67 and the second book will be sent automatically.
Click Here for Comments >