BRENDAN RODGERS insists he is a better manager than the one who was sacked by Liverpool in October 2015.
The Hoops boss has been confirmed as one of the four nominees to be named PFA Scotland Manager of the Year, alongside Aberdeen's Derek McInnes, Partick Thistle's Alan Archibald and Morton's Jim Duffy.
Rodgers admitted: "There are some fantastic coaches up here.
"I've really enjoyed the challenge after having worked in the Premier League against top coaches from all over the world.
"It's a different test up here, but some of the coaches and managers I've met have been brilliant.
"I virtually knew no-one apart from Derek McInnes — I knew him a little from his time at Bristol City because we had some communication when I was at Liverpool.
"But I'm still finding out new things about Derek and I've been impressed by a lot of the guys up here.
"They might not have the facilities — and they don't have the money the clubs down south do — but they manage to find a way to make it work.
"It's been brilliant for me to come up against them and it would be wrong to single out just one.. But coming to Scotland means that I'm a better manager now than when I left Liverpool.
"There are two reasons for that. The first is that my players have made me better and the second is the quality of the other coaches, who have all posed different problems for me.
"All the tactics and the styles are all different and I'm a better manager for having dealt with that and I'll be better still a year from now.
"What you have in Scotland is an unpredictability with surfaces — I've already said you don't get good games on artificial turf — and that can affect performances and results.
"You have also have more varied systems. I've come across a lot of man-marking in the Premiership, which no team really does in England.
"No matter how much or how little they're being paid, the players up here always give their all and there is a physical aspect to that.
"We've all seen over the years that big teams can go to lesser teams and find it very tough. That's what you get here every week.
"I've been impressed by how my players have coped with that, how we've dealt with teams who sit in really deep, how we've found a way to beat opponents with 11 players behind the ball.
"Regarding the last two games against Rangers (sic), we've been glorious with the ball and technically very good. We coped with the pressure and our game model stood up to their tactics.
"We've played against them six times this season and, in those games, we've come up against 4-3-3, 4-2-3-1, 4-4-2 and 4-diamond-2.
"From a coach's point of view, I think that's great. I love that and my players have shown their tactical flexibility, which shows that, through the instruction and education at training, they're getting better.
"You can't go into a new job and just coast — you simply can't do it. Never. Listen, when I came in on my first day and there were however many thousands of people here to welcome me… they made a huge commitment to me then.
"I knew, from that day on, that any thought of coasting could be forgotten about, although I would never have done that anyway.
"This is my profession, this is my life. I've really enjoyed being here and not just because we're winning all the time although, of course, that helps.
"But the challenge of qualifying for the Champions League and then looking to improve once we get there, the expectancy to win every single game.
"There aren' t too many clubs in Britain who have to deal with that.
"Okay, the Scottish Premiership isn't as competitive as the English Premier League, but not too many top divisions are. When I came in, I wanted to win in the best way we possibly could and that was my challenge.
"I think about that every minute of every single day."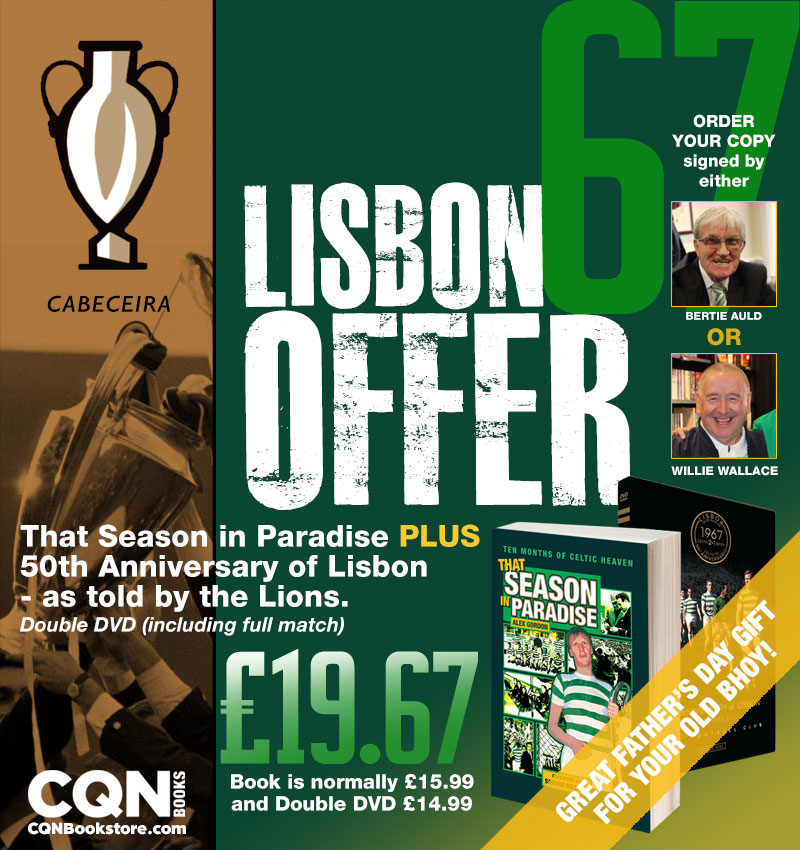 Click Here for Comments >