CROCKED Celtic skipper Scott Brown is remaining positive after being ruled out for three months.
And the midfielder revealed he thought his knee ligament injury was just a twinge.
Brown limped off at the end of the goalless draw against Kilmarnock at the weekend – his first game back in almost a month.
The 30-year-old admitted: "I was a bit devastated. When I woke up in the morning, I had a feeling it was my ligament.
"I had hoped it was a wee strain, but it was a bit more serious than that.
"I will be on crutches and my leg will be in a brace for four weeks and then after that I will see how it's healing.
"If it's healing well, it will be good news and I won't need an operation.
"However, if it's not going so well, I might have to go down the operation route.
"It's always hard being injured. Coming back from an injury, playing 90 minutes and then being out for possibly three or four months is difficult.
"But I've had these blows before in my career and I will get over it – I will get through it no problem.
"Part and parcel of playing football is that you are always going to have injuries. It's about how you come through them and how you look after your body over the next three or four months."
Brown was in the dug-out on Wednesday in Livingston as the Hoops' UEFA Youth League side earned a 3-0 victory over Hungary's Akademia for a 3-1 aggregate triumph.
The Scottish international captain will spend more time honing his coaching skills with the club's young players alongside Professional Academy Manager, Tommy McIntyre.
Speaking on the club's official website, he added: "My big focus over the next couple of months will be helping out Tommy as much as he wants in whatever he needs done.
"In the first-half last night, the players were exceptional. The second-half was always going to be harder as the opposition would have got have a rollicking at half-time.
"But we came out, defended well and kept trying to play."
   ——————————————————————-
THE WINDS OF CHANGE is the follow up to Caesar & The Assassin and provides an unmissable account of probably the most dramatic period on Celtic's very special history. From sacking our legend Billy McNeill, to being hours from going bust, to Fergus arriving and the Celts for Change campaign, Tommy Burns, Wim and other managers and of course Martin. Seville, stopping the ten, the three Amigos and then Henrik. Lenny as a player, the Champions League, Sutton, Lubo, a new stadium and all while we were being cheated.
If you enjoyed Caesar & The Assassin's relentless pace, you better get strapped in for this is a real Celtic rollercoaster of a book taking us through 7 managers and one caretaker. What we did in these years, and we didn't know it at the time, set the scene for what occurred in June 2012.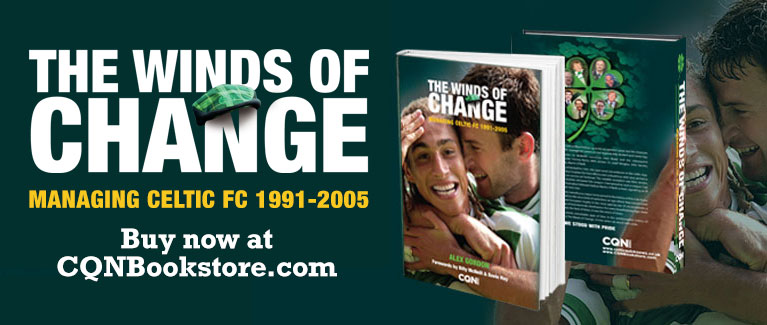 Click Here for Comments >