In many places it would be practically inconceivable that someone could be employed in this position:

And get away with running rubbish like this on a back page cover: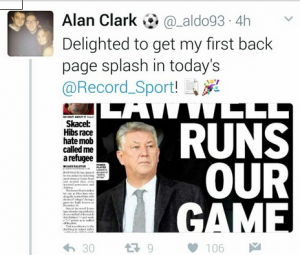 But then you see more and get a picture of the organisation involved:

The Record have been caught displaying their inner culture and will no doubt be forced into a remedial action, but getting caught was just misfortune. The culture exists and has informed articles for years.  They have gone too far down this road to even begin to understand what they've done to a once-strong demographic.
An echo reached me from 2012 today, which illuminated yesterday's article. As the SPL debated serious issues in 2012, a consensus emerged on what subsequently took place. There were hold-outs to the new majority, however.
One director of a club near Glasgow (no guesses, now) made his position clear: "I'm not signing up to any f****** Celtic rulebook."
The comment met with incredulity, as the Celtic rulebook wasn't part of the conversation. Fans and clubs across the country came to the same conclusion about how our game should proceed.  It was no more the Celtic rulebook than the Aberdeen, Hearts and Hibs rulebook, but prejudices occasionally seep out when people don't get what they want.
This is what we're up against. They are still out there, writing articles for the paying public, or voting on the future of our game.
As for the Celtic rulebook, I've seen it. It contains one page and only three words: "Pay your bills." That doesn't sound like much but remarkably, it may deliver 20-in-a-row. I hope others don't start to copy us.
Click Here for Comments >