Trying so hard not to get drawn in to transfer window nonsense but our old pal Chris Sutton got the better of me last night on BT Sport. He has been assured Moussa is happy to stay at Celtic this window (presumably by the player himself, or his agent), so concludes that somehow Chris Davies is undermining the player by suggesting he is not playing due to transfer speculation around him.
I have not spoken to Moussa's agent but I have heard lots about him. He is thoroughly professional and if Chris Sutton did manage to get a word from him, he is likely to have been 100% on-message. There have been no amateur dramatics from Moussa's side, but that doesn't mean the world and Own Coyle's auntie doesn't want to sign him.
January is famously a rubbish month to sign players, so if anyone wants to acquire Moussa, Celtic will hold out for top price. The same is true for our signing targets. Brendan has significant funds to spend, but the last thing he needs is to load the squad with more of the same.
When the manager arrived 18 months ago, improving results was a fairly straightforward proposition. Now, after twice qualifying for the Champions League and winning all four domestic trophies available to him, the job of improving Celtic is considerably more difficult. These are the joys of planning for successive trebles and a third consecutive season of Champions League football.
We are a week away from the window closing and the ball is in play, but you will not receive a bling hit this month, just to keep everyone happy. We will do the right deals or no deal, like it, or, express mild frustration, followed by a cognitive alignment indicating acceptance of the inherent wisdom. Or just lump it.
Being able to hold your nerve is another joy of planning for a successive treble.
NEW CQN PODCAST OUT TONIGHT WITH THE ORIGINAL HOLY GOALIE, JOHN FALLON
Paul John Dykes and Kevin Graham are joined by Lisbon Lion, John Fallon, at The Penalty Spot in Glasgow.
The Original Holy Goalie discusses pay disputes, bonus rows, cigarettes & alcohol at Seamill, breaking up The Lisbon Lions and The Quality Street Gang, the battle of Montevideo, his volatile relationship with Jock Stein, and he finally tells the full story behind his European Cup winners' medal.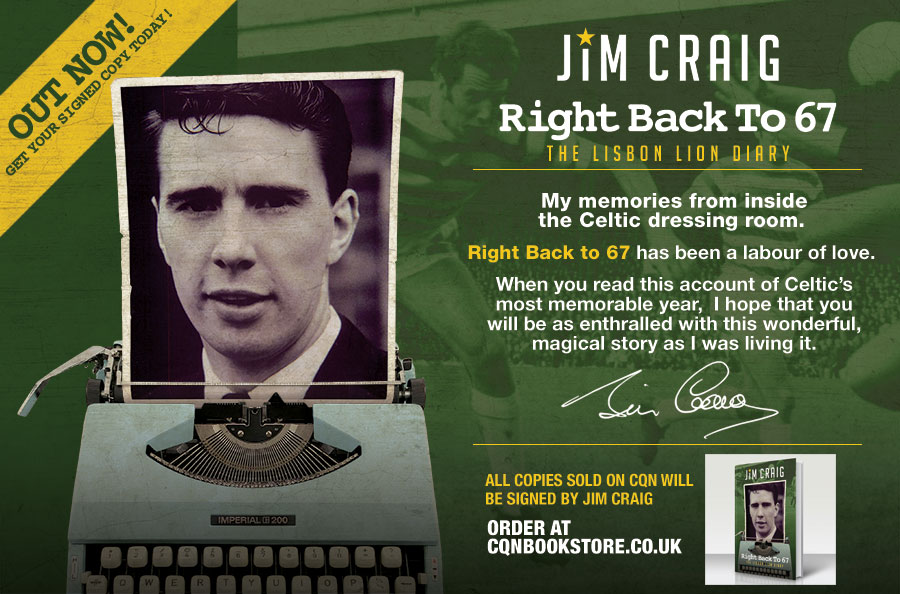 Order Jim Craig's new Lisbon Lion Diary – Right Back to 67 from CQNBookstore.co.uk and you will receive a signed copy from the man himself plus a FREE copy of That Season in Paradise – Ten Months of Celtic Heaven signed by fellow Lisbon Lion Bertie Auld! Simply order Jim Craig – Right Back to 67 and the second book will be sent automatically. Stocks are running very low so hurry!
Click Here for Comments >