SCOTT BROWN reckons the appointment of Brendan Rodgers will attract big-name players to Celtic.
The midfielder said: "'I was in London when I heard and it's great news. The lads are in a group chat and we speak quite a lot and we are all delighted with Brendan coming in.
"It will be a fresh start for everyone and everyone will have to prove their worth. It's definitely exciting.
"The players he will attract will be huge and everyone seemed to love his coaching at Liverpool and Swansea, so it will be great for us to learn off him, as well.
"He has done really well with his previous clubs, almost winning the league at Liverpool, and he has Champions League experience. Hopefully, he comes here and we can continue to win leagues and cups and get into the Champions League.
"People say we can't afford the top players now, but we have just gone and got a top manager. He knows about the club which will help as he will understand what coming to a huge club with a big reputation is all about.
"I did come across him at Swansea when we played down there in a friendly and they were flying at the time.
"They played attacking, non-stop football which was good to watch and I'm sure the Swansea and Liverpool fans felt that, as well, and here's hoping our fans will feel like that.
"One of the reasons I came to Celtic was the fact there was a huge manager in charge who had done well down in England in Gordon Strachan. Now we have another huge manager who has done well down south and he will bring that enthusiasm and experience along with his style of play.
"Everyone knows that Celtic is a high-pressure job and all the other things comes with it, but he will know what that's all about, having worked in a similar situation in Liverpool with that local rivalry with Everton, so that will be important for him."
——————————
ORDER Charlie Gallagher? What a Player! and you will get a SIGNED copy (whilst stocks last) and a FREE copy of The Winds of Change. Order
HERE
or click on the image below.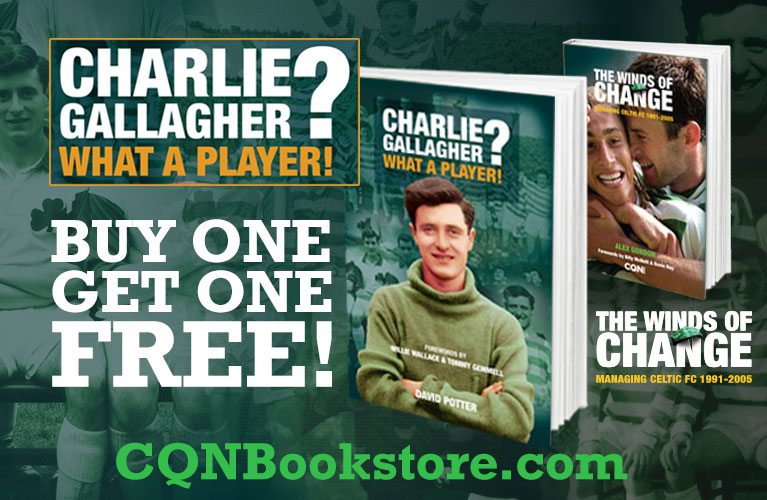 Click Here for Comments >