VIRGIL VAN DIJK'S return to Scotland this week for last night's international friendly at Pittodrie has served as a timely reminder that not everyone south of the border shares the views of loud-mouths like Barton and Cascarino, both of whom flopped in the Scottish game.
Indeed you could argue that Barton is the worst ever signing for the Rangers 'group of clubs' and Cascarino could equally be referred to as Celtic's worst ever signing.
No-one could say that about Virgil van Dijk who has demonstrated a love of his old club, a respect for the game in Scotland and a great giver of advice to current Celtic players such as Nir Bitton and today Kieran Tierney.
We wrote a few days ago about the advice the big Dutchman has been giving Bitton regarding the midfielder's new role as a central defender. And after last night's 1-0 victory over Scotland, van Dijk was just as happy to talk about Scotland's captain on the night Kieran Tierney.
Van Dijk has been a keen follower of events at Celtic since leaving the club on a £12million transfer in August 2015. His time at Southampton looks to be coming to a close in the next transfer window and a rumoured £50million plus move to Liverpool will see the biggest Paradise windfall of the year flowing into the club.
The ex-Celt has been impressed by the record breaking undefeated Celtic run and he spoke about this before last night's friendly.
'They have been unbelievable. 'They have done brilliantly and I always look out for Celtic's results.
'When you play for Celtic, your love for the club never goes away. They have made great strides under Brendan Rodgers.
'They made history last week and that was great to see. It shows how strong they are and, hopefully, they can keep going.'
After the match van Dijk spoke about Kieran Tierney who impressed in a central defensive role and was unlucky not to score with a trademark long range shot.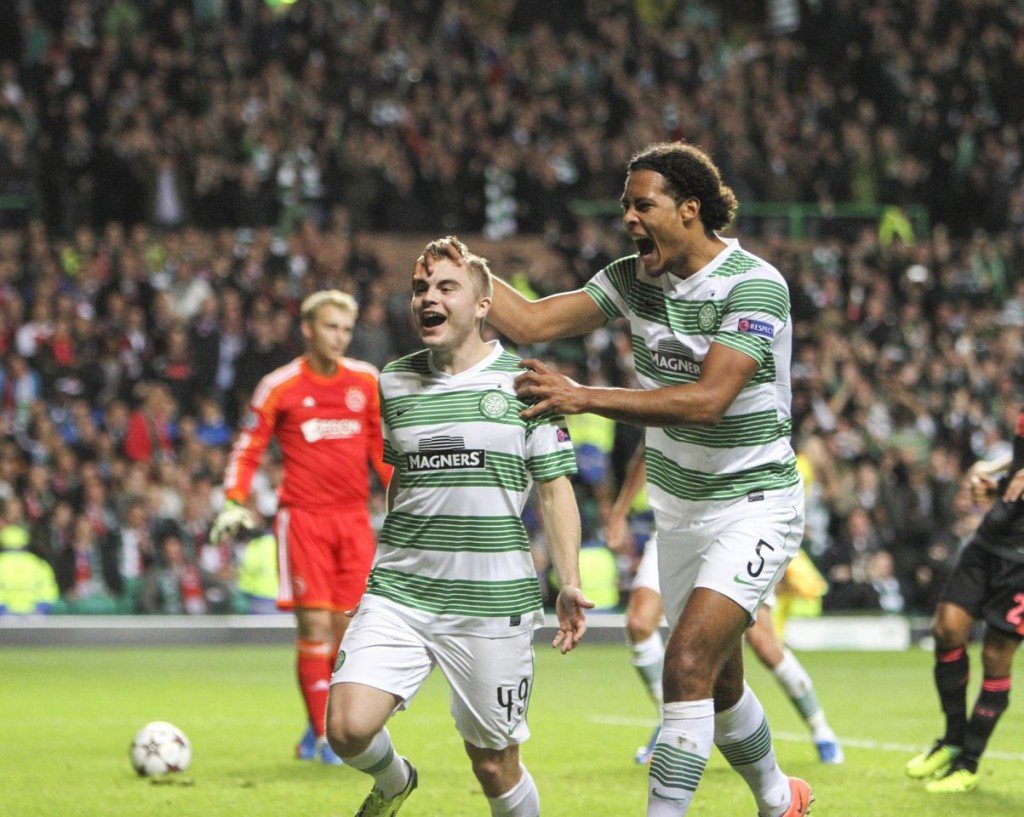 'He's been doing very well and I think Celtic are very smart to tie him down for the next six years," van Dijk said. 'It's good to see him as the captain as well.
"I can remember that day he made his debut at Dundee. Since then he has been progressing every game.'
The former Celtic star didn't want to get drawn into media speculation about if or when KT should leave Celtic.
'That's not up to me but it's good to see he's making progress. He was the captain of his country and that's very special at 20 years old.
'I don't even know if he wants to go to the Premier League. Celtic is an amazing club for him as well and I don't think there is any rush for him to leave.'
Before finishing big Virgil spoke again about Celtic's 63 unbeaten domestic record.
'It's amazing and I don't think people really understand how big an achievement it is. They should get all the credit for it becaue it's not something that happens a lot,' he said.
'I'm happy for the club and the fans, and also for the players of course.
'It doesn't matter if it's Scotland or anywhere else, it's an amazing achievement and people don't really understand how big it is.'
Kevin Graham recorded the latest episode of The CQN Podcast at McDiarmid Park, as Brendan Rodgers' side extended their unbeaten domestic run to a record-breaking 63 matches against St Johnstone.
NEW FROM CQN BOOKS! JIM CRAIG – RIGHT BACK TO 67, THE LISBON LION DIARY, ORDER A SIGNED COPY NOW!
Click Here for Comments >