JOE HART admitted he is not enjoying being on the receiving end as Ange Postecoglou's strategies for Celtic take time to gel at Parkhead.
The 34-year-old former England international keeper realised he was accepting a fresh challenge when he agreed a £1million three-year switch from Spurs to Glasgow.
Hart made his debut in the 4-2 win in the Europa League qualifier against FK Jablonec in the Czech Republic on August 5 – only 24 hours after his dramatic move in an effort to solve the Hoops' No.1 problem position.
The ex-Manchester City netminder has played in 14 successive games as he comes to terms with a whole new set-up under the Greek-Australian manager.
NO WAY THROUGH…Joe Hart blocks a close-range drive from Bayer Leverkusen's Moussa Diaby.
Hart was blameless in the 4-0 loss to Bayer Leverkusen in the Europa League Group G confrontation at Parkhead on Thursday and bailed out his team-mates on at least three occasions with exceptional saves to deny the Bundesliga outfit from inflicting even more embarrassment.
He will again be the last line of defence when Celtic attempt to win only their third game in nine outings when they lock horns with Aberdeen at Pittodrie tomorrow with a midday kick-off.
Backing boss Postecoglou, Hart said: "Look, we would love to not have the short-term pain. We're going to have to make it as short term as possible because it's no fun losing games.
"But we believe in the process and we're behind what he is doing, his qualities as a manager, his qualities as a coach and what he asks of us. He defends us.
"Yes, it's a risky way of playing football. But when you really, really break it down, which he does for us, he doesn't expect us to just walk out there and play total football: 'Go on, lads, off you go'.
HE FLIES THROUGH THE AIR…Joe Hart somersaults to his left to brilliantly push away a header from Patrick Schick.
"Ultimately, a lot of the time it's 10 to 15-yard passes. We need to believe and be calm and be clear in our minds of those 10 to 15-yard passes.
"Yes, it's a different way of playing to maybe how other teams are doing things. But we have got a top coach with a good coaching team behind him who also believe in what they're doing. It's why we play football. Personally, I love it.
"Yes, we're a new group of players. But so what? That is not an excuse. We're trying to put things right and we do believe we're close.
"That is only going to frustrate people on the outside. We know that. But there's no point coming this far to not see through what we are trying to do.
"All the information is there for us, every single bit of information for us to play this way is there."
Hart accepted: "We are definitely frustrated, especially in the league.
"The stats show we have been dominant, but, ultimately, it's about winning games.
"We all mean well going out there with every intention of representing the team well. Human error comes into it. We need to make as few mistakes as possible and we need to be there to cover each other when they do creep in.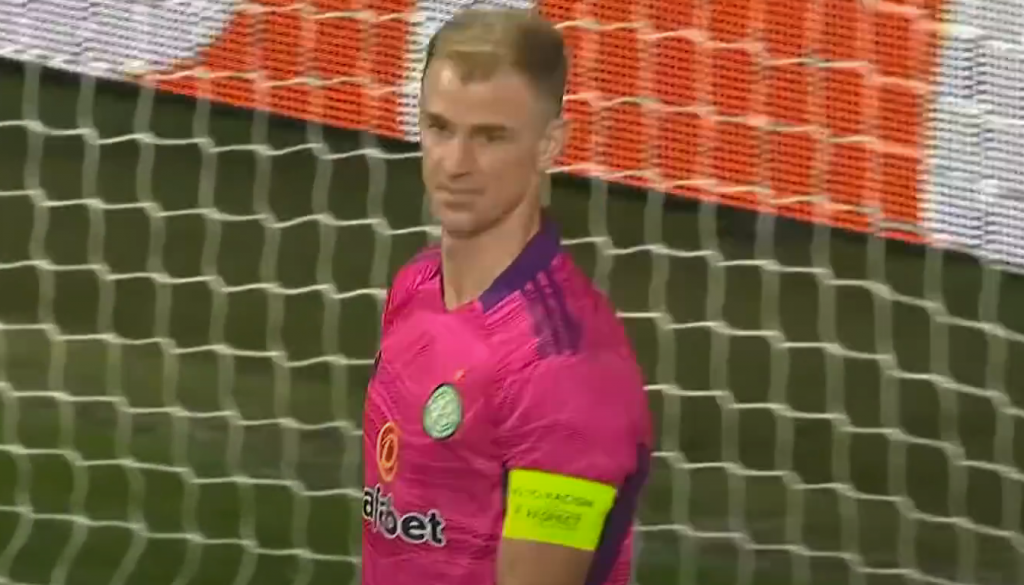 THE EYES HAVE IT…Joe Hart looks at the men in front of him.
"We take it all together. We're a group, we're a team. The manager is included in that team.
"He stands up for us because he believes in what he's trying to do and we believe in what he's trying to do. He speaks for us and we speak for him."
Hart, speaking to the Daily Record, added: "I love the fact that I'm learning a new style.
"I'll be honest, I didn't know if I could play it. But I feel comfortable in it and feel I'm representing myself well.
"Constantly we're getting the information. This is a club set up to have quick turnarounds. It's not set up to have seven days between games, so it's nothing new and it's nothing new for myself.
"I'm really enjoying the challenge and I'm immensely proud to be part of this club. However, I want to be on the winning team. It's not about me. It's about the team getting results."
The Postecoglou Revolution continues in the north east tomorrow where the club's legendary captain Scott Brown will do his utmost to make sure there is no welcome mat for his old team-mates.
Click Here for Comments >