JACK HENDRY is set to make his Celtic debut tomorrow lunchtime in Ayrshire. He will be in the team meeting at the Champions' hotel in Troon this evening and is likely to already know that he is going to get his chance to play for Brendan Rodgers' side sooner than most people expected.
Today the manager revealed that he reckons that his new central defender is not only ready to face Kilmarnock in the SPFL but is also good enough to play in Europe.
"I brought him here because I think he can play Champions League football and obviously if you are playing Champions League football, that is a great step for you to move into international football," Brendan said.
"It is the environment. He comes into an environment with a real winning mentality with a real emphasis on becoming better every day.
"You have to come in with no ego, got to be able to improve and take on the responsibilities of being a Celtic player.
"But there is no question that if he can do all these things you have a player there with an incredible profile.
"The job is to develop that talent and hopefully he can align that with the mentality of playing under pressure each week then hopefully Scotland will have a centre half with really big attributes.
"At 22 years of age, he is six foot three, super quick, a good one-versus-one defender and there is lots of areas he can improve in but his potential is huge.
"I said to the board that this is a player who can be a big player.
"Obviously you come to Celtic, you have to deal with pressure, expectation, the scrutiny is on you.
"If you can deal with all those things, he has another 13 years hopefully as a top player them you then have a Scottish centre half who has all the attributes and profile as a top class player. I think he can be a fantastic player.
"He is ready to play. He has played in different systems at Dundee and as a young player he was a right winger, interestingly enough.
"He is still developing but I would have no hesitation in putting him in."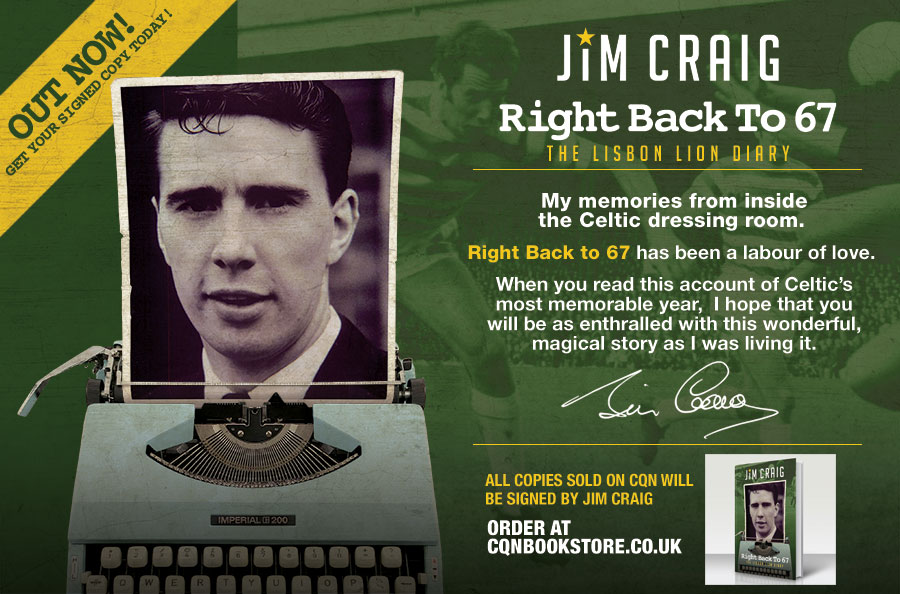 Order Jim Craig's new Lisbon Lion Diary – Right Back to 67 from CQNBookstore.co.uk and you will receive a signed copy from the man himself plus a FREE copy of That Season in Paradise – Ten Months of Celtic Heaven signed by fellow Lisbon Lion Bertie Auld! Simply order Jim Craig – Right Back to 67 and the second book will be sent automatically. Stocks are running very low so hurry! THIS DEAL WILL END IN A FEW DAYS!
Click Here for Comments >