You and I have been through a number of transfer windows in our day but none have been like January 2017.  Tens of millions of pounds were on the table for Celtic, while incredible wage terms were dangled in front of agents, but Celtic declined to sell and the players knuckled down and got on with it.
That wasn't always the case, Kelvin Wilson in particular, springs to mind, as does Stan Petrov.  Moussa, Craig and Erik were all happy to get on with the job of setting records and picking up medals.
Celtic's decision not to sell is easier to explain.  Moussa Dembele has three and a half years remaining on his current deal, Celtic can afford to allow the player to mature and perhaps even appreciate in value.
The offer for Craig Gordon was significant for a 34-year-old keeper who was dropped earlier this season, but we've not been in the market for a goalkeeper and were not prepared to shop blind.
The project under Brendan has gone superbly well.  We will earn circa £50m more than our nearest domestic challenger this season, a considerably pick-up on our position a year ago, so money isn't an overbearing constraint on team development.  This biggest challenge in that space is player recruitment.
To this end, last month saw the arrival of 19-year-old central midfielder, Eboue Kouassi (or Jules Christ Kouassi Eboue, to give him the most Sunday of all Sunday names).
I hear good things about Eboue, specifically that he's first team-ready, but a note of caution.  The outstandingly successful Victor Wanyama was also 19 when he arrived.  Even though Victor only had to make the short cultural journey from Belgium to Scotland, it still took him six months to look like a player.
Eboue may trap sooner, but the lad only turned 19 in December and has a lot of change going on in his life right now.  A settling in period will be needed.
We'll talk more about Eboue's recruitment later, but the key observation to make is that he's played fewer games than most players we've paid that kind of money for, and he's played most of his football in a Black Sea resort city.
Another of our teenage targets this month remained where he was after a different club had a €10m bid rejected – and he wasn't valued by Celtic any differently than Eboue.  Not only is transfer fee and wage inflation well established, the expectation is that significant inflation will continue for a while yet.
Inflationary expectations have real world consequences, such as Celtic (and smaller clubs) rejecting incredible offers for players they could not dream of getting a year ago.  This scenario is very reminiscent of the period from the 1990s until the ITV Digital collapse in 2002.
Back then you could buy a flop and sell him at a profit and sell your successes at a huge mark-up.  This market fuelled the bonfire Sir David Murray built under Rangers.  The ITV Digital collapse deflated the market slightly, while the 2004 enlargement of the European Union kept prices suppressed for a while longer (a temporary effect).
Many clubs had to cut back for a while; most survived.  Most, not all.
Lisbon Lions documentary
The BBC have commissioned a 60-minute documentary to mark the 50th anniversary of Lisbon.  The plan is not to go over old ground, but to tell the fans' story – which is where you come in.
I've me the director (known to these pages back in the day) and he's asked if those of us who were around at the time to come forward and tell our stories.  There are few times we are able to contribute to what will be a film of record, documenting the lives of people during a historic event.
If you or someone you know enjoys telling the Lisbon story, it's time to tell it.  This is from the company making the programme:
It's 50 years since the greatest moment in Scottish football history and BBC / IMG  are paying tribute – with a special 60 minute documentary to celebrate the all-conquering Celtic team of 1967.
This Lisbon Lions documentary will interweave fantastic archive, revealing interviews with key players,  and pay tribute to the great Jock Stein.
But this is not Football Focus.  It's not all about tactics, results and refereeing decisions. We're very keen to hear from fans who remember the game, the build-up, the journey and the atmosphere – both watching at home in Glasgow and in Lisbon.
It's a social history, a chance to recall that amazing team, and the community that forged them, and what it meant to the city.
Stories, recollections and – dare I say it – old photos / footage from the attic – all welcome….please email us glasgow67@img.com and we'll get back to you when we can.
The documentary will be broadcast on BBC Scotland later this year.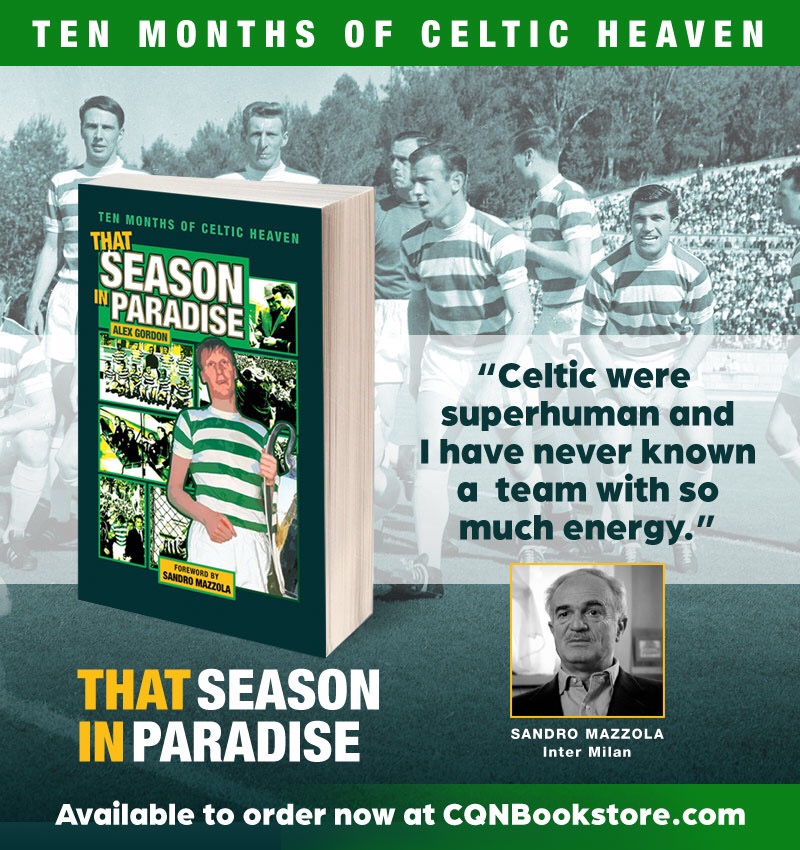 Click Here for Comments >