How many caps did Jinky pick up? Twenty-three.
Bobby Murdoch was one of the best midfielders on the planet. How many caps? Twelve.
The situation involving Bertie Auld was simply downright bizarre.
He was one of the most magnificent passers of the ball I have ever seen.
He was a crucial cog in the engine room of the Celtic team that conquered Europe and dominated the home and foreign fronts for so long. How many caps? Three.
And they were all won back in 1959 and 1960, long before he switched from an orthodox outside-left to a midfield berth where he excelled with his range of passing, incredible vision and quick thinking.
If you ever want to see two guys at the top of their game and taking over the middle of the park to dictate the entire ninety minutes of a football match, just watch a rerun of Bobby and Bertie against Inter Milan in the Portuguese capital in 1967.
They were unbelievable. Unstoppable. Unmatchable.
Bertie, one of the most wonderful exponents of the measured through ball in football, was never selected for any Scottish squad in the Lisbon Lions era.
Did Scotland have so many excellent left-sided midfield players back then that they could continually overlook Bertie?
Oddly, every other player who won a European Cup medal would get a call-up at some point afterwards for Scotland. Ronnie Simpson, Jim Craig, Bobby Murdoch, Billy McNeill, John Clark, Jimmy Johnstone, Willie Wallace, Stevie Chalmers, Bobby Lennox and yours truly.
However, there was never any sign of the name Bertie Auld.
Mind you, Bertie might not have done too much to push his claims by being sent off on his international debut while playing against Holland in Amsterdam back in 1959.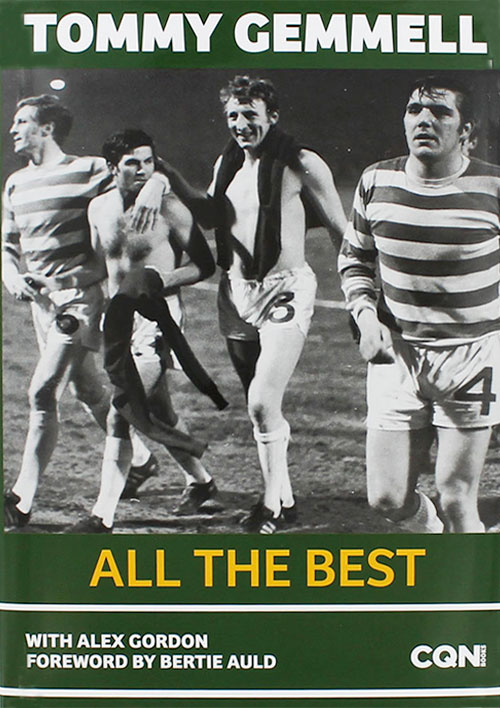 I suppose Bertie was determined to mark the occasion.
He has always protested his innocence when fists and boots were flying around in a melee between both sets of players near the end of what had been a fairly explosive encounter which the Scots, incidentally, won 2-1.
However, a Dutch player took a dull one and collapsed as though he had just been struck by a freight train.
The referee picked out Bertie as the culprit and he was immediately dismissed.
Two games later and that was his international career consigned to the dustbin.
Strange things happen in the beautiful game.
Written by Tommy Gemmell, from his book All The Best, available from CQNBookstore.com for the reduced price of just £6.99.
Click Here for Comments >