JIMMY JOHNSTONE, voted Celtic's Greatest-Ever Player by the fans, passed away on this day in 2006 at the age of 61.
The born entertainer, who dazzled the Hoops audience and decimated rivals' defences, was a complete one-off.  
Author Alex Gordon pays tribute to the snake-hipped winger who put a smile on the face of football. An impish genius who was known as Little Big Man when he took centre stage.
Here is an extract from Alex's Lisbon Lions' 40th Anniversary book which was published in 2007.
WHEN Jimmy Johnstone had his dander up he was just about unstoppable. Those truly astounding, spectacular serpentine-weaving runs had to be seen to be believed. England and Liverpool captain Emlyn Hughes once complained of having 'twisted blood' after facing the Wee Man in an international at Hampden Park in 1974.
He was lucky – he wasn't even Jinky's direct opponent that day. Mike Pejic, of Stoke City, was the England left-back who had that dubious distinction. That was to be Pejic's fourth and final appearance for his country after being torn apart by Johnstone as Scotland won 2-0.
Jinky, as his team-mates were only too well aware, was a highly temperamental bloke and you upset him at your peril. Scotland trainer Walter McCrae couldn't have been too aware of that side of the Wee Man as he prepared the international squad for an important game against England in 1968, the year after the Scots had overcome the world champions 3-2 at Wembley.The Home Championship back then was being utilised as a qualifying section for the European Nations Cup Finals – now the European Championships – to be held later that year in Italy.
Scotland, in typical fashion, had carelessly thrown away their advantage after securing two points against Sir Alf Ramsey's side. A victory was a must at Hampden for the Scots, but it was going to be achieved without the help of Scotland's most skilful player, Jimmy Johnstone. Injury had prevented him from playing at Wembley in 1967 and, on this occasion, the international manager, Bobby Brown, had made up his mind to go with Chelsea's Charlie Cooke in preference to the Celt.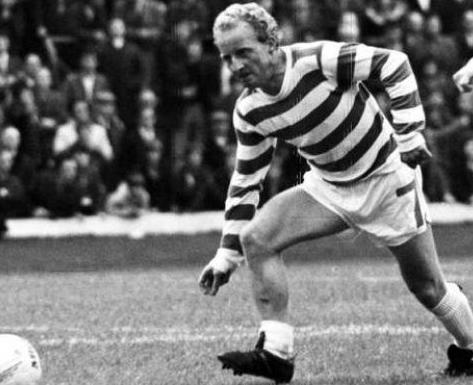 The blissfully unaware McCrae then conjured up his outstanding faux pas as Scotland trained at their HQ at Largs. As luck would have it, Celtic were along the Ayrshire coast at their usual haunt at Seamill at the same time. The SFA asked for permission to play Celtic in a bounce game against the international line-up as a special training session. The Parkhead powers-that-be agreed, but Jimmy was far from happy. "I'm no' interested," he said. "I'm no' playing." However, the Wee Man dutifully turned up to watch the session and McCrae then, unintentionally, made one of football's great blunders – he asked Jinky to be a linesman!
Tommy Gemmell, with the Scottish squad, recalled: "I think you could say Jimmy let Walter know he was not interested in running the line, in any shape or form. For a start, two of his best pals at Celtic at the time were Bobby Lennox and Willie O'Neill. They would have been taking part in the game and Jinky would have been running up and down the touchline with his wee flag. You couldn't make it up. Lemon and Pumper would have made his life unbearable when they got back to Parkhead. Footballers, in the main, are terrible mickey-takers and Jinky must have realised he would be on the receiving end for some considerable time. Jimmy Johnstone? A linesman? Oh, dear!
"Quite apart from anything else, I suspect any world-class player would rebel, as Jimmy certainly did, at the idea of being used as a linesman. Would someone at the English FA have asked Bobby Charlton to run the line? Would anyone at the Irish FA have been daft enough to ask George Best to act as a linesman? Of course, not. Walter McCrae put his foot in it big-style and a week later would later pay a terrible price.
"The international game, which ended in a 1-1 draw and effectively ended Scotland's interest in Europe, by the way, was played early in late February to make sure all the qualifiers would be known by the time the summer finals would be played. So, on March 2, 1968 Celtic turned up for a league match at Rugby Park to play Kilmarnock, where Walter McCrae doubled up as the club's trainer. Celtic hammered them 6-0 with, as I recall, Willie Wallace scoring four goals with others from Bobby Lennox and young substitute Jimmy Quinn. But everyone's Man of the Match was, without question, Wee Jinky.
"He tore their defence to shreds. He played like a man possessed. We all knew the capabilities of our wee genius, of course, but that afternoon he went into overdrive and only an Elephant Gun could have stopped him from running amok. He twisted, teased and tortured the Killie back lot and I knew what was going on in his mind – he was going to make Walter McCrae suffer.
"The Wee Man looked fairly pleased with himself as we came off at the end. I was walking beside him when he spotted McCrae in the home dug-out. "No' bad for an effin' linesman, eh, Walter?" beamed Jinky.
Stories of Jimmy Johnstone are the stuff of legend. One of the greatest accolades Jinky earned, however, wasn't at his beloved Paradise or even on these shores. On June 7, 1967, Celtic, still basking in the reflective glory of their excellent European Cup triumph, took the team to the Bernabeu Stadium to provide the opposition for the legendary Alfredo di Stefano. Just to be inviited to play in such exalted company in a game for one of the world's greatest-ever footballers was an honour. To go to their fortress and win 1-0 while pulverising the opposition was quite unbelievable. Even the normally-hostile Spanish fans had to applaud Celtic that balmy evening.
"Ole! Ole!" was the cry that rang round the stadium, but it wasn't a Real Madrid performer being showered with praise. The standing ovations that night were for Jimmy Johnstone. He was unstoppable – a 5ft 4in bundle of mischief and magic that bewildered a Spanish rearguard that wasn't too used to being taken apart, especially in front of their own support. However, Johnstone never embraced a great respect for reputations and he simply dismantled the line of defenders who were put in front of him that evening. It was a virtuoso performance that would have been more than fit to grace a World Cup Final. If Pele or Maradona or Cruyff or Best or even di Stefano had delivered such flamboyant entertainment it would have been hailed as the most outstanding individual display ever witnessed. "It really was that good," added Gemmell.
Forget that this was labelled a Testimonial Match. Real Madrid had won the European Cup the previous year, beating Partizan Belgrade 2-1. They wanted to let everyone know they were still the true rulers of all they surveyed. In their minds, they were still the best in Europe and not a bunch of upstarts from Glasgow. Real gave it their best shot, but Johnstone and Co were not to be denied another moment of glory. They, too, were at the Bernabeu to win and they did just that when Bobby Lennox flashed a low drive into the net from 12 yards after a sublime pass from, you've guessed, Jimmy Johnstone. Game, set and match to Celtic. The accolades went to a fiery little red head who thrilled fans everywhere he went.
Another soccer great who admired Johnstone's style was Eusebio, the former Benfica superstar. "I was privileged to call Jimmy Johnstone my friend," said the Portuguese legend. "He always played football with a smile on his face. When Celtic reached the European Cup Final in my country in 1967 I supported them against Inter Milan. They were a great, attacking force and, of course, they had that special little genius on the right wing. But Jimmy Johnstone was not just a great player in Scotland. He was known throughout the world."
Rangers' Willie Henderson, who was Johnstone's main rival for the outside-right berth in the Scotland team in the Sixties, recalled: "I was on top of my game at the time and I had quite a few caps under my belt before Jimmy actually came on the scene. He was a wee bit later in coming into the Celtic first team. I was definitely dislodged from my Scotland position after that. Billy Bremner, I believe, went to one of the Scotland managers and asked if there was a way he could fit both Jimmy and I into his team. "No chance," Billy was informed. "We can only play with one ball!"
Bertie Auld is convinced his team-mate should have won more than his meagre haul of 23 caps for his country. Auld offered this angle: "He didn't make as many international appearances for one simple reason – he was a Celtic player. If he played for any other club he would have won 100 caps for his nation. I am convinced of that. However, to be fair to Jimmy, he never grumbled. You knew he was only interested in playing for one club and that was Celtic. That was all he needed and that kept him happy."
Auld, in fact, remembers one of the first times he clapped eyes on Johnstone. "This wee lad with the big red curls turned up one day for training," said Bertie. "I thought he might be a fan. There wasn't an awful lot of him at the time; a wee, frail figure. He would sit in the dressing room and say nothing. He actually looked to be be somewhat embarrassed to be mixing with some of the players. Well, that was until he got out onto the pitch and then we all knew who Jimmy Johnstone was. What a talent. He was like a rubberball. Defenders would bowl him over and he would just keep bouncing back to his feet. You could see the fear in the eyes of our opponents when they looked at the Wee Man when he started to make a name for himself. They were frightened of what he could do to them. That fear was a real compliment to Jimmy. There was no disguising it, either. Those opponents knew they were in for a torrid time."
Celtic fans probably won't recognise the title La Puce Volante, but that was another nickname that came Johnstone's way on his travels. This time it was conjured up by the appreciative French supporters of Nantes back in 1966 in the second round of the historic European Cup run. Nantes were an excellent team and, among a host of other exciting individuals, boasted the national captain Robert Herbin, who had led France in the World Cup Finals in England the previous summer.  It would be fair to say they thought they would take care of Celtic, who were, after all, playing in the premier European competition for the first time in their history. Johnstone, once again, wasn't interested in being a bit-part player.
He shredded a frantic defence, set up chance after chance after some dazzling touchline trickery and goals from Joe McBride, Bobby Lennox and Stevie Chalmers eased Celtic to a 3-1 victory which they emulated at Parkhead in the second leg to go through to the quarter-finals. La Puce Volante – or The Flying Flea – was born that evening and it was a tag that followed Johnstone around Europe.
One title remains above them all – The Greatest-Ever Celtic Player. The inimitable Jimmy Johnstone is worthy of that immense honour. He paid his own tribute to the fans who encouraged him through his 14 remarkable years at Celtic, enjoying his "great job", as he often described it. He took the microphone before one game, gave his usual cheery wave to the thousands and uttered 12 little words: "You will always be in my heart. I will never forget you."
The Celtic support will never forget him, either.
* NEXT: Don't miss what the Lisbon Lions had to say about their wee team-mate.
Click Here for Comments >