DAVIE HAY mourned the loss of a good friend and mentor when Jock Stein passed away 36 years ago today. However, the Celtic legend recalls a time when he and the Hoops gaffer were at loggerheads.
Here is an extract from Davie's autobiography, 'The Quiet Assassin,' co-authored by Alex Gordon and published by Black and White in 2009.
I MADE history when I became the first player to go on strike at Celtic late in 1973. I withdrew my labour for a fortnight in a dispute over wages and I firmly believed I was in the right. My pal George Connelly came out in sympathy with me for a week and suddenly Jock Stein had a mutiny on his hands!
No problems with players for eighty-five years since the club had been formed in 1888 and suddenly two players are walking out within a fortnight. You couldn't make it up.
TUNNEL VISION…Davie Hay races onto the pitch at Celtic Park.
Back in those unenlightened times before Bosman, players were handcuffed to their teams. The clubs were firmly in command of your destiny and players were bought and sold like cattle. I know of some players who left Celtic who would have been quite happy to have spent their entire career in the east end of Glasgow. I should know what I am talking about because I was one of them.
Frankly, I didn't believe I was getting what I was worth at Celtic. I was on a basic £65-per-week for playing for one of the game's biggest clubs with a fanbase that covered the planet. Yet, when it came to pay talks there was no negotiation. You were told that was what was on offer and that was the end of it.
The Celtic secretary at the time was Desmond White and I actually got on really well with him. He was a chartered accountant who had offices in Bath Street at the corner of West Nile Street in Glasgow. As you might expect, every penny was a prisoner and I spent a lot of time in his company around that time trying my best to shake loose a few extra quid.
CHAMPIONS…Davie Hay (No.10) with his jubilant Celtic team-mates after winning the title at Easter Road in 1974.
It would have been easier picking up an elephant by its tail and hurling it the length of Sauchiehall Street. It was all a colossal waste of time. No matter what argument I put forward, Desmond was not responding. Listen, anyone who knows me will tell you I am not a greedy individual. Money is not a god.
The problem was simple. I had broken into the first team in 1969, played in a European Cup Final a year later and had gone on to become a regular selection for club and country. My head wasn't turned by what I heard Scottish players in England were earning. 'Good luck to them,' was my response.
Leaving the club I genuinely loved wasn't a priority. I wanted to stay and get the rate of pay I thought I deserved. I told the club I thought I was worth £100-per-week. As you might expect, they disagreed. I had missed some of the previous season through injury and suddenly I realised it was difficult to make ends meet on a basic £65 when you stripped your normal wage of bonuses and first team appearance money. I felt the pinch and so, too, did my family. I had to take action.
I had a lengthy conversation with Desmond White and basically it came down to him saying to me, 'Davie, if I give you £100, then I'll have to give the rest of the first team £100, too.' I replied, 'Go ahead then. Give them what they are due.'
SAINTS ALIVE…Davie Hay clears as St Johnstone forward Henry Hall puts on the pressure.
The club had built their wage structure in such a way that it kept you keen and competitive and I didn't see anything wrong with that. However, if a player did receive a bad injury while on duty and doing his best for the team then it seemed a bit savage that his reward was a massive cut in wages.
It was time to do something about it. I may have appeared laidback to the point of horizontal to a lot of onlookers, but, believe me, I can be as impetuous as the next guy. I can hit the roof with the best of them. I can act on the spur of the moment as you will undoubtedly learn as you read on.
As far as I was concerned, Celtic left me with no alternative – I would go on strike. I told some of my team-mates about my intentions. 'You can't do that,' they chorused to a man. 'No-one walks out on Celtic.' Oh, yeah? Watch this space. I duly informed Jock of my course of action and I'm not sure if he thought I was calling his bluff or not. He soon discovered that I wasn't.
I played in the 3-1 victory over Hearts at Tynecastle on October 27 1973 and then missed the following five league games against East Fife, Ayr United, Partick Thistle, Dumbarton and Arbroath stretching from November 3 to December 1. If my mates were missing me it didn't show – Celtic won the lot, including an 8-0 triumph over poor old Thistle when Dixie Deans hammered six past Alan Rough.
At that stage of the season you are fairly fit. All the hard work is done pre-season when you come back from your summer break and try to shed some excess baggage. Luckily for me, I have never had a problem with my weight. While I was on strike I trained on my own. I would go for lengthy runs and work out in public parks or gyms. I knew I had to be matchfit just in case I got the call from Big Jock. And that call did come – a couple of days before an Old Firm confrontation no less!
BIG JOCK IN PARADISE…the Celtic manager acknowledges the Celtic fans at Parkhead.
Jock knew I would not back down from my stance and, by the same token, I realised full well the Celtic manager would not perform a U-turn, either. We had reached an impasse. We had to find some middle ground in which to negotiate and Jock used a journalist friend of his, the late Jim Rodger who was with the Daily Express at the time.
Jim was a bit of a Mr.Fixit in the days before agents. He was involved in a lot of transfer deals and I think he was behind Denis Law's move to Manchester United from Italian side Torino and the likes of Alan Gilzean to Spurs from Dundee and Ian Ure to Arsenal from the Dens Park outfit. He was fairly well connected. I respected him and he turned up at my door one day to say, 'It's time you were back playing. This is doing no-one any good.' He was right, of course. He conveyed the message that I was prepared to return to the fold.
I was told to get down to Parkhead and prepare for the League Cup semi-final against Rangers at Hampden on Wednesday, December 5. I thought I was ready to play, but feeling fit and being matchfit are two different things, take my word for it. 'You're in,' I was told and I duly turned out against our oldest rivals at our national stadium in a must-win game. I knew only too well that all eyes were on me. Some Celtic fans were in my corner, but I also realised there were a few who, as ever, sided with the club.
I put all that behind me, determined to prove to Celtic that I was worth a wage hike. I'm glad to say we won 3-1 with a marvellous hat-trick from Harry Hood. It was a great feeling to be back, but I can now confess I was absolutely shattered after that encounter. I was just about out on my feet in the last ten minutes or so, but I managed to get through it. Jock knew what he was doing. He had pitched me in at the deep end and I had to respond in kind. I think I managed that. At the end of the game Jock patted me on the back and growled, 'Well done.' Praise indeed.
THE WRITE STUFF…Davie Hay chats with his co-author Alex Gordon.
I still thought I had to move on to realise my value and just before I took strike action Celtic were willing to sell me to Spurs. I believe the White Hart Lane side offered something in the region of £200,000, a lot of money in those days, and I agreed to talk to them. I met their manager, Bill Nicholson, and I have to say I was impressed. There was no haggling over wages, either. I was told they would put me on a basic £165-per-week and that would rise with bonuses. I would also receive a £10,000 lump sum from Celtic for accepting the transfer. I thought about it long and hard and I have to admit I was hugely tempted.
At the same time, I learned Manchester United were interested. Tommy Docherty was never one to accept no for an answer. I waited for them to make their move and, with absolutely no disrespect to Spurs, I would have preferred a move to Old Trafford. My wee pal Lou Macari had told me all about the club and I knew he was enjoying his football alongside so many other Scots such as George Graham, Jim Holton, Martin Buchan, Ted McDougall and Alex Forsyth. The team had even been dubbed 'Mac-chester United' because there were so many of my fellow-countrymen at the club. I have to say I could see me fitting in at United. Big Jock had other ideas, though.
He told me he would not sell me to Manchester United. I don't know if he was still upset by Lou's move to join Tommy Doc's clan the previous year, but he would not budge on his stance. 'You'll go where we tell you to go,' I was informed. Jock wanted me to move to Spurs and accept the £10,000 pay-off from the club. There would be no lump sum if I persevered in trying to get to Old Trafford.
United, I was reliably informed, were willing to match any transfer fee that Spurs put in. Still, Jock was having none of it and, naturally enough, that angered me. I thought it was only right and proper that I could go where I liked and Celtic would get £200,000 for a player who hadn't cost them a penny. That was another factor in me walking out. I was in a quandary, though. The World Cup Finals in West Germany were looming in the summer and I realised I would not be part of Willie Ormond's squad if I wasn't playing regular first team football at club level. In short, Jock held all the aces. And he knew it.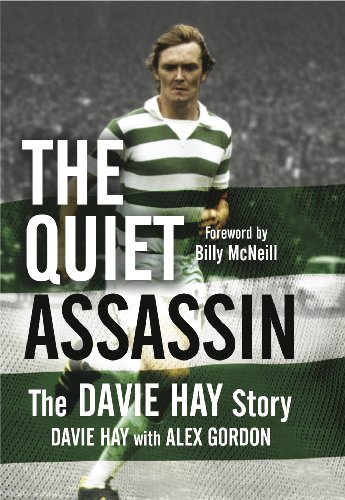 READ ALL ABOUT IT…Davie Hay's autobiography, 'The Quiet Assassin', co-authored by Alex Gordon.
I didn't have too many alternatives. I had to bite the bullet, get back into the Celtic side and forget all about a big-money transfer or a wage rise. I was a professional and I had to act in such a manner. Jock realised how much it meant to me – and every other player, for that matter – to turn out in those green-and-white hoops. No-one wanted to leave, but at the same time everyone wanted what they thought they were due. That's why Lou left in the first place. He was aware of his market value and, like me, the club simply refused to make him an offer he couldn't refuse.
I don't think Kenny Dalglish wanted to leave, either. Again, money was the sticking point and, after a summer of discontent, he eventually moved to Liverpool. Celtic banked £440,000 and never really replaced him.
So, I decided to forget all about London or Manchester and get on with taking care of business in Glasgow. I spoke to Catherine about the possibility of buying a pub after coming back from the World Cup. A friend of mine, Gerry Gallon, owned The Carousel Bar in Motherwell and he was willing to show me the ropes. I reckoned such an acquisition would help bolster my weekly wage because it was only too evident that Celtic were never going to give me an increase.
Little did I realise when I waved the newly-won Scottish Cup to the fans – we had just beaten Dundee United 3-0 on May 4 – that I would never play at Hampden again for Celtic.
Click Here for Comments >