I could never be churlish enough to dismiss the true merits of Jock Stein as a manager. I thought he was brilliant and years ahead of his time. It's all on record what he achieved at Celtic. When he arrived in March 1965 he literally changed everything at the club. He looked at things in the most minute detail. Before he took over, the players used to assemble in the snooker room before a match. We would have a game or two, but Jock noticed that too many players were wondering around with their hands in their pockets doing nothing while waiting for their chance to get on the table. Out went snooker and in came table tennis. The manager reckoned that would keep more of the players active and he believed table tennis would actually sharpen our reflexes. A small point, perhaps, but it underlined Jock's thought process. By the way, our manager was the unofficial table tennis champion of the world. He hated to lose at anything and used to play a game or two with us. God help you if you ever beat him.
Jock looked at the grubby old training gear we  used to wear. We would be out pounding round the track at Parkhead in the sunshine of July wearing the sort of big heavy woollen jerseys you would expect a fisherman to wear out on the high seas. I think the training stuff used to get washed once a week – if it was ever washed, at all! If you weren't quick, you would be saddled with some smelly gear that had seen better days. Within a week or so of Jock being around, we were all provided with brand new top-quality stuff. Lightweight T-shirts, fresh shorts and socks and training shoes that weren't falling apart. The gear was laundered on a daily basis, pressed and laid out in the dressing room. Beforehand, it had all been left in a heap in the middle of the room and it was a free-for-all among the players to try to get something half-decent to wear.
Jock didn't like his players wearing tracksuit bottoms, no matter the weather. It could be a freezing cold January morning at bleak Barrowfield and Jock would insist his players wore shorts. Some days your nether regions felt as though they were encased in ice, but Big Jock never wavered. I asked him once why we had to wear shorts when he, in fact, was allowed to wear tracksuit trousers. 'It's to make sure you lot keep on the move in training,' he answered logically. 'I don't want you all standing about. If you want to keep warm, you'll have to keep on the go.'
Jock was always a stickler for detail. He never actually told you to get your hair cut if you had allowed it to grow a wee bit. But he liked his players to look like professional sportsmen and that meant well-clipped locks. George Best would never have earned the tag 'The Fifth Beatle' if Jock had been his manager! He wasn't a big fan of facial hair, either. At one stage, I decided to grow a moustache as I was curious just to see what it would look like. 'What's that thing under your nose?' he would ask. 'What are you doing with that on your face?' I have to say my moustache was fairly intriguing because it was growing in with what seemed all the colours of the rainbow. I started to tire of trimming it, but, as a little bit of devilment, I kept it for longer than I really wanted just to see Jock's reaction. 'That thing still there?' he would enquire. Eventually, the offending strip of hair was shaved off and I was greeted with, 'That's better. You never suited that bloody thing.' Look at all the Celtic players who were around when Big Jock was in charge and you won't see too many moustaches or beards. There wasn't a law against them, but he let you know he didn't like them. Danny McGrain must have got special dispensation to grow his trademark beard that earned him the Biblical nickname of Barabus.
Jock, as we all know, was a gambling man. Our trainer Neilly Mochan used to telephone a bookie in Glasgow and put on some bets for himself, the backroom staff and the manager. 'That's a £1 each way from me on such-and-such a horse,' Neilly would say. 'There's £1 each way from someone else.' And then would come, 'There's £20 from Jock.' He was a big punter, but I never knew if he was a winner or a loser. His good friend was Tony Queen. Surprise, surprise he was a bookmaker. In fact, he was in Jock's Mercedes, along with their wives, when they were returning from a summer holiday in Menorca in 1975 that was involved in a collision near Lockerbie. It was a head-on smash with a car driving in the wrong direction on the motorway. I was a player with Dundee at the time when I was told the news. I may have had my run-ins with Jock, but, in moments like that, you realise how close you have come to losing a special friend. Thankfully, he was out of hospital after a week or so and made a full recovery, but it couldn't have been mere coincidence that Celtic endured their worst season in eleven years while he was ordered by the doctors to take complete rest and stay away from the dug-out throughout a dreadful campaign. 
I'm often asked if the manager had a sense of humour. He was no Billy Connolly, that's for sure, but he did have his moments. He liked to wind up players. He would look at us in training and target a specific individual. 'Aren't you happy that you've got so many good players around you during a match? They'll make sure you get a win bonus. You are so lucky.' And the individual would then work even harder to prove to the boss he was in that first team on merit.
Jock was a great psychologist. I played against Benfica (1969) and you might say I was right up for the challenge. It was a packed night at Parkhead and I was back in the spotlight. I scored in the second minute with a long-range drive that almost took the net away. I ran to The Jungle to receive their rapturous applause and then, as our stunned opponents prepared to kick off, I sneaked a wee look over at Jock in the Celtic dug-out.
There is no doubt Jock had an aura about him. He possessed a certain presence and you were always aware when he was around. He was the manager and you were a player. We weren't allowed to forget that fact. Wee Jinky used to drive him round the bend sometimes with his antics, but I also thought the manager had a genuine soft spot for the player. I recall a story back in 1972 when Tommy Docherty was the Scotland team boss. Jinky was never the type to worry about a curfew. Deadlines were for the other players. The Doc caught him coming back to the Queen's Hotel in Largs one evening well past the designated time. 'What on earth are you playing at? You can't do that. I'm your manager,' roared The Doc. Jinky replied, 'Naw yer no' – Jock Stein's ma manager!' Even The Doc was rendered speechless.
Jock, of course, was a strict teetotaller. He couldn't abide alcohol. He detested the demon drink. The nearest I ever saw him come to touching a drop was when Billy McNeill brought in a couple of bottles of champagne to celebrate the birth of his twin daughters, Carol and Libby. 'Come on, boss, you must wet the babies' heads,' said Big Billy, coaxing the manager. Jock thought about it and then relented. 'Give us a glass, then,' he said. We watched in surprise. Was he actually going to take a swill of bubbly? He raised the glass to his lips, let it touch them and then put the glass down. 'Good luck to the weans,' was all he said as he took off before we could persuade him to drain the glass.
Like I say, Jock was light years ahead of any other manager with whom I was involved. It was Jimmy McGrory who signed me, of course, four years before Jock returned to Celtic. Jimmy was a lovely bloke, but he wasn't cut out to be a manager. Actually, he was too nice for the job. Jock made up for him! I still loved that man.
By TOMMY GEMMELL, From his book All The Best, published by CQN Books.
——————————————————————————-
We have a limited number of SIGNED copies of All The Best which you can order HERE, priced at the discounted price of £10 plus p&p.
We also have signed copies of Archie Macpherson's brilliant biography of JOCK STEIN available HERE. We still have FOUR signed copies remaining of Caesar & The Assassin, when the are gone they are gone. Get your copy HERE.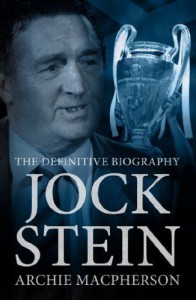 Click Here for Comments >