CELTIC book author Alex Gordon paid tribute to club legend John 'Yogi' Hughes at St Mary's Church in the Calton district of Glasgow a year ago today.
The much-loved Hoops great passed away at the age of 79 on August 1 after a short illness.
Here is Alex's eulogy in full.

Good afternoon, everyone…family, friends and fans of John Yogi Hughes.
I am humbled and honoured to be here today to deliver a few words on a genuine Celtic legend – and a first-rate pal.
I recall the day in August 2020 when John Hughes asked me to say a few words at his final farewell.
We were having lunch at a Glasgow restaurant when he broached the subject.
His timing threw me just a tad.
We hadn't been in each other's company for five months since getting back from a week's break in Millport just three days before the first Covid lockdown.
PARADISE…John 'Yogi' Hughes in his spiritual home of Celtic Park.
Mary Gemmell, wife of Tommy, another famous Celtic player you may have heard of, had been on the little island, too, with Theresa, son Craig and my missus Gerda.
And Mary was there on the day Yogi pitched the idea at me to do his eulogy. Mary and I both looked at each other. Had we heard right?
'I want you to make a speech at my funeral,' repeated Yogi.
I was reassured nothing untoward was imminent.
This wasn't the way I had thought our reunion would go after five months of phone calls to keep in touch.
'Who's to know who's going to go first, John?' I reasoned.
As the afternoon wore on, the topic cropped up every now and again.
'Okay,' I said eventually, 'I'll do yours if you do mine.'
It seemed a reasonable compromise. And here I am today. Way, way too early in our personal handshake.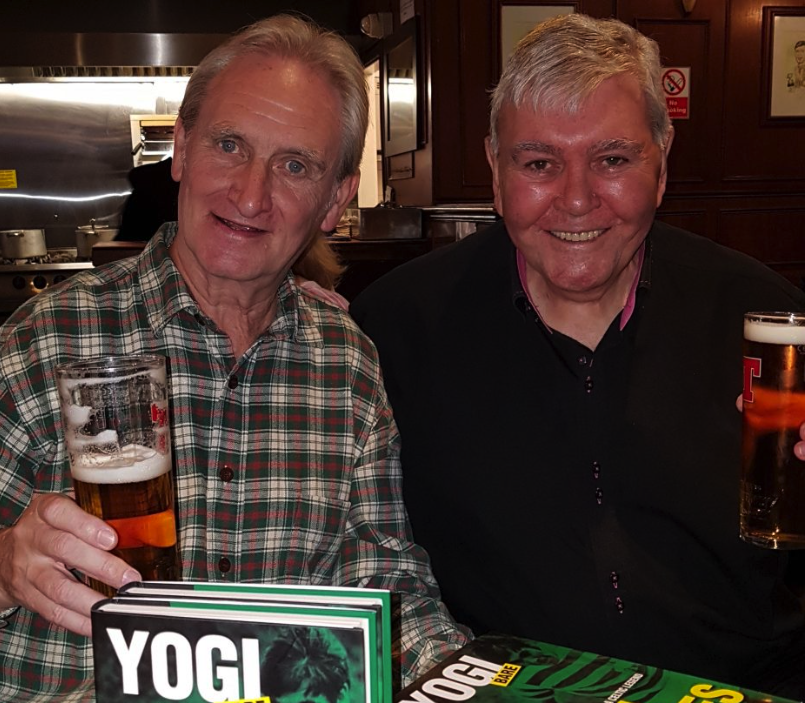 CHEERS…John Hughes and author Alex Gordon celebrate the publication of his autobiography, 'YOGI BARE: The Life and Times of a Celtic Legend' in 2014.
I will never forget the evening I received an interesting call from Big Yogi. It was the middle of December 2013 and it was around ten o'clock at night.
Gerda and I had put off trying to erect the Christmas tree all day, but we decided to get it done before we went to bed. Anyway, I was balanced on a chair, wrapping the lights around the tree in my annual argument with a Nordic Pine and I was also about to place the fairy on the top.
The phone buzzed to life at that precise moment.
After I had disentangled myself from miles of cable, I picked up the phone.
'I want you to write my book,' came the voice on the other end of the line. No preamble. Just 'I want you to write my book.'
It was Yogi. And that phone call kicked off the most wonderful adventure that, alas, has now reached a premature conclusion.
FAREWELL, OLD FRIEND…author Alex Gordon delivers his eulogy to his "extraordinary" friend John 'Yogi' Hughes at St Mary's Church in Glasgow. 
Writing a book is supposed to be a chore. You've got around 100,000 words to deliver to a publisher working to a strict deadline.
Sometimes the words flow like concrete.
Not in Yogi's case. Our meetings in the Burnside Hotel once or twice a week were something to look forward to. We both had our own businesses back then, so time was a little tight. We agreed midday to about 2pm would get the job done. Fish suppers acted as blotting paper, Yogi picking up the tab one week and me the next.
Very quickly it became midday to 4pm and we were having so much fun it became midday to any time that suited us.
When the book was done and dusted, we kept on meeting at various locations, with Theresa and Gerda in tow and sometimes Mary. Marvellous memories, fabulous days, exceptional company.
Somehow, Yogi and I had become fairly close friends.
Please believe me when I tell you John Hughes was my dad's all-time favourite Celtic player. Honest…I'm not likely to tell a fib in these surroundings, am I?
YOGI ON THE RAMPAGE…John Hughes in full swing during his Celtic heyday.
My dad would take me to the dilapidated Jungle at Celtic Park every home match from 1963 on and my old man, at the top of his voice, would belt out that delightful little ditty 'Feed The Beer' with thousands of others as Yogi, in full flight, set about demolishing the unfortunate opposition.
My dad would never have believed that later in life his son did actually get the opportunity to feed the bear.
I'm guessing you all have somewhere to be before Monday, so I won't dwell on Yogi's football career, it's all out there for everyone to see.
Yogi was a fairly easy-going guy, I think, but one thing did irk my big friend.
He was not too fond of being labelled inconsistent, wonderful one week and woeful the next.
Satistics certainly back him up. Yogi is currently the eighth highest goalscorer in Celtic history with 189 goals from 416 appearances. Even my faulty arithmetic tells me that is a goal almost every other game. And this tally was achieved by a player who played mainly on the wing.
Inconsistency like that would probably make him worth around £100million in today's transfer market.
Plus Jock Stein regularly selected him for six years including three years when Celtic were one of the top three or four clubs in the world.
ON THE BALL…John Hughes points out his autograph on a Lisbon Lions' memento to Alex Gordon.
As I've said, it was a real treat writing Yogi's life story and the memories just toppled over one another.
Yogi, of course, was the scorer of some breathtaking, spectacular goals. He had amazing ball control for such a big guy – I once termed him a balletic juggernaut and he said: 'That better be a compliment.'
I assured him it was.
Yogi recalled a goal he scored against Dundee United at Tannadice on a winter's afternoon on a muddy pitch.
'I took a pass in my own half, looked around and decided to go for it. I skipped past a few challenges and I was aware one of their players was hanging onto me attempting to remove my shirt. I ignored him, kept on going and gave the ball a dunt from just outside the box. Luckily, the ball flew into the top corner.
'I looked down and there was the United player at my feet. I said to him: 'Oh, are you still here?'
After the boots had been put away, Big Yogi, of course, went into the pub business. As we were putting the book together, I was absolutely fascinated by some of his tales in this arena.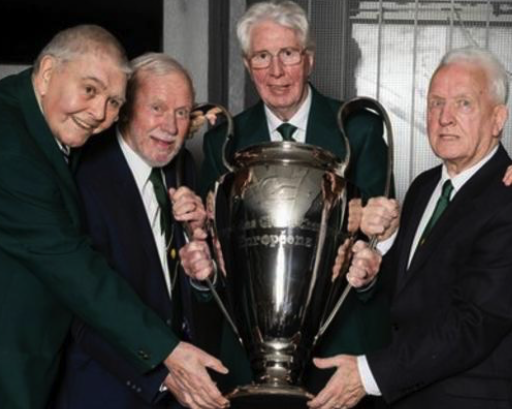 LISBON MEMORIES…John Hughes with Bobby Lennox, Jim Craig and John Clark – and European Cup.
Honestly, a few of the yarns Yogi came up with made me think Basil Fawlty operated in a mundane profession in comparison.
There was one little tale that seemed to highlight the new world Yogi now occupied.
He had bought a pub in one of the less salubrious areas of our fair city. It had been bought site unseen after Yogi and his accountant had looked at the books. It did a reasonable trade, it was up for sale at a fair price and Yogi decided to purchase the establishment.
On one of his first days, he was walking towards the pub when a television set dropped from the sky and landed about six yards from him on the pavement and exploded into smithereens.
A bewildered Yogi looked up and there was a guy peering down from a tenth floor window of a tower block.
'It's okay, mate,' shouted the lad, 'don't worry, it was knackered anyway.'
It appeared this was the novel and expedient way to get rid of unwanted household items around that part of the city.
Yogi related the story and, with a deadpan expression, added: 'It could have been worse, Alex…it could have been the burst sofa.'
I was fortunate enough to spend three separate breaks with Yogi, Theresa, Craig, Mary and, of course, Gerda on Millport in recent years. I will be eternally grateful for those days.
One late afternoon in August a couple of years ago, Yogi and I left a pub called Frasers. The girls and Craig had gone ahead and it was just Yogi and I as we made our way back to our apartment.
We took the coastal route, the Firth of Clyde was nudging the rocks, the sun in a bright blue sky was edging towards the hills of Arran and Yogi stopped for a moment to appreciate the scenery.
He looked at me, smiled and announced: 'I'm happy.'
It's only now, upon reflection, that those words convey such a heart warming and significant message.
Celtic legend. Celtic great. Celtic icon. Celtic man. Good man.
Here is a tale that underlines the true measure of an individual who was a giant of a man in every sense of the word.
On Sunday June 26 this year Yogi was determined to say a final farewell to a mutual friend, a chap called Tom Smith who had sadly passed away. Tom, who, along with his brothers Jack and Gerard, ran the JSB Bookmakers.
Tom was a well-loved character and also regularly attended our lunchtime sessions dotted around Glasgow.
TRIBUTE…Celtic fans honour the memory of club great John Hughes before the 3-1 win over Ross County in Dingwall on August 6 – five days after the passing of the much-loved Yogi.
The vigil mass for Tom was to be held at St Andrews in Bearsden at 7 o' clock that June evening. Gerda and I arranged to pick up Yogi and make our way to the church.
Yogi was respledent as usual in his green Lisbon Lions blazer, but, in all honesty, he did not look well.
However, he was absolutely resolute – he was going to say goodbye to his friend of almost sixty years. Nothing or no-one would have dissuaded Yogi from that mission. Clearly he was struggling and every step was etched in pain, but he wasn't going to let down his old mate.
We parked in the car park and there is a bit of a gradient leading you up to the front of the church. Yogi looked as though he was dragging an invisible horse behind him, but he was committed and unswerving in his quest that evening.
He made it, too. After an hour or so, Yogi was in our car and heading home. I realised I had just watched a truly remarkable and selfless act from an extraordinary human being.
When we got back to his place I walked him to the front door.
'It had to be done?' I said.
'Aye,' said Yogi, 'Tom was one of the best.'
Twenty-six days later John Hughes was admitted to hospital where he would pass away on August 1.
I watched Big Yogi score the glory goals, perform in the biggest games, enjoy Cup Final triumphs and play his part in lifting Celtic from the doldrums of the early sixties to European conquerors.
But nothing – and I mean nothing – will ever surpass his achievement that evening in June.
Thank you for the memories, on and off the field, my old friend.
Until we meet again, rest in peace, John 'Yogi' Hughes.
Click Here for Comments >