One of the drawbacks of football – at any level – is the ever present risk of injury. Over the past half century, Celtic have lost many fine players, often with devastating results for player and club. Hugh Gallagher has been looking at 6 such players this week. He's already featured  Joe McBride, George Connelly, Brian McLaughlin , Steve Murray and Pat Stanton. Now it's the turn of current Celtic coach John Kennedy…
IF we fast forward a quarter of a century, we come to the best footballing central defender that the youth system supplied since George Connelly. That player was John Kennedy, who was from a rich Celtic background. His grandfather, Jimmy Delaney had been a Celtic player.
Kennedy signed his professional contract on the same day as Stephen McManus and made his debut on 5th April 2000 – when Kenny Dalglish was temporary manager- at 16 years 231 days. This was  a record for being the youngest player ever to play for Celtic.
When Martin O'Neill arrived he used Kennedy sparingly. O'Neill was conservative when it came to giving youth a chance and anyway, he had Balde, Valgaeren and Mjallby. However, in 2003-04, Kennedy was given an extended run and he made sure O'Neill's confidence in him wasn't misplaced.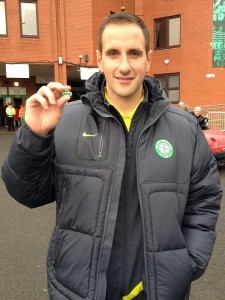 His greatest night came in March 2004 in the Camp Nou. Celtic were up against the might of Barcelona, in the last 16 of the UEFA Cup and held only a flimsy 1-0 lead, thanks to an Alan Thompson goal at Celtic Park. A mere 20 year old, Kennedy strode the Barcelona ground like a Colossus. With teenage goalkeeper David Marshall behind him, Kennedy played out of his skin and defied Barcelona's attack. Celtic held out for a 0-0 draw, thus qualifying for the last 8 of the UEFA Cup.
Next, Kennedy lined up against Rangers and helped Celtic to  a 2-1 win in a SPL match. A few days later, he was lining up for Scotland, in a friendly International against Romania. What an incredible 7 days for the 20 year old!
He'd helped knock Barcelona out of Europe, defeat Rangers and now he was winning his first cap.
Unfortunately, this game cost him his career and, in retrospect, the call up was far too early. Just 14 minutes into the game, Romanian Lonel Ganea put in a challenge every bit as bad as McVie's attack on Brian McLaughlin 30 years earlier. The  damage to Kennedy's knee was horrific.
It was ironic that this cap came after Kennedy had played only a few dozen games for Celtic. In the 1960s and 1970s, when Celtic had some of the best players in Europe, there was a reluctance to give them the International recognition their talents so richly deserved.
For example, Bobby Murdoch received a mere 12 caps whereas the main rival for his 'No 4' jersey, John Greig received 44 caps. Without being unfair to Greig, those figures are an absolute farce.
In addition, excellent Celtic players, like Tommy Callaghan and Harry Hood received no caps. It's admittedly easy being wise after the event but the ridiculously premature selection of John Kennedy for Scotland brought an end to a career that that had barely started.
Despite the great skill, effort and commitment of Dr Richard Steadman and many visits to America, John Kennedy was unable to recapture his early form; too much damage had been done.
Kennedy made repeated attempts to come back and at one stage, looked like he would succeed. However, he eventually had to admit defeat and retired in 2009. There is no doubt that John Kennedy would now be Celtic captain if he hadn't been forced to retire. Happily, he is still at Celtic Park, as a member of Ronny Deila's coaching staff.
These six players featured this week on CQN, all made excellent contributions to Celtic but were, due to unfortunate circumstances, unable to have as long a career as we would have wished. Brian McLaughlin's injury came when he was 18 and Pat Stanton's when he was in his thirties.
However, Celtic supporters were privileged to have seen these 6 fine players in action.
——————————–
HALF PRICE PIZZA!
Get half-price pizza if Celtic score twice against Hearts! Just click on the image below to register…
Click Here for Comments >