SCOTT BROWN took a sideswipe at Kilmarnock's players for celebrating like they had won the World Cup after yesterday's 1-0 victory over Celtic.
But the Hoops skipper also admitted the champions just didn't get their act together and were not good enough on the dodgy pitch at Rugby Park.
It's the first time the Parkhead men have lost in 15 visits to the ground over a period of seven years and Brown said: "It wasn't our best performance.
"They defended quite well, made it hard for us and we just couldn't get the chances we would have liked.
"People will try different things to beat us because we've done so well.
"Kilmarnock beat us and you saw their players celebrating in front of our fans like they had won the World Cup.
"It is always hard when opponents sit deep with a lot of men behind the ball and try to counter-attack, but we didn't deal with that as well as we probably should have done.
"The injuries made it hard. We were on top at that point and then we lost our two centre-halves.
"It's always hard to get injuries during games, especially to two quality players with height and pace at the back.
— CelticBible (@CelticBible) February 3, 2018
"That changed the game a bit and the momentum we had.
"But we have a huge squad, so we just need to deal with it. That's part and parcel of football."
Certainly Kirk Broadfoot at the final whistle came towards the Celtic support, arms raised in triumph and punched the air as he roared his delight – you'd have thought he'd just figured out how to work his microwave.
Tonight Neil Lennon is the latest guest on the CQN Podcast – A Celtic State of Mind. Neil won at Ibrox yesterday for the second time this season and that helped ease our pain – and Broadfoot's delight.
Neil is on sparkling form in an unmissable podcast which should be up around half seven to eight o'clock. If you haven't listened to the current Podcast with Frank McGarvey (below) it is also highly recommended.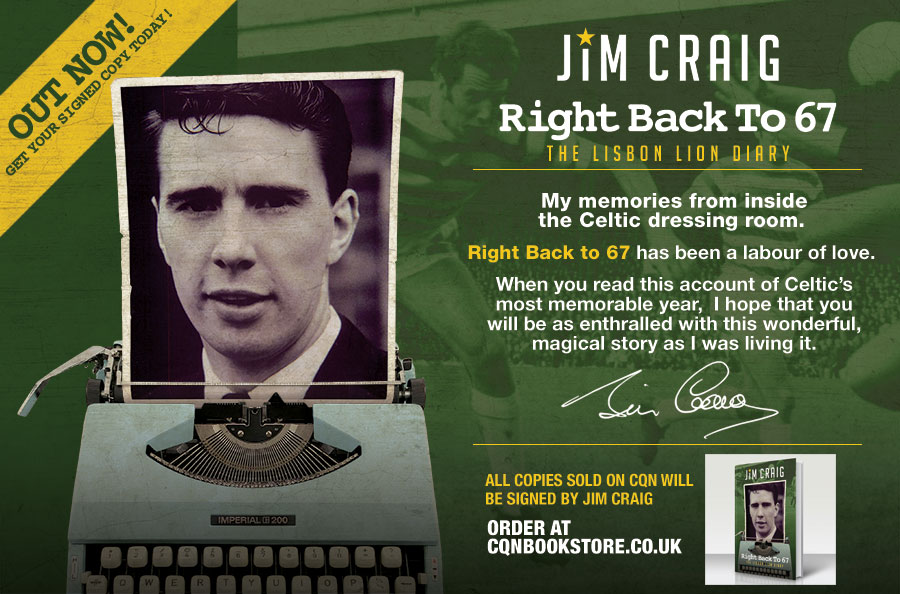 Order Jim Craig's new Lisbon Lion Diary – Right Back to 67 from CQNBookstore.co.uk and you will receive a signed copy from the man himself plus a FREE copy of That Season in Paradise – Ten Months of Celtic Heaven signed by fellow Lisbon Lion Bertie Auld! Simply order Jim Craig – Right Back to 67 and the second book will be sent automatically. Stocks are running very low so hurry! THIS DEAL WILL END IN A FEW DAYS!
Click Here for Comments >