PAUL LAMBERT believes Brendan Rodgers could handle the awesome pressure that comes with being Celtic boss.
The former Hoops skipper is an admirer of the Irishman who has had talks with the five-in-a-row champions as they seek a replacement for Ronny Deila.
Rodgers and ex-Parkhead defender Malky Mackay are among those who have already been interviewed.
Lambert reckons the former Liverpool manager, sacked in October to make way for Jurgen Klopp, would have a similar impact to Neil Lennon and Martin O'Neill, who delivered three titles each during their spells in charge of the club.
He said: "It will be totally different from Liverpool if Brendan got it. I don't think, because Liverpool is a massive club, you can't go to Celtic and think, well it's an inferior club. It's not.
"Celtic's a huge football club. Even in my own time when Martin O'Neill came in, I said we needed a manager like him because of the demands of the club.
"It needed a strong personality to take the job on and Martin was absolutely fantastic to play under.
"And I think if you asked any of us at that time, it was a fantastic five years under him, but we needed a manager to pull the club up. He handled the whole size of it, handled the fanbase and got really good players in to help.
"Could Brendan go in and do it? I think he could, but there will be a lot of hurdles he'll need to get over to meet the demands of it. He knows the club. I think Celtic is still a massive club to take on."
Lambert, who quit Blackburn Rovers at the end of the season, pointed out that expectations are high at the Scottish giants.
He said: "I think what he'll need to do is grasp you are either first or last, there is no in-between, there is no second place, there's no nothing, you have to win the title.
"It doesn't matter who comes, the supporters will still expect you to win because the weight of the jersey carries a lot for the players on it.
"And you have to get that in your head that you are going to have to win more games than not."
Lambert, who won the league four times, the Scottish Cup on three occasions, and twice picked up the League Cup in eight glittering years with the Hoops, revealed there had been no approach from Celtic to offer an interview.
He added: "First and foremost, you have got to be asked to go and do a job. Celtic, as I've said before is a brilliant club, a club really close to me. I had a great eight years there. It's a really fantastic place.
"But you have to be asked. You've got to be good enough to go and do it and that will be Celtic's prerogative to pick the right guy.
"Hopefully, whoever goes in there, gives the club success, because it's a brilliant club.
"I'm unemployed at the minute, so I actually need to look for something."
———————————————–
Order Charlie Gallagher? What a Player! and you will receive a FREE copy of The Winds of Change! Order
HERE
or click on the link below.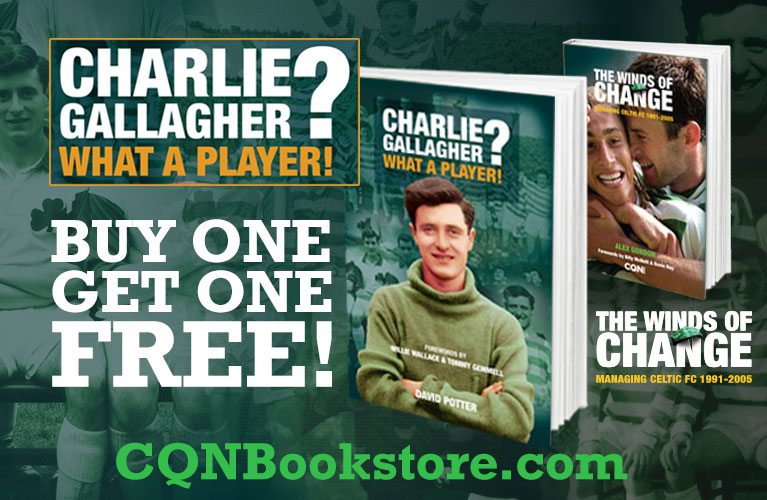 Click Here for Comments >