So how was it at Manchester last night?  In my view, TOP NOTCH!
The massive difference between the first Group game against Barcelona and the last game against Citeh at the Etihad was enormous; and I don't hold with any suggestions of a "dead rubber" or "it didn't mean anything to City" or "it was a reserve team".
City fielded a very strong team – many of their players cost more individually than our entire team. They were up for it and played for the win with a team stacked full of experienced internationalists. BUT they didn't bank on Celtic (yet again) out-thinking, out-muscling, and for large periods of the game, out-playing them!
Let's look at the raw stats. City had more possession – 57% to 43 – which was to be expected. However, Celtic did more with their possession, having 16 shots at goal to City's 10 with 6 on target to City's 2. So the goal aside, Craig Gordon only had 1 save to make whereas Caballero had 5 to make. This wasn't a backs-to-the-wall performance; far from it.
Celtic started on the front foot and scored early on pretty much stunning City yet again! They continued to press forward and harry City throughout the game. Overall, there wasn't a failure in the team!
Although caught out a few times, the defence was solid. In particular, the Jozo and Erik partnership is colossal and looks as if it can last us for a good few years. Not only tough, tactically aware defenders (apart from the goal), both can play a bit as well. Simunovic had a 100% pass completion rate with 42 passes finding their target; Sviatchenko wasn't as accurate with only 35 of his 42 passes (83%) finding a Celtic player. This augurs well for the future of our defence!
Both full backs coped well against skilful, pacy players and pushed forward well to link up with the midfield and attack. Izaguirre completed 52 of 59 (88%) with Lustig completing 37 of 49 (76%). This may be Emilio's last serious European campaign for us as KT should be fit for next season, but if it was his swan-song, then he can hold his head high; as the song says "Celtic loves you more than you will know".
Craig Gordon had very little to do and was a wee bit unfortunate at the goal. It looked as if he was starting to go down when the shot was hit and although he got a hand to it, he could only parry it into the net; if he had been a bit more upright, maybe a stronger hand could have put it over. His improved ability with the ball at his feet was evident again last night making it easier for his defenders and midfielders to use him as an option and build play from the back.
Brown and Armstrong were immense in the middle of the park. Although Armstrong was more dynamic, Brown did the "dirtier work" sitting in and pulling the strings. Brown's level of passing and his passing accuracy in Europe this season has been outstanding; last night he completed 60 of 63 (95%) passes and must be up there as one of the best passers in the competition this season!  The Captain's tenacity and control when sitting in allowed Armstrong to push forward more and complete 51 of 55 (93%) passes, including some fantastic linkup play with Gary Mackay-Steven when he came on for James Forrest after 51 minutes. (These 2 players know each other very well and have a great understanding; how will Brendan Rodgers develop this?).
Stuart Armstrong is growing in stature and confidence with every game, and now becoming the player he has always promised to be.  His direct running and strength is a worry to most opponents and he didn't look at all out of place on the Champions League stage last night.
In front of the Brown and Armstrong partnership, Tom Rogic displayed his twinkle-toes yet again; his touch and the ability to hold on to the ball with 2 or 3 players around him is a joy to watch – his vision and ability to play a pass are reminiscent of Dalglish and Burns at times. He misplaced 6 of his 38 passes (84%) but sometimes I feel that this is because he plays a pass that the intended recipient doesn't always see in time, so they don't take up the position to collect the ball.  He is continuing to develop very nicely under the current coaches AND he completed another 90 minutes!
The 2 wide players were magnificent in the first half. Paddy Roberts showed all his consummate skill last night, capping it off with a wonderful goal within the first 4 minutes of the game. That fully alerted the City defence to his danger and they tried to keep him quiet with at least two players on him but he regularly got away from them and should have been awarded a (stonewall) penalty at the end of the first half when Clichy pulled him back as he beat him on the bye-line.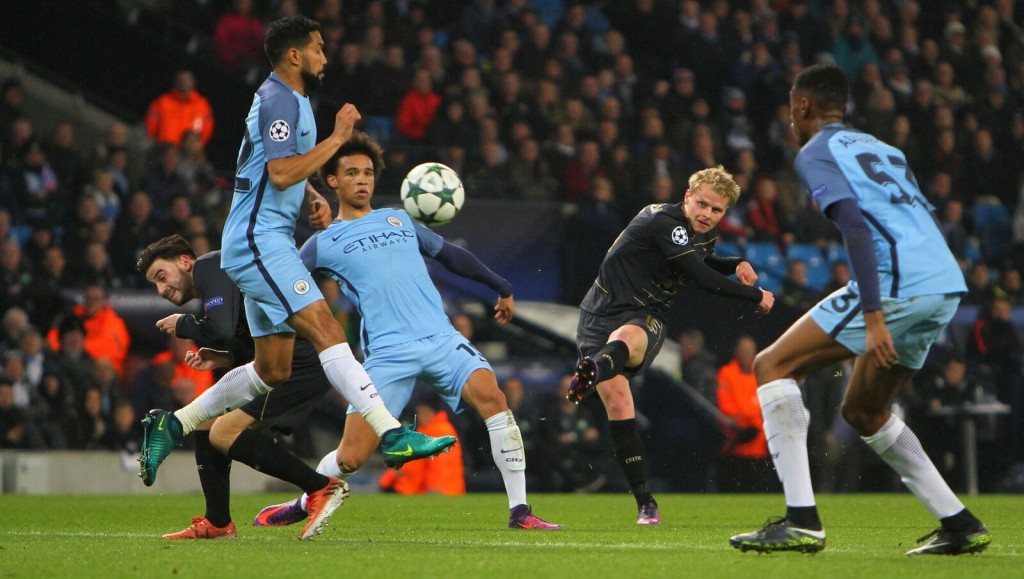 What the wee Harry Potter with the wand was looking at when it happened I don't know, but even the Man City players said afterwards they were lucky because it was a penalty!
James Forrest has added a steeliness to his game now and he no longer folds like a clothes-horse when he is heavily tackled; he rides the tackle and uses his increased upper-body strength to hold players off. He is also getting back regularly to help the defence; there was a wee cameo in the first half when he came deep into midfield, won the ball from Fernando and broke forward. He has never done that type of work prior to this season!
Moussa Dembele is still raw and although he didn't get on the scoresheet last night his physical presence always troubles the opposition defence and his work off the ball creates space and opportunity for the rest of the team. He had a great chance in the first half when Caballero saved from him and he knocked the rebound wide; he should have scored. He brings a completely different option to Leigh Griffiths (particularly in European games) and shouldn't be judged on goal scoring alone.
Gary Mackay-Steven deserves a mention for the part he played last night; although he only played 42 minutes, the fact that this was his first game for the first team this season, and it was an away tie in Europe made his performance even more laudable. He had some great touches and runs including 2 shots on target and one blocked shot. He was unfortunate with the one-on-one with Caballero on the near post. As he ran towards goal, he did look to see if anyone was on for a cut-back (great awareness) but when there was no-one there, he tried the shot and the keeper pulled off a good save. With more match-sharpness he may have put it away, but it wasn't to be.  In his 42 minutes, he completed 15 passes, giving him 100% accuracy!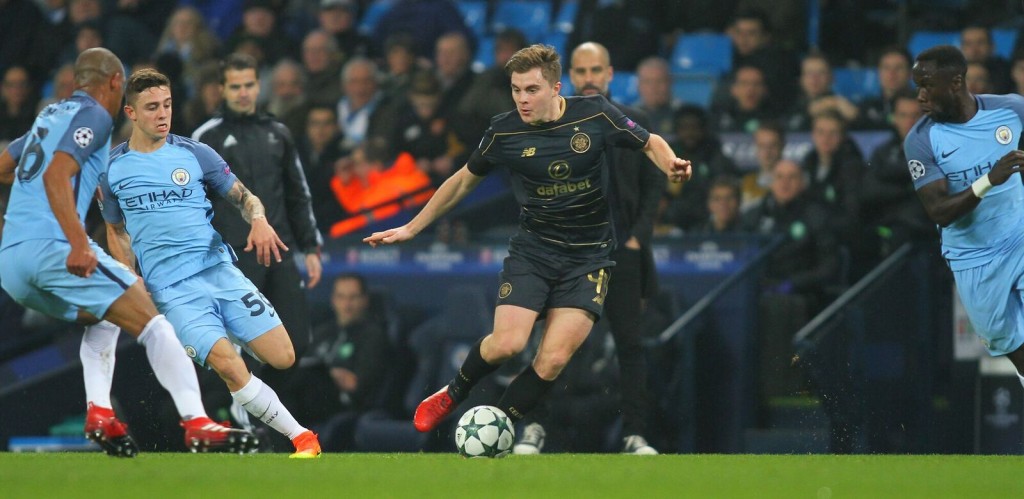 It's early days, but there are some wee signs that Brendan Rodgers may be working his magic on Mackay-Steven as well as Rogic, Forrest, Armstrong and the rest!  Watch this space.
Leigh Griffiths had a 20 minute spell at the end of the game and was his usual industrious, hungry self. He provided a more direct approach than Dembele and probably should have scored with the chance he had. The keeper was completely out of position and unfortunately Leigh steered it wide of the post. Maybe a wee bit rusty!
So all in all, it was great performance and although we finished the Group with only 3 points (2 away from home!) it was still 3 points more than many people expected us to get in this group!  We took 2 points from the richest team in England, scoring 4 goals against them in the process.
What has really caught us out in many of the games in Europe is failing to pick up the 3rd runner when teams break forward with pace; we pick up the first 2 okay but the late runner through the middle or in a wide area often doesn't get picked up. Invariably we end up on the back foot and the opposition get a shot or a cross in, putting us in trouble.
Unfortunately this is an effect of playing in an inferior league where our regular opposition rarely play this way. If we can fix this going forward it will certainly make us stronger and we should lose less goals in the process. However, I'm sure that if I have noticed it then the coaching staff will have as well and it's something they will work on for next season!
In many ways, it was a series of "what if's" in the Group games. As many predicted, our chances of advancement were down to the head-to-head against Borussia Monchengladbach; we shot ourselves in the foot (twice) at Celtic Park to drop 3 points to them!  A clean sheet that night would have seen us finish in 3rd place in the Group. In Germany, we had chances to kill them off and pick up 3 points; a result which would have also seen us finish 3rd.  Against Man City we could have possibly won either game with tighter defending and better finishing. Against Barcelona at Celtic Park, we missed a great opportunity when we were pushing forward and then Suarez manufactured a penalty a few minutes later to kill the game.
Oh, will they say we've failed? Absolutely not!  Getting to the Group Stage was probably one more step than was targeted for this season; picking up 3 creditable draws (2 away from home) and playing some great football along the way will certainly be seen as a major bonus.
I mentioned a few weeks ago that I think Brendan Rodgers is the best manager we have had since Jock Stein; not everyone agreed with that view. In the light of our recent performances I would say that I no longer think Brendan Rodgers is the best manager we have had since Jock Stein; I am certain of it!  With 2 transfer windows between now and our next foray into Europe I am sure that the team will be stronger.  The coaching staff will continue to improve our current crop of players and a year down the line I'm sure we will be looking at the next level in the Rodgers Revolution.
As the old song says "You ain't seen nothing yet!"
KTF
Written by VFR800 for CQN
———————-
Australian and New Zealand Bhoys, tomorrow is the last day for posting your books and DVDs to reach you for Christmas. It's next Tuesday for USA and Canada. Shop online at www.cqnbookstore.com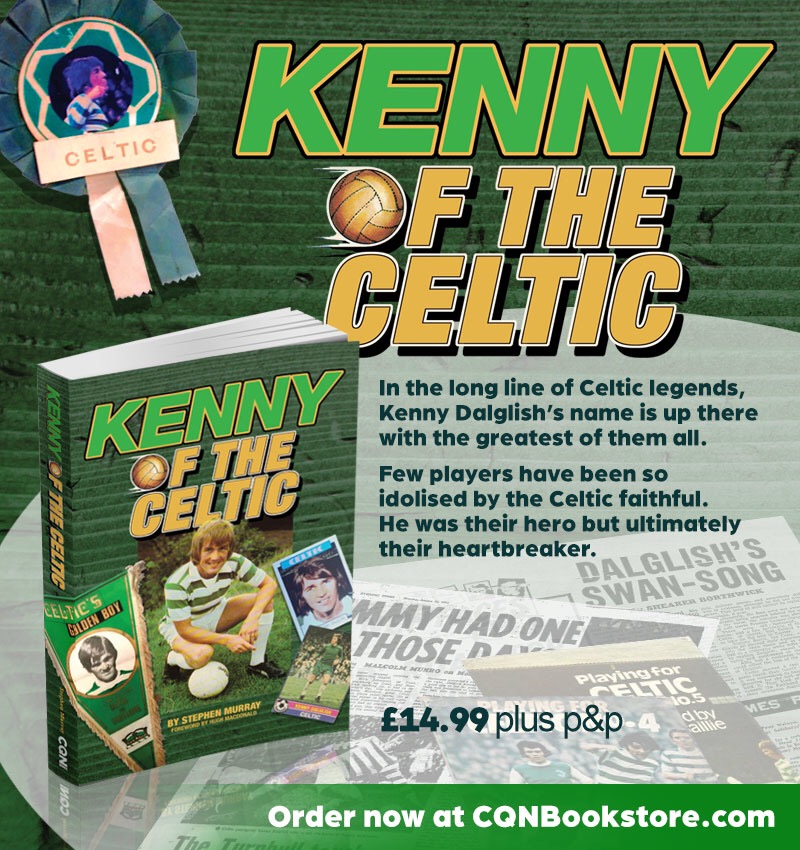 Click Here for Comments >