STRIKER Leigh Griffiths insists Celtic won't ease up when they meet either East Kilbride or Lothian Thistle Hutchison Vale in the Scottish Cup Fifth Round next month.
The tournament favourites were paired with Junior outfit East Kilbride or Lothian, who play in the Premier Division of the East of Scotland League in last night's draw.
Griffiths had a stint with youth side Hutchison Vale, who became linked to Lothian Thistle at the start of the 2011/12 season.
The 22-goal marksman said: "It's a glamour tie for East Kilbride or Lothian Thistle, but it's about what we do.
"If we turn up and be professional there will be no problems.
"I used to play with Hutchie Vale when I was younger, but I haven't come across them in a Cup competition for a while so it will be good if we get them.
"But whether we face them or East Kilbride, they will both be going at it hammer and tongs and it will be interesting to see who we get. It will be difficult for us as they will be up for it.
"These ties are all about getting into the next round, regardless of the scoreline or the performance. The pitches aren't going to be pretty at this time of year and it's just about getting through and being professional."
Griffiths also paid tribute to striking partner Carlton Cole, who scored on his first start against Stranraer in the previous round at Stair Park at the weekend.
He added: "The big man has attributes that I don't have. He can hold the ball up well and I feel we linked together well, but it's entirely up to the manager if we wants to continue playing two up front or stick to one.
"So long as I'm in the starting XI, I don't mind.
"I'm loving football just now. I feel like I'm going to score every time I go on the park and, hopefully, that will continue.
"We went out there against Stranraer and did a professional job, scored three good goals and kept a clean sheet and the manager was happy.
"Now we have the League Cup semi-final against Ross County coming up and then we will have the Scottish Cup the following week, so it could be a good week for us. Or a bad week for us! We will take it one game at a time."
———————————-
Order The Winds of Change OR Caesar & The Assassin today and we will send you a free copy of the Total Larsson 2 disc DVD. Order at
CQNBookstore.com
or click on the image below.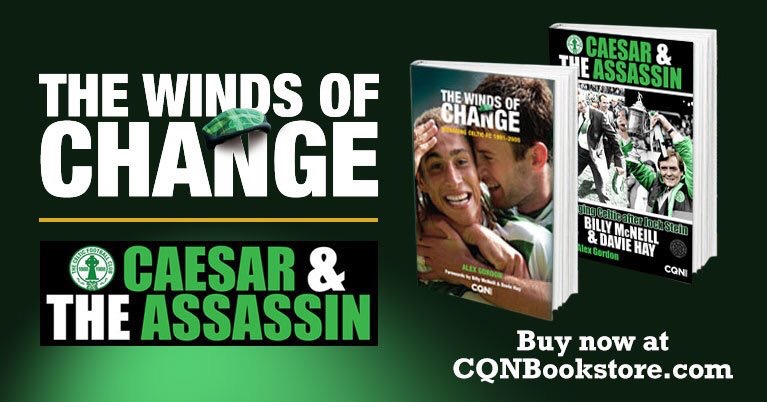 Click Here for Comments >