NEIL LENNON "feels he's let down the club", according to former Celtic boss Gordon Strachan.
The 49-year-old Irishman's Parkhead exit was made official yesterday morning when he left two years after returning to take over from Brendan Rodgers.
Lennon led the Hoops to five trophies and also the unprecedented quadruple treble before time was called following the wretched defeat to Ross County in Dingwall on Sunday night, just another setback in a catastrophic campaign.
The nine-in-a-row champions are 18 points adrift with only eight league games to play and dreams of a historic tenth flag in a row are in tatters.
Strachan, who joined club legends Willie Maley and Jock Stein in leading the club to three consecutive championships from 2006 to 2008, said: "I think what Neil would be worried about just now is what people think of him.
DUG-OUT DESPAIR…Neil Lennon suffers as he watches Celtic toil.
"Not outside the Celtic family, but the Celtic fans and everything like that.
"I know he feels he's let the club down, which you always get as a manager who has to move on.
"What he's done, as far as I can see, is take it all on his own shoulders.
"So, that is a problem for him at the moment. You've got to remember he's had to deal with walls all his life.
"That's what's made him the man who can manage Celtic through all sorts of trouble, because you have to have that character to manage Celtic. So, that's where Neil is at the moment.
"But what's going to happen is, similar to Tommy Burns – and don't take this the wrong way, Tommy is probably the best-loved Celtic player of all time – but when Tommy was the manager this was always his thing, about letting the fans down.
"And Neil picked up on that, as well. Tommy felt bad about this, really bad, because Tommy didn't win the league and he won a Cup but lost in a Cup Final.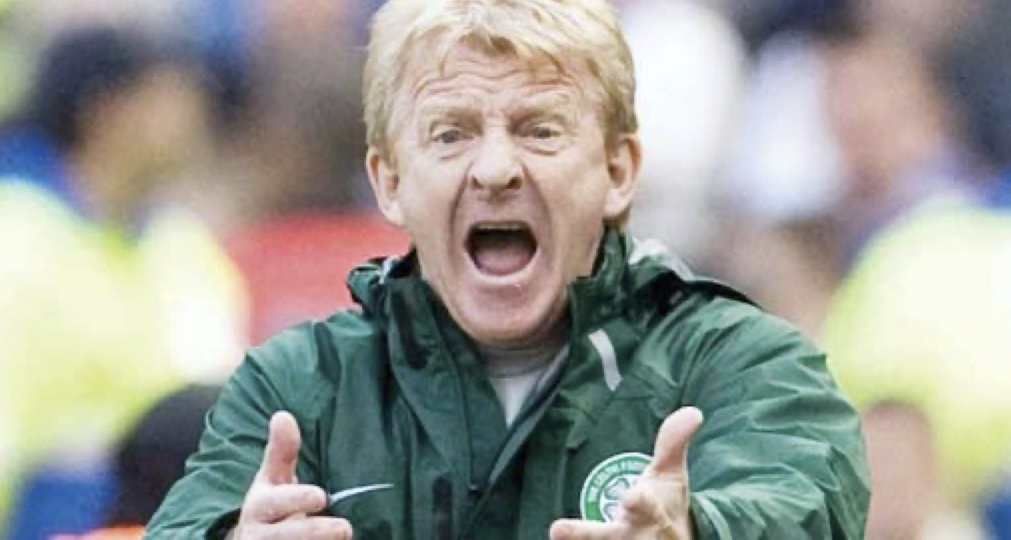 "But when all is said and done he's probably the most-loved Celtic person of all time.
"And that's what's going to happen to Neil Lennon. He's going to come back, people will forget this last six months and they'll remember all the good things that he's done.
"That's going to happen. I know that's going to happen."
And Strachan, speaking to Football Pass, added: "If you're a fan and think you're hurting just now, be in his shoes just for an hour today.
"I don't care what anybody feels like in the Celtic fanbase at this moment, nobody feels as bad as him.
"The Celtic fans – in general – could see he was hurting. Neil was hurt, he was definitely hurting, and it was hurting them to see Neil hurting.
"It was like a friend who was hurting.
"So, I think there will be more about that in the coming days, about the Celtic fans seeing one of their heroes hurting.
"And they didn't enjoy it and they didn't enjoy seeing somebody who had to come in front of the press and explain this, this, this.
"There cannot be a worse time to be a manager, or anybody – Boris (Johnson), (Matt) Hancock, Nicola Sturgeon – to get up and speak to people when the world isn't great.
"There are these people trying to catch you out and normally when this happens you can go and speak to friends, go and have a walk, have a beer with them or have a meal with them, take away the pressure.
"You cannot do that at the moment. Neil was having to deal with this and have to go home and sit – and poor Irene's got to sit and watch him.
"It's a horrible time to be in the public eye with people asking questions of you."
Lennon will be elsewhere on Saturday when assistant gaffer John Kennedy takes over in an interim capacity until the end of the season. Stephen McManus will also step up from his reserve-team coach's role to share some of the touchline responsibilities.
Aberdeen are the visitors as the Hoops try to get back on track after the dismal 1-0 loss in the Highlands.
Click Here for Comments >