NEIL LENNON has been on the receiving end of some ferocious criticism in recent weeks with Celtic stumbling through a wretched sequence of disappointing results.
It came to a head last month following the shock 2-0 loss to Ross County in the Betfred League Cup, the team's first defeat in 36 domestic Cup-ties. The irate fans descended on Parkhead that evening to voice their concerns and ugly scenes ensued.
The club was also dismissed from the Champions League in August by unseeded Ferencvaros in Glasgow and four defeats from the first five games put paid to hopes of qualification from the Europa League Group.
Lennon has steadied the ship somewhat over the past two outings with a well-merited 3-2 win over Lille in the final Euro tie and a 2-0 victory over Kilmarnock at Parkhead yesterday to bring in three crucial Premiership points.
The Irishman has admitted nothing means more to him than securing the historic tenth successive championship and he is currently preparing for the delayed Scottish Cup Final against Hearts at Hampden on Sunday where the club can achieve greatness with a twelfth consecutive domestic honour while completing the astonishing quadruple treble.
Speaking at the club's AGM, he faced the shareholders and here are edited extracts from what the manager had to say in a Question and Answer format.
QUESTION: What are your thoughts on the upcoming Final?
ANSWER: It's unprecedented to be talking about trying to win a fourth treble in consecutive seasons is monumental and I think it'll mean so much to the players.
From my own personal point of view, it would mean a hell of a lot because we put a lot of work into it last season even though it's now overlapping into this season.
Since 2000, we've won four trebles, it's incredible, and this could be the fifth. I don't think we'll ever see the likes of it again.
I think the players are very much motivated for and hopefully we can come away with another really important piece of silverware to bring home for the club and the supporters."
Q: How important is it to get the fans back?
A: I think from our point of view we've missed the fans as much as any other club in Europe.
The players have really found it difficult, empty stadiums is not normal and I think it's affects them subconsciously at times.
We don't have that rawness in the atmosphere, that electricity.
Hopefully, we're seeing the turning of the corner with this and we'll get the supporters back in soon.
Q: How committed are you to turning the situation around?
A: It means everything to me. My own personal pride, the reputation of the club, the reputation of the players.
It's been difficult, but you're starting to see signs of things really improving.
There have been situations where we've lost players to Covid.There's been anxiety with the players, I think.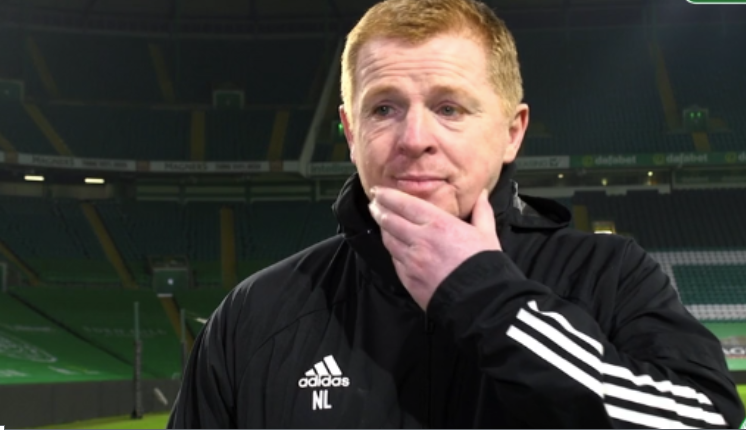 There's been no respite for them in terms of the pressure being on in every game.
Sometimes there's just an overall fatigue where they look leggy and that just comes from the mental pressure they're feeling rather than anything physical.
Once we get over that we'll be absolutely fine.
Q: How will you draw on your own experience to handle a time like this?
A: I've been saying to the players that I've been in this situation before as a manager. The Lille game was the ninth anniversary of us playing against Hearts when Fraser Forster saved a penalty and we could have been 10 or 11 points behind our rivals at that stage of the season.
We turned it around that season, so there's evidence that we can do it and the players need to buy into that and understand that.
I think that's a huge motivation for them going forward.
We can't affect other results, what we need to do is find that little bit of swagger that we had because it's been apparent we haven't had that from last year where we were rampant.
We need to pick that up, have a little bit of belief in ourselves and chase it down.
I think that's very, very exciting for the club and the group of players and it would be an amazing achievement if we could do that.
Q: What makes you think you're the right man to carry Celtic forward?
A: I believe – and I've proven – I can do it.
Out of the nine (league titles) I've contributed to five of them and no-one wants it more than myself.
I can't project that sort of desperation to the players, it has to be calm and be consistent. You have to do it bit-by-bit.
You can't look too far ahead and we have to play in the present, but my record speaks for itself when it comes to winning championships whether it be as a player or a manger.
I've won 10 in my time here as a player and manager and there are not many who've done that before.
Q: You've been a Celtic fan all your life, how important is it for you to be part of the success?
A: You're right, I have been a Celtic all my life. And I'll be a Celtic fan for the rest of my life.
This means more to me than any other thing apart from my family. I've been a part of the club here, on and off, for 20 years.
I haven't done it all myself, I've played with good players and worked with good managers, I've worked with great coaches and I've had great players underneath me.
It's been a concerted effort and I've also got a great CEO in Peter Lawwell who's brought mighty success to the club.
We want more, we're hungry, we just need to transmit that on to the pitch and bring that to the supporters.
I think the fans see that every now and again we're going to have a little struggle and it's important we get their support through thick and thin.
I've no doubt or belief we'll come out of this stronger than ever.
Q: What have been the factors behind the recent poor run?
A: This is all new, I've never managed through a pandemic before and the players haven't played through one.
It's been bit-by-bit. I don't think we've had a lot of luck, things have gone against us, whether it be Covid, players missing, restrictions on their life away from the training ground that they find difficult.
We're talking about eight weeks where it's not been great, the results haven't always merited the performances.
We were outstanding, I felt, in the San Siro. I thought against Sparta Prague for 35 minutes away from home we were in total control. We just didn't get the goal we deserved.
So. there have been fine lines we haven't crossed, hopefully with the Lille result that's a turning point.
It was a really good result on the back of a really good performance, a lot of zest and energy, a lot of will-to-win and desire.
That's what we want from the players and, hopefully, that will give them the little ignition, the little spark, to go on the winning run we know they're capable of.
Click Here for Comments >