CELTIC recently celebrated the 53rd anniversary of their unforgettable European Cup triumph in Lisbon.
Today, CQN concludes our celebration of the historic achievement with another EXCLUSIVE extract from the late, great Tommy Gemmell's autobiography, 'All The Best', co-authored by Alex Gordon, and published in 2014.
It was, of course, Big TG who walloped in the equaliser against Inter Milan to put Jock Stein's great side on their way to victory on May 25 1967 in the Portuguese capital. 
Gemmell, who sadly passed away in March 2017 at the age of 73, had a keen sense of humour and it comes across in these memoirs.
Please enjoy Day Ten and final part of this CQN special as he continues his Hoops revelations.
I WONDER what height Bobby Lennox would have been if someone had straightened his legs. Probably about 6ft 10in!
My wee pal had slightly bandy legs, of course, and was never too pleased when you made the observation that a Jumbo Jet could fly through them without the wings touching his knees. 'Where's your horse, cowboy?' he was asked on countless occasions. Actually, Bobby – Lemon to everyone at Celtic – was never one to take offence.
He must have been born with a smile on his face and it has remained that way ever since. He's a lovely, bubbly character. He scored 273 goals in 571 appearances for the club and that's simply phenomenal shooting. However, Lemon was so fast I'll bet there were scores of perfectly legitimate goals ruled out because he looked miles offside.
His pace was frightening and he must have been an absolute nightmare for any defender facing him. In his heyday I would have taken him to beat any player in the world over a short distance.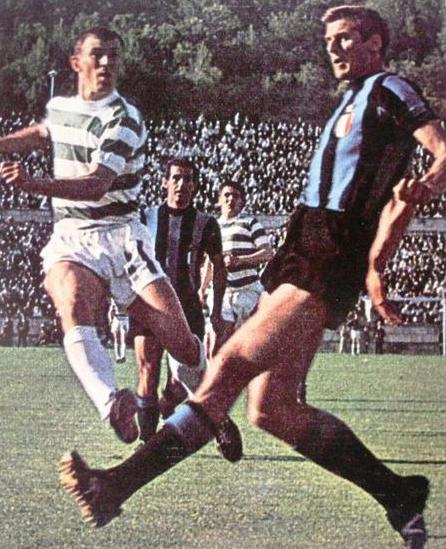 LIGHTNING STRIKE…Bobby Lennox fires a shot past Inter Milan defender Giacinto Facchetti.
Big Jock used to tell us to knock the ball inside the full-backs and, inevitably, Bobby had timed his run to perfection to swoop onto the pass and leave defenders in his wake. He was told to play on the shoulder of the last opponent to keep himself onside and I'm sure he would have followed that instruction. Let's face it, Bobby hardly needed a head start on anyone.
To emphasise how fast he was, he scored a goal against Feyenoord in the 1970 European Cup Final that experienced Italian referee Concetto Lo Bello ruled out. No-one complained at the time. We watched the replay later on and, astonishingly, Bobby was played onside by no fewer than THREE Dutch defenders. It's there on film for all to see.
That would have given us the lead and, of course, I might have netted another shortly afterwards. I realise the entire pattern of the game would have been altered had Bobby's goal stood and there was every likelihood I might not have got the opportunity to score when I did. But you can't help wondering. A two-goal advantage might have seen Feyenoord fold. It just wasn't our night in the San Siro in Milan.
I'll tell you another thing about Bobby Lennox that you cannot say about too many players who make their money hammering the ball into the net. He was totally unselfish. If he was in the penalty box and in a reasonable position and he saw a team-mate better placed he would pass the ball to his colleague ten times out of ten. That's unusual for a goalscorer.
Normally, they are greedy beggers who see nothing else when they are put through. How often have you seen a player attempt to score from awkward angles when an unattended team-mate is screaming for a pass? It happens all the time. Not with Bobby Lennox, though.
Goodness knows how many goals he set up for Willie Wallace, Stevie Chalmers, Joe McBride, John Hughes and the others. Hundreds, probably, and I don't think that is being too far-fetched. So, here's the team that will live forever in Celtic's heritage: Ronnie Simpson; Jim Craig, Billy McNeill, John Clark and Tommy Gemmell; Bobby Murdoch and Bertie Auld; Jimmy Johnstone, Willie Wallace, Stevie Chalmers and Bobby Lennox.
Not too shabby, is it?
CQN READERS: Look out for some more EXCLUSIVE Tommy Gemmell revelations in future weeks!
Click Here for Comments >