ON May 25 1967 in the Portuguese capital of Lisbon, Celtic became the first British club to conquer Europe.
Over the next three days, in another CQN EXCLUSIVE series, the unforgettable achievement is chronicled as Jock Stein's side edged through the elite competition to come within ninety minutes of everlasting glory.
Today, author Alex Gordon, who has written fifteen Celtic books, including 'Lisbon Lions: 40th Anniversary Celebration' and '50 Flags Plus One,' continues to retell the glorious journey through the 1966/67 campaign.
Here is an extract from one of his tribute publications, 'That Season In Paradise', which was published by CQN in 2016.
Please enjoy a memorable trip back in time.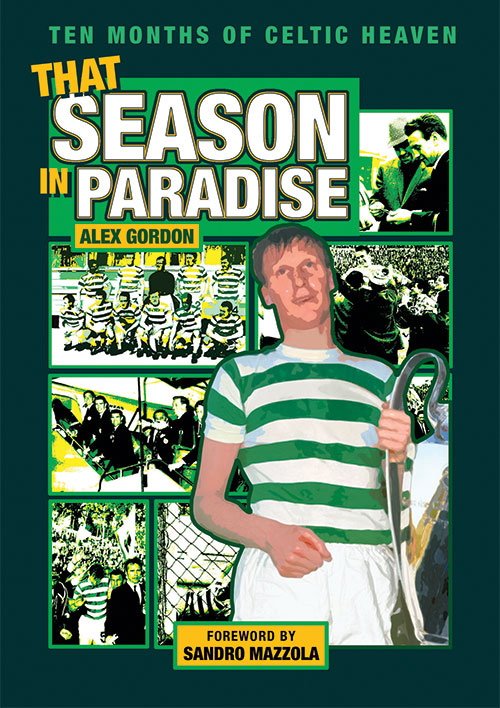 Semi-final: First leg, April 12, 1967
CELTIC 3 DUKLA PRAGUE 1 
ON a crisp, still Wednesday evening of April 12, Celtic moved within an hour-and-a-half of a place in the European Cup Final. Jock Stein's pre-match requirement was stark: a two-goal advantage to take to Czechoslovakia.
The players responded and Dukla Prague were dismissed 3-1 in front of 74,406 supporters who were beginning to believe their team just might be in with a chance of conquering Europe. The thought would have been disregarded as a combination of irrational, unreasonable and absurd only eight months beforehand.
Willie Wallace went some way to replay his £30,000 transfer fee with two splendid goals in his debut appearance in Europe's premier trophy. Jimmy Johnstone, a source of inspiration on this occasion, claimed the other. But the encounter kicked off in controversial fashion when Stevie Chalmers had a goal disallowed.
PARADISE…Celtic and Dukla Prague players prepare for a dramatic semi-final.
Tommy Gemmell flighted an inviting ball downfield, Wallace got a touch to Chalmers, he slipped it to Johnstone coming in from the right and the little winger chipped it back for Chalmers to nod in at the near post. The referee ruled Johnstone's foot was dangerously high and cancelled the effort.
Dukla, it must be pointed out, were no dummies on an evening that was perfect for football. Josef Masopust would never be invited to blow out the candles on a thirtieth birthday cake again, but he was looking very comfortable in his team's engine room as he dictated the flow of the game with masterly poise.
In the gangly Stanislav Strunc he had a willing accomplice in making life a trifle uneasy for the Celtic defence. Ronnie Simpson had to look lively on two occasions before he actually set in motion the game's opening goal in the twenty-eighth minute.
The keeper, who normally initiated attacks with throw-outs, mainly to Bobby Murdoch and Bertie Auld, elected to launch a clearance down the middle. Chalmers got a flick and it fell for Auld who teed it up for Wallace. His shot deflected off a defender into the path of Johnstone and he gleefully lifted it over the head of the outrushing Ivo Viktor, another internationally-acclaimed goalkeeper.
UP AND AT 'EM…Jimmy Johnstone acrobatically lobs the ball over outrushing Dukla keeper Ivo Viktor for the opening goal.
FLYING HIGH…Jimmy Johnstone leaps in delight as his Celtic team-mates prepare to offer their congratulations.
However, that was nullified on the stroke of half-time when the Celtic central defence got into a real muddle on their own eighteen-yard line. Strunc pounced and stroked the ball away from Simpson. Celtic Park was struck dumb.
Simpson remembered, 'Masopust created the opening with a through pass to Nedorost. The inside-left slipped and looked as though he had handled the ball, but he managed to flick it to Strunc, the tall, ungainly outside-right, who fairly crashed it where I didn't want it to go.'
Tommy Gemmell said, 'In the dressing room, we got the usual pep talk from Big Jock and, rather obviously, conceding a goal just before the interval is horrible timing. But you can't come off the pitch feeling sorry for yourself. You must not dwell on it; you have to concentrate fully on what is still to come. "Just play like you did in the first-half and you'll win," urged the Boss. Actually, we were already thinking along those lines, anyway. I know I was.'

OOPS…Ronnie Simpson looks back as Stanislav Strunc equalises for the Czechs just on half-time. John Clark, Billy McNeill and Tommy Gemmell are helpless.
Just before the hour mark, the left-back walloped the ball forward and Wallace was running free of the Czech defence to get a wonderful touch off the outside of his right boot to send the ball soaring into the net for the second goal. Five minutes later, a desperate Ladislav Novak pawed away a high ball from Bobby Murdoch and received a booking for his goalkeeping tendencies.
It didn't get any better when Bertie Auld stepped up to take the resultant free-kick. He dithered a bit to unsettle the defensive wall and then touched the ball sideways to Wallace who bulleted an unstoppable first-time drive past Viktor, who was rooted to the spot. The ball was stretching the netting before he had a chance to think.
With twenty-five minutes still to go, the Czech champions were on the verge of collapse and surrender. They were there for the taking as Celtic rolled forward in numbers, the fans urging them on for more goals. Chalmers slashed one past the post, Wallace wasn't far off target with another and Murdoch sent a left-foot sizzler just over the crossbar.
Wallace even knocked one against the face of the bar from a Chalmers cross. Masopust the maestro had disappeared under the onslaught, but he and his team-mates held out until the end and Celtic had to be content with a 3-1 advantage to take to Prague.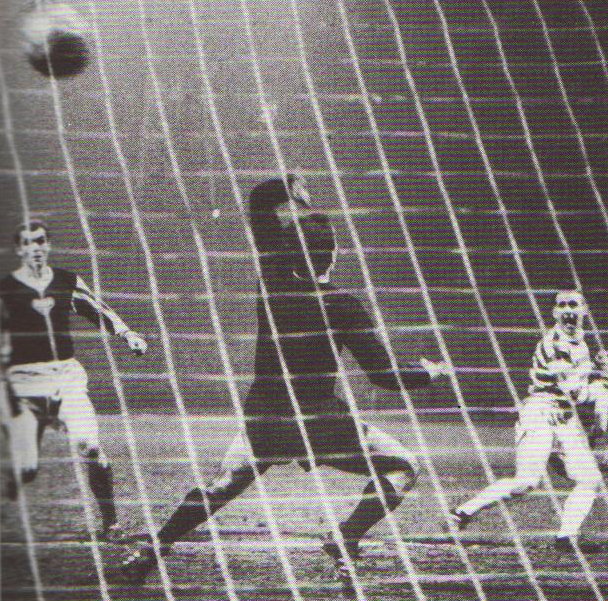 WILLIE WALLOP…Dukla keeper Ivo Viktor is helpless as Willie Wallace lashes a shot into the roof of the net.
Willie Wallace said, 'There has always been the suggestion I should have taken my European bow in the quarter-final ties against Vojvodina. I have heard that, although I was registered to play in the domestic competitions, someone had been a little late in getting the forms to UEFA to allow me to play in European tournaments.
'I signed for Celtic on December 10 1966 and the first leg against the Yugoslavians was on March 1 1967. That's a fair period between signing and that game and, to be completely honest, I don't know how long you had to be registered back then to allow you to play in Europe.
'I am not complaining, though. You never know what might have happened if I had played against Vojvodina – maybe we wouldn't have got through! As it was, I was more than delighted to play against Dukla Prague in the following round.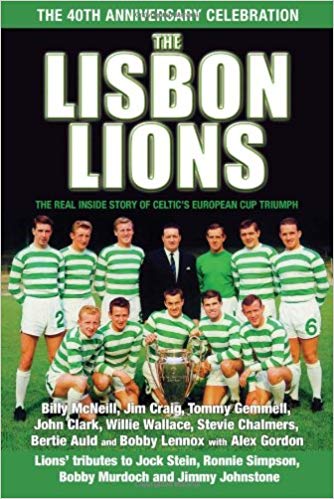 "I had been sitting beside the injured Joe McBride in the stand at Celtic Park to witness that astounding quarter-final against the Slavs and I thought, "Wispy, this is the place for you!".
'I wanted a slice of that, believe me. I know the other lads would all say the same thing, but the atmosphere generated by our support in those European occasions was just breathtaking. Quite staggering, really.
'I was well up for the Dukla game. I had anticipated it for weeks and just hoped I would get the go-ahead from Big Jock to play. You never took anything for granted with the Boss, that would have been a huge mistake. But everything just went so well for me on my European Cup debut. I couldn't have scripted it better myself. A 3-1 victory and two goals from me.
CRAFTY CRAFTSMAN…Bertie Auld was his usual box of tricks against Dukla.
'Okay, it would have been nice to have claimed a hat-trick, but I wasn't grumbling. I came close, you know. I actually hit the face of the crossbar near the end. Big Jock had told us beforehand, "Get a two-goal advantage and I'm sure we'll get through." My first goal came just before the hour mark when Big Tommy launched one downfield.
'It might have been a clearance, but he has always assured me it was an inch-perfect pass! Anyway, suddenly I had a bit of freedom in the Dukla penalty area, and managed to flick the ball with the outside of my foot and it carried past their keeper.
'About five minutes or so later, Celtic Park just went crazy when I scored again. It was all down to the cunning antics of Bertie Auld. He stepped up to take a free-kick, paused and looked as though he was about to recentre it. I knew what was coming next, though. Bertie merely slipped the ball to the left and I was coming in behind him to hit it first time.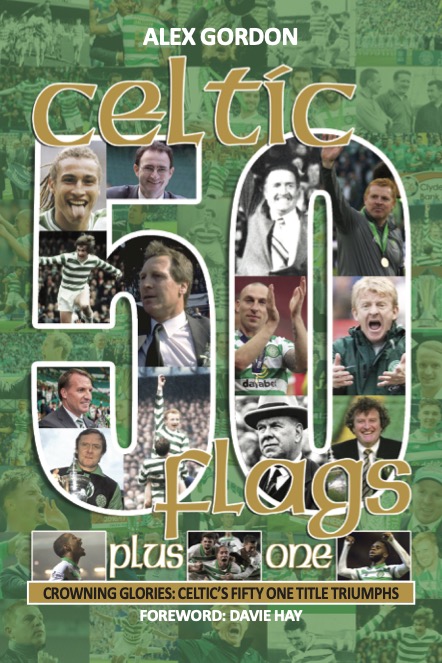 'The ball flew through their defensive wall and was in the net before Ivo Viktor could move. It looked like an impromptu bit of skill from Wee Bertie, but, take my word for it, that little bit of trickery came straight off the training ground. We practised that move every day.
'It was an idea from Big Jock who was always looking at ways of developing free-kicks and corner-kicks. He always urged us to put variety into deadball situations and Wee Bertie seized the moment against Dukla Prague. The Czechs were startled. They started pointing at Stevie Chalmers and claiming offside. Stevie had followed my shot into the net, but there was no way he was off.
'It was just his speed getting round the back of the wall that got him into that position. When I connected with the ball, I can assure everyone that Stevie was well onside.'
TEAM: Simpson; Craig, Gemmell; Murdoch, McNeill, Clark; Johnstone, Wallace, Chalmers, Auld and Hughes.
TOMORROW: Don't miss Lisbon Rewind Day Nine – only in your champion CQN.
Click Here for Comments >