ON May 25 1967 in the Portuguese capital of Lisbon, Celtic became the first British club to conquer Europe.
Over the next few days, in another CQN EXCLUSIVE series, the unforgettable achievement is chronicled as Jock Stein's side edged through the elite competition to come within ninety minutes of everlasting glory.
Today, author Alex Gordon, who has written fifteen Celtic books, including 'Lisbon Lions: The 40th Anniversary Celebration' and '50 Flags Plus One', continues to chronicle the glorious journey through the 1966/67 campaign.
Here is an extract from one of his tribute publications, 'That Season In Paradise', which was published by CQN in 2016.
Please enjoy a memorable trip back in time.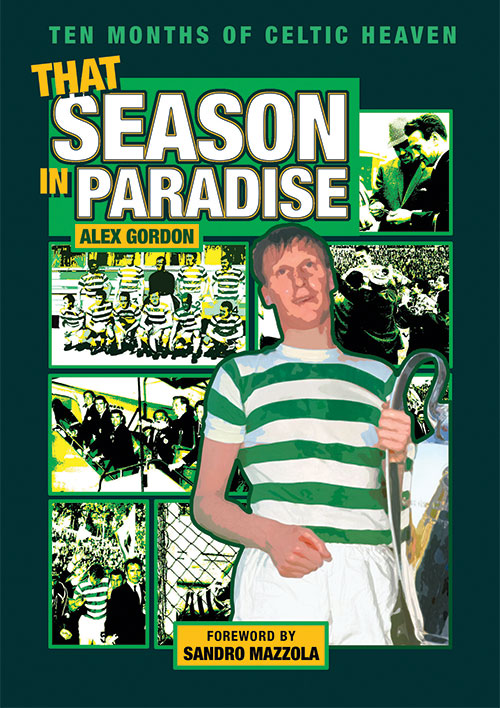 Second leg, December 7 1966
CELTIC 3 NANTES 1 (Agg: 6-2)
JOCK STEIN went on record before this game promising the Celtic fans that his team would attack. He vowed: "We may be 3-1 ahead from the away leg, but we are committed to attacking, entertaining football and we will show that again on this occasion."
Willie Wallace, whose £30,000 signing from Hearts hadn't been registered with UEFA in time to play, took his place in the stand as Celtic prepared to finish the job against Nantes in the second leg of their European Cup encounter in Glasgow on Wednesday December 7.
Sitting beside Wallace that evening was Joe McBride, ruled out through injury. At that stage, though, no-one had any reason to be concerned.
Torrential rain cascaded violently before and throughout the match and there was an early scare for the Scottish champions when Nantes' Yugoslavian striker Vladimir Kovacevic sneaked through to alarm Ronnie Simpson. The veteran recalled: "Their player went on a solo run and beat me with his shot, but the ball hit the post and rebounded clear. He should have scored."
SHAKE ON IT…Billy McNeill and Robert Budzinski exchange pennants before the tie in Glasgow.
Jimmy Johnstone, aka 'La Puce Valente', provided the apt reply when he seized upon a Georges Grabowski slip before rifling the ball beyond keeper Andre Castel to put Celtic 4-1 ahead on aggregate in the thirteenth minute. Gerard Georgin equalised with a fine effort that left Simpson helpless. The keeper admitted: "It was a great goal from their player with a first-time shot on the drop. At that stage, Nantes were coming back at us and our fans weren't too happy."
Francis Magny, who had scored in France, had Simpson scrambling, but the veteran managed to grab the spinning ball just as it was about to cross the line. And moments later, the keeper defied the same player with a smart save.
KNOCK ON WOOD…Ronnie Simpson and Billy McNeill breathe a sigh of relief as the French strike the post.
Thankfully, Jinky Johnstone sparkled in the drizzle after the turnaround and he skipped through the French rearguard on the right wing to pick out Steve Chalmers with a perfect pass and he nodded in from close range. It was all over a few minutes later when the winger treated the French to a deja vu moment with an identical run and a perfect low cross that was swept in by Bobby Lennox for a mirror image of the first leg score and a 6-2 aggregate triumph.
Celtic could now afford to take a breather in the competition with the quarter-final tie due in March 1967.
Bobby Lennox, such a prolific scorer on the home front, looked back at the historic run years later and could afford to laugh: "People often ask me which was my favourite goal on the European Cup run. Well, it certainly wasn't one of mine – I only scored two and they both came in the games against Nantes.
"I hope I managed to contribute in other ways as well as netting a double against the French."
BOBBY DAZZLER…hitman Bobby Lennox thumps in No.3 against Nantes.
Jock Stein was among the 38,172 crowd at the Vicente Calderon stadium in Madrid on Wednesday December 21 to discover which team Celtic would meet on their European Cup odyssey. Atletico Madrid and the Yugoslavs of Vojvodina Nov Sad had stalemated 3-3 over their two legs and a third game was required to sort out the winners.
The Spaniards won the toss for the tie to be played on home soul and they must have thought they were heading through as they raced into a two-goal lead in six minutes through goals from Adelardo and Enrique Collar. Sylvestre Takac reduced the deficit just before the half-hour mark and Dimi Radovic, later red-carded, levelled in the sixty-fifth minute. Extraordinarily, the Slavs hit the clincher in extra-time with another effort from Takac.
The Celtic team boss had been impressed. "A very strong, physical team," he summed up. "Good in possession with the ability to pick the right passes. Defenders who play the ball and like to bring it forward and dangerous players up front who can score goals. I saw plenty to think about.
"We can get through, but we will know it will be extremely tough. We will have to be at our best over the two legs, that is absolutely certain."
TEAM: Simpson; Gemmell and O'Neill; Murdoch, McNeill and Clark; Johnstone, Gallagher, Chalmers, Auld and Lennox.
TOMORROW: Don't miss Lisbon Rewind Day Six – only in your champion CQN.
Click Here for Comments >