ON May 25 1967 in the Portuguese capital of Lisbon, Celtic became the first British club to conquer Europe.
CQN'S EXCLUSIVE series will reach its spectacular conclusion tomorrow on the FIFTY-SIXTH landmark year of the historic triumph of Jock Stein's All-Stars.
Today, author Alex Gordon, who has written fifteen Celtic books, including 'Lisbon Lions: 40th Anniversary Celebration' and '50 Flags Plus One,' continues to chronicle the glorious journey through the 1966/67 campaign.
Here is an extract from one of his tribute publications, 'That Season In Paradise', which was published by CQN in 2016.
Please enjoy a memorable trip back in time.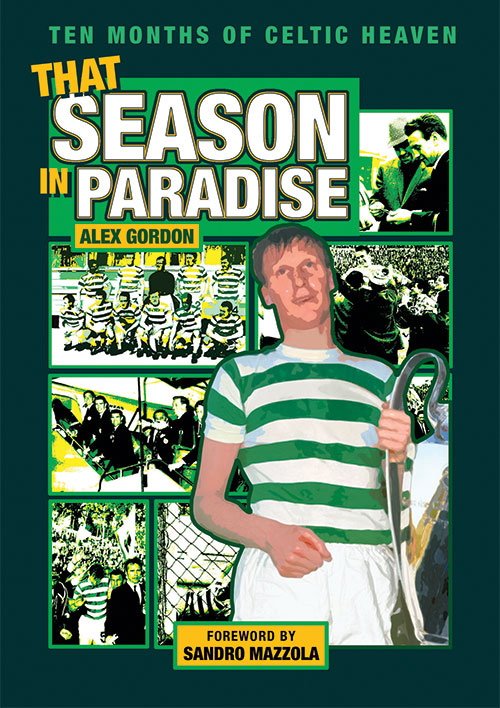 Semi-Final; Second leg, April 25, 1967 
DUKLA PRAGUE 0 CELTIC 0 (Agg: 1-3)
ON April 25, Celtic proved they could put up the shutters when they cemented their place in that season's European Cup Final with an uncustomary withdrawn performance against Dukla Prague in the Czechoslovakian capital city.
The unsung hero was Stevie Chalmers, who spent a punishing ninety minutes being pummelled by a frustrated defence who couldn't risk taking their eye of the eager Celtic attacker.
Chalmers remembered, 'That was the one and only time I was banned from entering my own team's half of the field. Big Jock laid it on the line, "Keep busy, Stevie. Let them know you're out there".'
'Thanks, boss! I was never afraid to put myself about and, as I recall, a few players bumped into my elbows that afternoon! It's a man's game, after all. I just kept going for the entire game and the Dukla back lot weren't pleased. It was one of the hardest shifts I ever put in, but we were ninety minutes away from the European Cup Final and if that doesn't give you momentum then nothing will.
NINETY MINUTES FROM LISBON: Back row (left to right): Jim Craig, Tommy Gemmell, Ronnie Simpson, Bobby Murdoch, Billy McNeill, John Clark. Front row: Jimmy Johnstone, Stevie Chalmers, Bertie Auld, Bobby Lennox and Willie Wallace.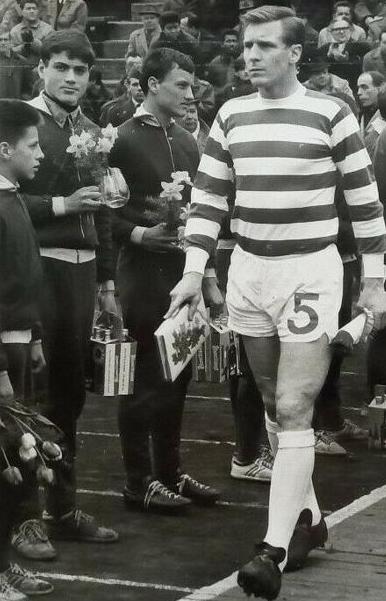 FLOWER POWER…Billy McNeill takes to the field with Dukla's ball boys adding an unsual touch.
LEGENDS…Billy McNeill and Josef Masopust shake hands before kick-off.
'Obviously, Dukla wanted to give me a hard time. They tried to get me to retreat back into my own half beside my team-mates, but I was having none of that. I had a job to do and that was to get about their defence and keep them stretched. Not the most glamorous role in the team, I'm sure you'll agree, but one that was vital in that game. The Czechs were a very good team and they liked to build from the back.
'They used their captain Josef Masopust a lot, passing the ball through the midfield. So, that's where I came in. I was asked to harry them, chase them and make sure they didn't get the opportunity to dwell on the ball.
'If that's what Big Jock wanted, then that's what Big Jock would get. I was desperate to stay in his first team. But Dukla did pin us back by their attacking play. They had scored that vital away goal and they must have thought a 2-0 win against us was within their scope. They may even have been heartened to know we had thrown away a three-goal advantage in Budapest against MTK only three years earlier. But this was a different Celtic team with an entirely different attitude.
ON THE RUN…Stevie Chalmers keeps up the solo pressure.
WANTED MAN…Dukla defenders are clearly unhappy at the attentions of Stevie Chalmers.
'So, if Dukla believed they were about to face a collection of players who would collapse under pressure, then they were to be sorely disappointed. They may even have noted that we had also lost in our previous away game, the 1-0 defeat in Yugoslavia against Vojvodina. But we were learning all the time and we put our experience to a good use in Prague.
'Ironically, Big Jock actually looked a bit disappointed at the end of that match. Sure, he was delighted that Celtic had become the first British club to reach the final of the European Cup. However, he realised we hadn't done it in our normal fashion. The flair, the ambition, the adventure were not in evidence and those facets of our play were very important to him.
'He gathered us around him in the dressing room and said, "We will never play like that again. I will never ask you to play all-out defence again." If we were defending in games after that it was because we were being pushed back, it was never a pre-arranged tactic.'
WHOOSH…Billy McNeill thumps the ball to safety.
Billy McNeill, in commanding form throughout, recalled, 'What a game Steve had in Prague. We felt a bit sorry for him. At one stage, late in the second-half, he got into a bit of bother and suddenly he was surrounded by about four of their players. We were too far away to lend him some support. Thankfully, the referee sorted it out!'
Bobby Lennox added, 'Big Jock had come up with a strategy that was foreign to all of us and we were going to make sure the backdoor was bolted firmly shut. My pal, Wee Jinky, just about played the entire game standing beside Jim Craig at right-back. I spent an awful lot of my ninety  minutes keeping Big Tommy company over on the left. That's not exactly how it was planned. Dukla, a fine team, pinned us back for lengthy periods of that game. They took control in front of their own fans and they made a real contest of it.
'They made it hectic for all of us and we were forced to defend to the very end. The only guy who wasn't given any defensive duties that day was Stevie Chalmers. I remember Big Jock telling him, "Chase everything." And, you know, he did. From start to finish, Stevie put himself about all over the place.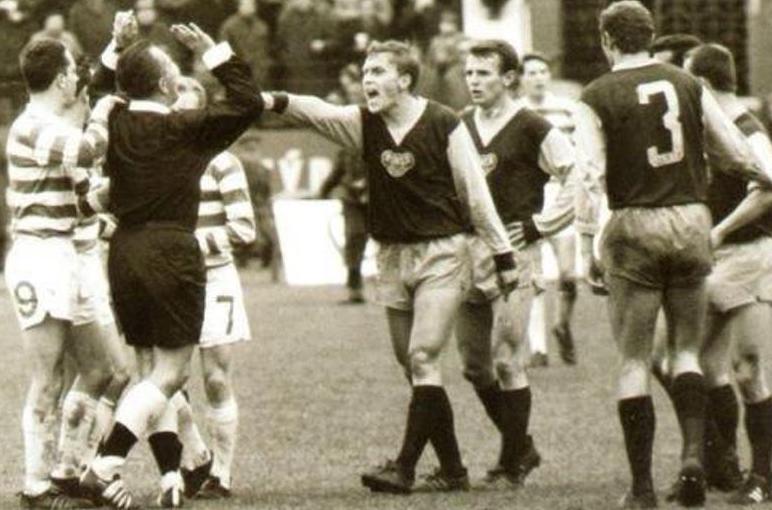 ANGRY BRIGADE…Dukla players protest to the referee about action man Stevie Chalmers.
'The Czech defenders must have hated the sight of him. He never gave them a moment's rest. He was a one-man forward line. Somehow, it seemed so fitting that Stevie should get the winning goal against Inter Milan. He earned it with his exhausting stint in Prague.'
Ronnie Simpson didn't remember being too flustered during the encounter. 'The Dukla Prague coach Bohumil Musil admitted he had been very impressed by our performance in the first leg. However, he stressed his team of soldiers still had a chance in front of their own fans in the return. We didn't try to be smart in Prague and set out to contain the Czechs.
'Just before we went out on to the pitch, for one of the most important games in our careers, Jock Stein told us, "Right, we've done our job. Now let's see what Dukla can do." He reassured us that he was convinced they couldn't raise their game enough to upset us. He was right again.
THOU SHALT NOT PASS…Bobby Murdoch and John Clark close ranks in an effort to protect keeper Ronnie Simpson.
'They had a couple of shots which went close, but nothing more. They appeared to lack the speed required to beat our defence and we calmly settled for 0-0. The Boss was delighted. He even bought champagne for the Press and I got a half-bottle to myself – all over my suit when somebody opened a bottle behind me. But who cared? "We're on our way to Lisbon, we shall not be moved!" we sang until our throats were dry.'
John Clark observed, 'The Juliska Stadium has a nice ring to it, hasn't it? That was Dukla's ground and it was anything but pleasant. It was a foreboding, grey old place that could have done with a lick of paint. It looked as though the construction outfit who were putting it together got fed up halfway through and went home.
TOUCHLINE CONCERN…Jock Stein looks pensive as he is joined on the sidelines by Bob Rooney, Sean Fallon, Neilly Mochan, Charlie Gallagher, John Cushley, John Hughes and Willie O'Neill. 
'The atmosphere wasn't helped when it looked as though the entire Czechoslovakian Army was there, too. It could have been a terrifying experience, but, being only ninety minutes away from the European Cup Final, we were prepared for anything.
'Jock, of course, went against all his principles and philosophies that day to play defensively and those poor Czech fans never saw the real Celtic on that occasion. They must have been more than just a bit bemused when they saw us perform against Inter Milan; surely they didn't believe they were witnessing the same players or the same team.
LISBON, HERE WE COME…deputy keeper John Fallon shows his joy as Jock Stein congratulates backroom boys Sean Fallon and Neilly Mochan.
SHAKE ON IT…Bertie Auld and Neilly Mochan share the joy as the Hoops celebrate in Prague.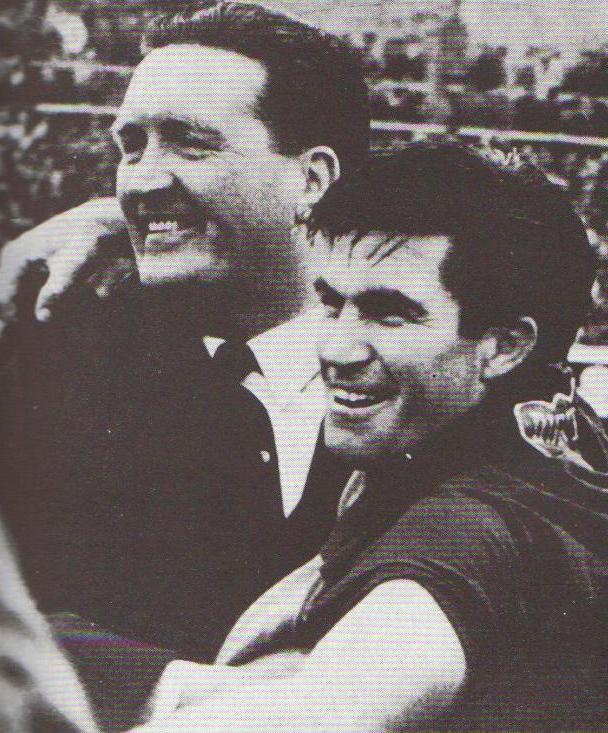 HOOPS HUDDLE…Jock Stein and Bertie Auld embrace at full-time.
IT TAKES TWO…John Clark and Billy McNeill are joy Bhoys at the final whistle.
CHEERS…Billy McNeill and Stevie Chalmers, at the back, and Bobby Murdoch, Bertie Auld, Bobby Lennox and Tommy Gemmell celebrate in the dressing room after making sure Celtic would be in Lisbon in a month's time.
'I think even wee Jimmy Johnstone was given defensive duties against Dukla. Can you imagine the wee man as cover at right-back? Me, neither, but that's where he played for the entire game. We were helped, too, with the presence and reassurance of the experienced Ronnie Simpson behind us.
'His was the fairytale to end all fairytales and he wasn't going to allow anyone to take it away from him. He talked us through that game as only he could. When the Czechs got through and, thankfully that wasn't too often, Ronnie was there to pull off the save.
'The Dukla players were gracious in defeat, but I do remember Masopust being a bit grumpy. He had played in a World Cup Final and now, in his mid-thirties, he must have been looking forward to an appearance in a European Cup Final. Sorry, Josef, we were in no mood to be denied our place in Lisbon.'
TEAM: Simpson; Craig, Gemmell; Murdoch, McNeill, Clark; Johnstone, Wallace, Chalmers, Lennox and Auld.
TOMORROW: Don't miss Lisbon Rewind The Big Day – only in your champion CQN.
Click Here for Comments >