ON May 25 1967 in the Portuguese capital of Lisbon, Celtic became the first British club to conquer Europe.
Over the next 10 days, in another CQN EXCLUSIVE series, the unforgettable achievement is chronicled as Jock Stein's players swashbuckled their spectacular way through the elite competition to come within ninety minutes of everlasting glory.
Today, author Alex Gordon, who has written fifteen Celtic books, including 'Lisbon Lions: The 40th Anniversary, and '50 Flags Plus One', sets the scene for the glorious journey through the 1966/67 campaign.
Here is an extract from one of his tribute publications, 'That Season In Paradise', which was published by CQN in 2016.
Please enjoy a memorable, riveting trip back in time.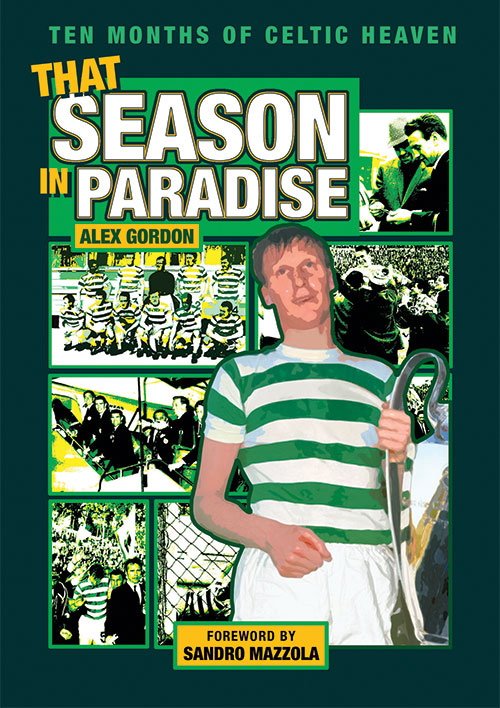 CELTIC PARK was bathed in kaleidoscopic splendour as sunshine gaily bounced around the famous old ground on the Saturday afternoon of August 6 1966. At precisely three o'clock, the pre-match frenetic atmosphere generated by sixty thousand eager supporters was punctured by a shrill from referee Bill Anderson's whistle which set in motion the most epic season in the history of Celtic Football Club.
Those in attendance that day could never in their wildest dreams have imagined how the following ten months would develop; how a glorious jigsaw would come together with such extraordinary perfection.
The sheer preposterousness of Celtic winning the most glittering prize European football had to offer would not have been entertained or the ludicruous thought voiced by anyone with a double digit IQ.
Manchester United, the most glamorous of all English teams, provided the opposition and on show were three of the most flamboyant performers to grace the beautiful game. There was strutting, stylish Scotsman Denis Law, the aptly-named George Best, a rare combination of Irish guile and grit, and the dashing, debonair Bobby Charlton, winner of a World Cup medal with England only the previous week.
MERCHANT OF MENACE…Joe McBride is poised to pounce as United keeper Harry Gregg, watched by centre-half Bill Foulkes, dives on the ball.

WALLOP…Bobby Murdoch thumps an unstoppable second goal beyond the helpless Harry Gregg.
In the middle of the park, there was another of Sir Alf Ramsey's Wembley heroes, gap-toothed Nobby Stiles, a notoriously combative performer, and United's captain-for-the-day Pat Crerand, the accomplished former Celt whose right foot was the baton that conducted the United orchestra.
United were not a disintegrating collection of all-stars. These were full internationals in their prime in an assembly which also included Northern Ireland's iconic goalkeeper Harry Gregg as well as tricky and elusive left-winger John Connelly, who had also figured in England's World Cup sortie.
This was to be no friendly confrontation. Back then, these encounters were treated like mini-internationals and Scottish and English teams tended to go head to head with frightening verve and relish. Besides, Celtic and United were led by two men, Jock Stein and Matt Busby, who were never comfortable with anything else other than first place.
They were close friends, a companionship brought about during their days in the Lanarkshire mines, but there was to be no love lost on the field of combat where men had to prove themselves.
After fifteen spellbinding minutes, Celtic had thumped in three goals on their rumbustious way to a deserved 4-1 success. Eyes were opened and hopes were raised by all who witnessed the spectacle. Expectation levels, though, were not heading for stratospheric boundaries; not at this embryonic stage, anyhow.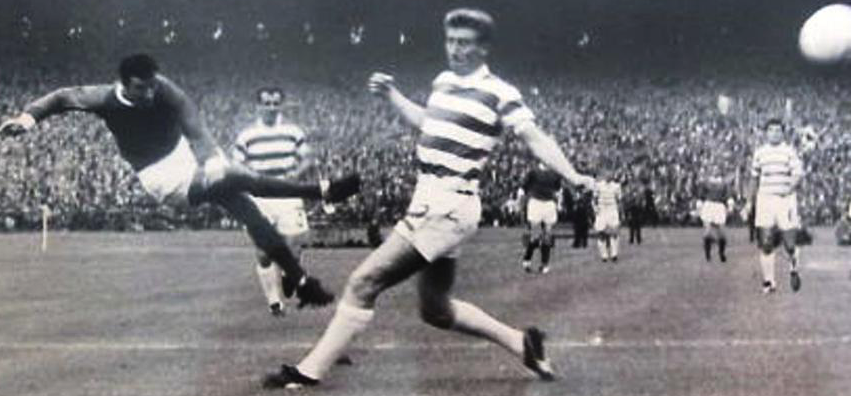 BY THE RIGHT…United's David Sadler fires in a shot with Tommy Gemmell attempting to block the effort. Willie O'Neill and Bertie Auld look on.
WALKING ON AIR…Jimmy Johnstone sends over a cross with United left-back Tony Dunne mesmerised.
Ironically, it was Bobby Lennox who got the ball rolling with the opener in the seventh minute as he first-timed a devastating drive that left Gregg groping helplessly on its unstoppable way towards the rigging.
It was Lennox, of course, who had got the final goal of the previous campaign when he netted in the last minute against Motherwell for a 1-0 triumph to ensure twelve years of wandering aimlessly in the championship wilderness had, at last, come to a thankful halt.
And it was Lennox who would score the goal against Real Madrid that gave Celtic a 1-0 victory in Alfredo di Stefano's Testimonial Match in front of 120,000 approving supporters at a Bernabeu Stadium which was engulfed in rapturous applause for the new European champions.
In between the encounters with Manchester United in August 1966 and Real Madrid in June 1967, Celtic's journey through football had been fairly memorable.
On a bright and clear afternoon in the east end of Glasgow against the Old Trafford luminaries, Bobby Murdoch clattered in a second three minutes following Lennox's strike and, after David Sadler had pulled one back, Joe McBride zipped a third low in at the left-hand post. A confused Bill Foulkes, the Old Trafford side's veteran centre-half, tucked the ball into his own net just after the hour mark for the fourth.
RISE AND SHINE…Tommy Gemmell and keeper Ronnie Simpson combine to thwart United striker David Herd with Billy McNeill getting a good view.
The final scoreline was immaterial. Simply put, Celtic had been imposingly majestic; a structured unit playing with skill, pace, sophistication, cohesion and penetration against strong opponents who would prove their own qualities that season on their way to winning the English First Division title.
However, Manchester United were discovered to be inadequate against a blisteringly imaginative Celtic side, who, on the evidence of this supreme showing, had sent out a message only the foolish in football would choose to ignore.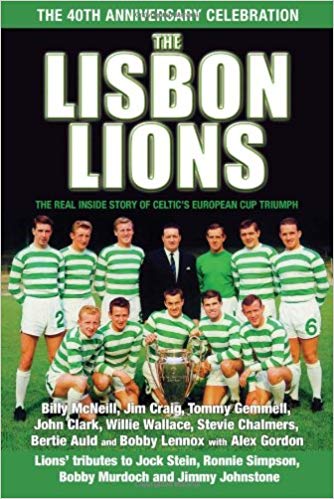 Nine of the players wearing green-and-white hooped jerseys that day would realise the joy of becoming part of the first British team to win the European Cup on another sumptuous occasion in Lisbon on May 25 1967: Ronnie Simpson, Tommy Gemmell, Bobby Murdoch, Billy McNeill, John Clark, Jimmy Johnstone, Stevie Chalmers, Bertie Auld and Bobby Lennox.
Willie O'Neill dropped out when Stein moved Gemmell to left-back to accommodate Jim Craig on the right flank. Alas, McBride, after rampaging to thirty-six goals before Christmas, was forced into submission with a persistent knee problem.
Willie Wallace, bought for only £30,000 from Hearts before the turn of the year, effectively took his place.
Ronnie Simpson, the weathered and worldly old pro, had begun his career at the age of fourteen and eight months as an enthusiastic amateur for Queen's Park in a Summer's Cup-tie against Clyde at Hampden in June 1945. Just over twenty-one years later, and across his home city of Glasgow, he was patrolling the Celtic goal-line and sensing something special might be around the corner.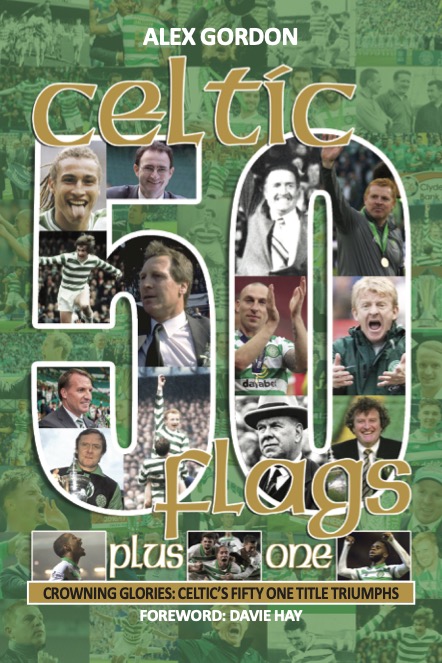 He put it this way, 'Manchester United were an experienced European Cup side which could be brilliant in its day, but played most of its football off the cuff. We hit them hard. We won 4-1 and what a starter for our fans. They thoroughly enjoyed themselves, sang the whole afternoon and really let themselves go every time we put the ball in the United net.
'The appetite had been whetted, We were running freely, taking our scoring chances, playing with plenty of method, strength and confidence and had shown that our close-season tour of the United States, Canada and Bermuda had only made us a closer-knit team. We looked 1967 straight in the eye with nothing but confidence.'
Many years after the ruthlessly-efficient disassembling of the acclaimed Old Trafford line-up, Bobby Lennox observed, 'I thought that win would help to kick-start what would be a wonderful season.'
Who would have believed such a breathtaking gift for the masterly understatement had been bestowed upon the wee chap from Saltcoats?
TOMORROW: Don't miss Lisbon Rewind: Day Two – only in your champion CQN.
Click Here for Comments >