ON May 25 1967 in the Portuguese capital of Lisbon, Celtic became the first British club to conquer Europe.
Over the next few days, in another CQN EXCLUSIVE series, the unforgettable achievement is chronicled as Jock Stein's side edged through the elite competition to come within ninety minutes of everlasting glory.
Today, author Alex Gordon, who has written fifteen Celtic books, including 'Lisbon Lions: The 40th Anniversary Celebration' and '50 Flags Plus One,' continues to chronicle the glorious journey through the 1966/67 campaign.
Here is an extract from one of his tribute publications, 'That Season In Paradise', which was published by CQN in 2016.
Please enjoy a memorable trip back in time.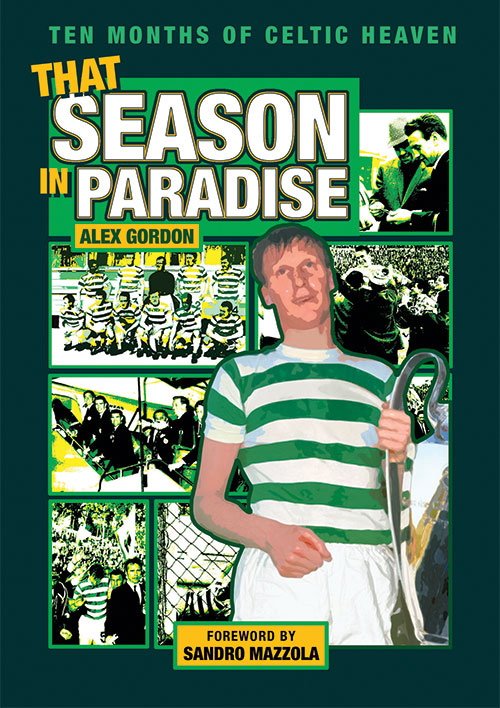 Second leg, March 8 1967
CELTIC 2 VOJVODINA 0 (Agg: 2-1)
CELTIC PARK rocked like never before at the dramatic conclusion of the game against the champions of old Yugoslavia. The aggregate score was locked at 1-1 with less than a minute on the clock and a replay in the Dutch city of Rotterdam the following Wednesday the likely outcome.
Celtic forced a corner-kick on the right and Charlie Gallagher, in the starting line-up in place of the injured Bertie Auld, raced over to take it. On a savagely cold evening, the fans could see their breath plume in front of them. No-one complained, though. Collectively, 69,372 individuals came together for one last roar of encouragement. A crescendo of noise enveloped the east end of Glasgow.
Gallagher appraised the situation as bodies jostled for position, elbows visiting opponents' ribs, jerseys being held in desperate grips. Billy McNeill took up his usual post at the edge of the eighteen-yard box. Gallagher shaped to take a short kick, but changed his mind and carefully swung the ball into the middle of the goal. Ilija Pantelic made a move to come off his line. McNeill, surging forward into the throng, was precision itself in his timing. The ball floated in the air as the Celtic captain climbed the highest. There was a thump as it smacked off his forehead.
MATCHWINNER…Billy McNeill watches his header soar past desperate Vojvodina defender Stevan Nesticki for the last-gasp clincher. Goalkeeper Ilija Pantelic can only look back in horror. 
Pantelic looked back in utter anguish, defender Stevan Nesticki tried to perform heroic acrobatics on the line, but it was to no avail. McNeill's header swished straight into the net with glorious meticulousness. Swedish referee Hans Carlsson blew for time-up exactly TWO SECONDS later and Celtic, extraordinarily, were in the European Cup semi-final.
Celebrated London Times sports journalist Geoffrey Green observed, 'The last half-hour produced unbroken heartburn as Celtic thundered forward for the decider. In that space of time, Johnstone, who all through had been a thorn in the side of the Slav's left flank, grew to even higher stature; and on the left wing Hughes, at last, began to use his pace and weight to add a second dangerous sector. The Vojvodina defence suddenly found itself the nut between the crackers. As the minutes unwound, there came great saves from the Slav goalkeeper Pantelic from Gallagher, Hughes, Johnstone, Hughes again, and even Gemmell and Chalmers.
'All were looking at their watches as Gallagher clearly was taking the last corner-kick of the night. Over it came; up went a forest of heads, but there, the tallest of them, was the fair head of McNeill , who nodded the ball home to the top corner. That was victory at the last gasp and Parkhead, and its great swirling concourse, took wings.'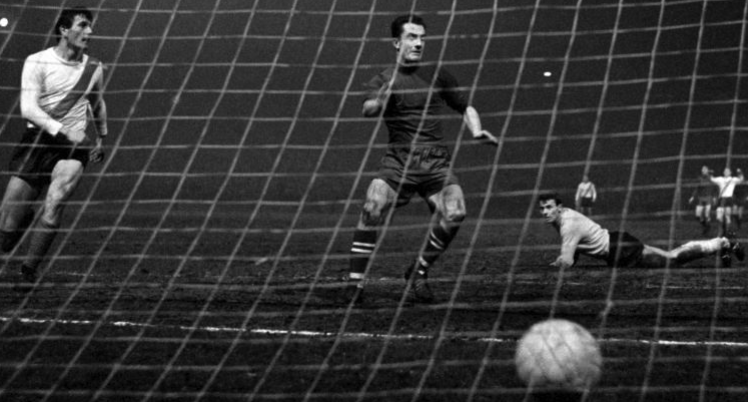 THE EQUALISER…Stevie Chalmers pounces to make the tie all-square at Parkhead.
Celtic had levelled the tie just before the hour mark when Tommy Gemmell made amends for his first leg loss of concentration that may have cost so dear. He used John Hughes as decoy as he dashed down the left wing and pitched over an inviting cross. Pantelic sprang from his line, but the courageous Steve Chalmers was even faster off the mark and he got there just ahead of the keeper to knock the ball into the gaping net.
The hero of the hour, Billy McNeill, recalled, 'I didn't score a single league goal that season, but the one in the European Cup was a wee bit special, even if I do say so myself. I couldn't have timed it better. I know Big Jock and all the lads rated Vojvodina as by far the best team we met that year, including Inter Milan. The Yugoslavs were superb technically, but were also fairly adept in possibly the not-so-finer points in the game. There was also some memorable mind-games going off the pitch between the Boss and their manager Vujadin Boskov.
'Even before the first game, Big Jock clearly wasn't impressed by Boskov's pre-match prediction. The Slav boss stated emphatically he believed Vojvodina would be victorious by "at least two goals". Jock thought, "Oh, really? We'll see about that." When they won by a solitary effort from Stanic, Boskov came out again and declared he hadn't been too impressed by Celtic and his team would win again in Glasgow.
HIGH JINKS…Billy McNeill is just beaten to a cross by keeper Ilija Panetlic on this occasion.
Now if Boskov was trying to get Jock fired up for the return he couldn't have done a better job. The Big Man spoke to the Yugoslav Press and went on record as saying, "Vojvodina are a very good team, but we are better and we will win in Glasgow." It was sheer bravado because we all realised just how difficult the Slavs would be in the return leg.
'Boskov and his players turned up at Celtic Park the night before the game and they wanted a work-out on the pitch under the floodlights. It was normal practice for teams to go through this routine as it made a lot of sense for them to get a feel for the conditions they are going to encounter twenty-four hours later.
'The Vojvodina boss wasn't best pleased, then, when Big Jock gave him the news neither he nor his players would be placing a foot on the pitch at Celtic Park. "Sorry, there's been too much rain in Glasgow recently," Jock informed him. "We can't take the chance of the pitch cutting up." He did have a point, but Boskov was far from convinced. He made all sorts of protestations; he would take it up with the Celtic chairman, he threatened. Jock waved it away in his usual fashion. "You can train at Barrowfield and I'll make sure the lights are switched on. Off you go."
'To say the Slavs were not amused would be putting it rather mildly. They were fizzing, but, at least, Boskov and his boys got the drift that Jock Stein was, indeed, the man in charge at Celtic. As far as football matters went, there was no higher power. Vojvodina, though, were determined to have the last word during the game in Glasgow. As I said, they were an extremely talented and resilient outfit and they weren't slow to hand out a wee bit of punishment every now and then. We had to endure close to an hour of frustration before we got our own back when Stevie Chalmers made it 1-1 on aggregate after a typically unselfish run and cross from the left by Tommy Gemmell.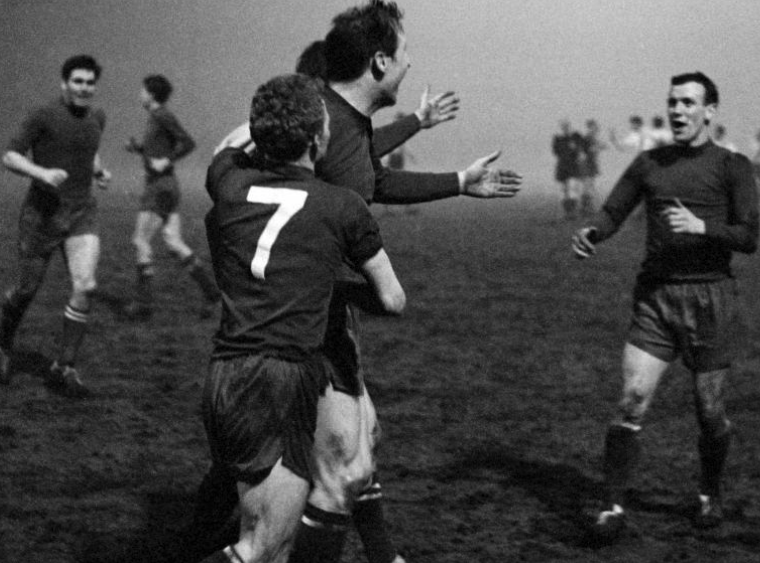 GLORY BHOYS…Billy McNeill is congratulated by Jimmy Johnstone as John Hughes (left) and Bobby Lennox prepare to join in.
'I have been told the referee blew for time-up two seconds after the restart following my goal. Now that is a late, late goal. We won a corner-kick on the right and I'll always recall Big Jock waving us all up for one last assault on their goal. Charlie Gallagher, who had a sublime touch, raced over to take it. Actually, I think Charlie was about to take a short one, but a Slav defender raced to cut it off and Charlie changed his mind. Thank God!
'Charlie was left with no option but to put the ball into the mix. There was the usual barging and jostling as I made my way forward. The Slavs had marked me very well at set-pieces and I hadn't really had a sniff at goal. On this occasion, though, my timing was just absolutely spot-on. Charlie swung it in, I kept my run going, the ball hung in the air, I got a good leap, made superb contact and the next thing I saw was the effort soaring high into the net. Pantelic had strayed a bit from his line and they had a defender on the goal-line who did a fair impersonation of a goalkeeper as he leapt up with his left arm to try to keep the ball out. He was wasting his time – that was a goal all the way as soon as it came off my napper.
'Vojvodina went crazy when the referee awarded the goal. They were convinced I had fouled Pantelic. I can hold my hands up all these years down the line and tell the world I didn't even touch their goalkeeper. I was nowhere near him, as a matter of fact. However, you might ask Stevie Chalmers if he had blocked Pantelic! He may have taken a half-yard step in front of the big goalie when he was leaving his line in an effort to cut out the cross. So what? It was all part of the game back then as it still is today. Believe me, the Slavs weren't slow in getting in front of me any time I came forward. But, thanks to Charlie's deadball accuracy, there was nothing anyone could do to prevent me from making contact on that occasion and managing to do some damage.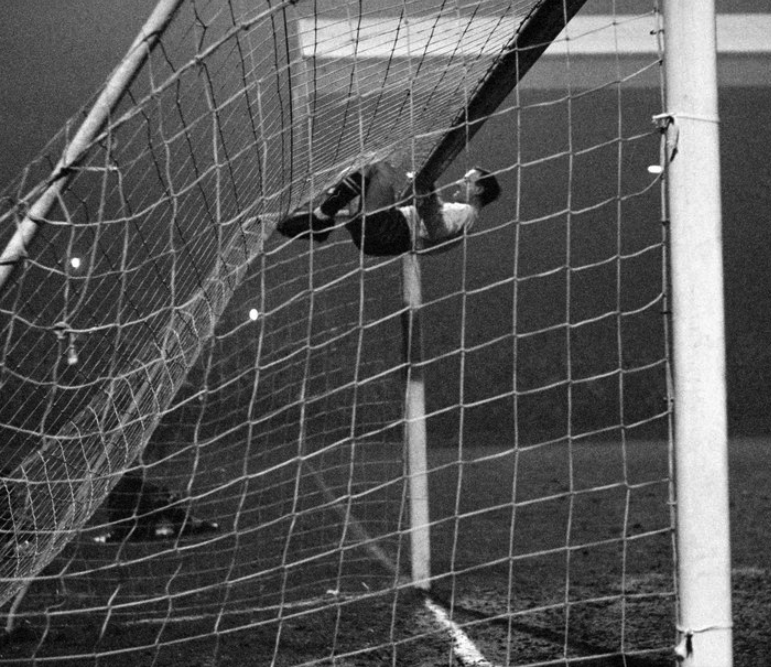 UP, UP AND AWAY…Ronnie Simpson swings from the crossbar in delight at the final whistle.
'I knew it was late in the game, but, honestly, I had no idea that it was quite as late as that. As I ran back to take my position in the heart of the defence, I shouted over at John Clark, "Keep concentrating, Luggy. We're not going to lose a goal now." Luggy just looked at me and said, "What are you talking about, Caesar? The game's finished. It's over and we're through." Seconds later it was, indeed, well and truly over and our great adventure was still on track.
'I remember the Vojvodina players cracking up as they kicked off and the ref blew for time-up. Actually, one of their own players raced into the melee and started shoving his team-mates all over the place to get them to calm down. He was a big lad, too, and, thankfully, they did as they were told. It could have been very interesting going up the tunnel that evening. That tunnel could tell a tale or two, that's for sure.
'These were the days before TV cameras seemed to spring up everywhere and sometimes there could be some "sorting-out" done in the darkness of that tight, little area that led to the dressing rooms. Not that I ever got involved myself, you understand!'
Even veteran Ronnie Simpson was almost swept off his feet by the euphoric wave hurtling around the ground at the end. He said, 'Celtic Park was a mad-house with me as mad as a hatter. Afterwards, I remember what the Boss had told us at half-time. "Get a grip of the middle of the field. You're giving Vojvodina too much space to work in. I want you to stay in constant attack." It worked.'
Pictures in the Press the following day showed the thirty-six-year-old goalkeeper swinging from his crossbar like an overgrown kid. 'I couldn't help myself,' he said by way of explanation.
TEAM: Simpson; Craig, Gemmell; Murdoch, McNeill, Clark; Johnstone, Lennox, Chalmers, Gallagher and Hughes.
TOMORROW: Don't miss Lisbon Rewind Day Eight – only in your champion CQN.
Click Here for Comments >