ON May 25 1967 in the Portuguese capital of Lisbon, Celtic became the first British club to conquer Europe.
Over the next nine days, in another CQN EXCLUSIVE series, the unforgettable achievement is chronicled as Jock Stein's side overcame all opposition in the elite competition to come within ninety minutes of everlasting glory.
Today, author Alex Gordon, who has penned fifteen books on Celtic, looks at that first step towards football immortality in the glorious journey through the 1966/67 campaign.
Here is an extract from one of his tribute publications, 'Lisbon Lions: 40th Anniversary Celebration', which was published by Back and White in 2007.
Please enjoy a memorable trip back in time.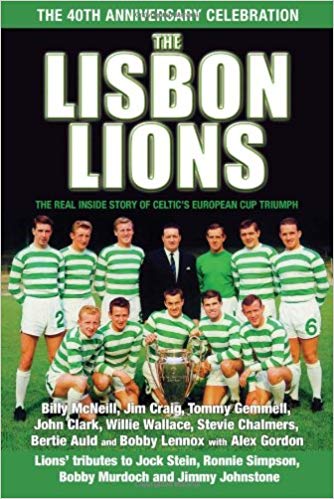 First Round (first leg) Sept 28, 1966
CELTIC 2 ZURICH 0
TOMMY GEMMELL wasn't to know it on the evening of September 28, 1966 in the east end of Glasgow, but he was just about to have a major say in Celtic conquering Europe.
The raiding defender's reputation of being the possessor of a pulverising long-range shot obviously hadn't filtered through to Switzerland. If it had, Celtic would most assuredly struggled to make the breakthrough against an extremely competent Zurich outfit.
It was still goalless after the hour mark and the fans were beginning to get more than just a little bit anxious. The Swiss defence was doing its job well and the main threat of Joe McBride was being blunted.
READY FOR THE TRIP OF A LIFETIME…Billy McNeill swaps pennants before the kick-off against Zurich.
This was Celtic's first-ever European Cup game and they wanted to mark it with something special. Gemmell was the man to provide that ingredient.
The clock ticked round to the 64th minute when John Clark broke up a Swiss breakaway and passed a neat ball out to Gemmell, playing at right-back that evening with Willie O'Neil on the left.
Gemmell, a few yards inside enemy territory, nodded the ball forward and must have been surprised that there wasn't a posse of defenders immediately swarming around him as he prepared to surge forward. Zurich backed off and Gemmell didn't need to be asked twice about having a pop at goal.
Celtic fans, knowing what was about to happen, held their collective breath in anticipation. Tommy took a swift look up, got his eye-to-ball co-ordination absolutely right, summoned all the power in his frame and swung his mighty right boot at the spherical object.
The ball was a mere blur as it took off from about 25 yards. Goalkeeper Steffen Iten, who had looked safe and sound all evening, hardly moved a muscle as the missile zeroed in on its target before smashing into the rigging at his top left hand corner. It was hit with such frightening pace that the Zurich No.1 probably did himself a favour by not going anywhere near it.
SMASH'N'GRAB ACT…Tommy Gemmell's long-range drive explodes over the head of Steffen Iten for the breakthrough goal.
Gemmell punched the air in delight, relieved team-mates bounded in his direction, Jock Stein, celebrating his 43rd birthday, bounced out of the dug-out and Parkhead was engulfed in delerium. Understandably, the Zurich heads went down.
They had played a cool and controlled game and always looked dangerous on the break. Now they were a goal down with almost half-an-hour still to play in an intimidating atmosphere.
Five minutes later it got even worse for the visitors – suddenly Celtic's advantage had doubled. Clark, with the minimum of fuss, broke up a Swiss raid and passed out to Gemmell who switched it inside to McBride.
The striker darted for the danger zone and played a wonderful one-two with Bertie Auld, whose cheeky backheal completely wrong-footed the rearguard. McBride was another who would always have a go when he saw the whites of the goalposts and he did so again from the edge of the box.
WHIPLASH…Joe McBride's low drive zips into the Zurich net for the second goal.
It took the merest of touches off a desperate defender as it swept beyond the sprawling Iten, but there is every chance it would have found the back of the net in any case.
The game ended in a controversial note, though, when it looked as though McBride had claimed a third goal. Certainly there was nothing wrong in the manner in which he scored and there was no question of him being offside. The referee blew for time-up and thousands of puzzled supporters emptied out of Celtic Park wondering if their favourites had won 2-0 or 3-0.
It transpired the over-fussy match official had blown his whistle just as the ball was crossing the line. So, Celtic had to settle for a two-goal lead to take to Zurich. In the end, it didn't matter.
Team: Simpson; Gemmell and O'Neil; Murdoch, McNeill and Clark; Johnstone, McBride, Chalmers, Auld and Hughes.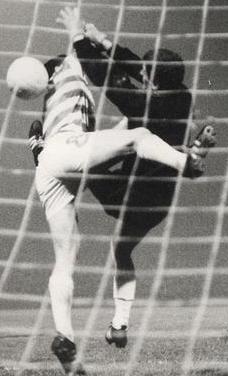 UP AND AT 'EM…Joe McBride challenges keeper Steffen Iten for a high ball.
Buccaneering defender Tommy Gemmell told his long-time friend Alex Gordon: "We knew we were a good team, but we just didn't know HOW good. To find out, we had to play against the best that was on offer.
"I have to say I was pleasantly surprised that a swarm of Zurich players didn't converge on me when I was lining up my shot.
"I had been used to wingers in the domestic game being ordered by their managers to shadow me when I went forward. I made the most of my freedom that evening and was absolutely delighted when the ball was straight and true. These are the sort of goals of which dreams are made."
TOMORROW: Don't miss Lisbon Rewind: Day Three – only in your champion CQN.
Click Here for Comments >