What an amazing day

So many kind messages to read through today, thank you.

Lots of tears but smiling again now xx#YNWA #HH pic.twitter.com/bSdPAqzDwO

— Lisa Hague (@Lisa_Hague1) May 22, 2017
LISA HAGUE took to Twitter to send out here message to thank the Celtic family. Both she and her man also confirmed last night that they as a family fully intend to stay on in Glasgow and if Kris is fit enough to play then that is probably the best news Neil Lennon at Hibs could hope for as he eats his cornflakes this morning.
On Sunday we didn't get the last few minutes from Kris in a Celtic shirt, that surely will come in the Lubo v Henrik Foundation Match on Sunday.
What we did get was Brendan Rodgers going out if his way to put Kris, Lisa and their kids centre stage to recognise what they have achieved as part of the Celtic family on and off the park.
It remains a mystery to us that there are some Celtic supporters who hold dark thoughts regarding Commons. CQN yesterday published an article written by young Declan, our Youth Correspondent, who made the point that for him and his generation, they were too young to have seen Henrik play so Kris Commons was their Celtic hero.
I remember that feeling well. At that age I had heard a great deal about Jinky but was to young to appreciate how great he was when he left the club. However when Kenny Dalglish left to join Liverpool that was a different story.
Yet Declan's views were attacked by some Green Huns yesterday for having the cheek to support and appreciate Kris Commons as a Celtic player.
Commons was introduced at Celtic Park on Sunday afternoon by Brendan Rodgers ahead of the trophy presentation ceremony, which the manager saying this:
"I want to make a special mention to Kris Commons, Lisa and his family. Kris has been an incredible servant to the club.
"He's been unfortunate this year with injuries. But he's been brilliant behind the scenes. Him and his wife are very much part of the Celtic family, so thank you."
Out of the first team picture this season, injuries and the style of play that Rodgers wanted to impose on his squad being the main reasons for that. Commons was however content to be a supporter, he certainly was a sulker.
"In the last 12 months I've been a Celtic fan and they've been an absolute joy to watch," he said.
"I wish them all the world in the future, it was a very emotional day for me but I think what's happening right now at Celtic, it's never been better to be a part of it.
"It's been frustrating and if I had been fit enough I would hope to have played some more football but the truth is I've had four back injections and that's been a sticking point that I've actually not been fit enough to actually play," he said.
"I've thoroughly enjoyed these last six years, it's been absolutely beyond my wildest dreams, the emotions we've played through, the games we've played in and a massive thanks to everyone that welcomed me from day one and gave me the opportunity to play some sort of role."
Kris and Lisa both stated that they want to remain in Glasgow so that looks like his playing career with resume under his old boss Neil Lennon at Hibs.
"If I'm able and fit enough, I want to carry on playing. I don't think anyone wants to call it quits. I'm going to leave my options open. At the minute I'm feeling fit and fresh but I'm going to go away with the family for a long deserved break.
"I'm not really going to think about football or getting fit, I can actually try and enjoy my time with my family and make the next plan.
"I've pretty much decided that I'm going to be living in Glasgow from now on, I've got three beautiful children who are all Celtic daft and they're not even getting out of bed without putting a Celtic strip on.
"I think I'm going to be in and involved for sometime to come.
"I'm hoping, now that I've passed my B-licence in my coaching, that I can go on to start passing on my expertise, my memories and certainly experiences about going forward to these young boys."
We wish Kris, Lisa and their family well and they will always be welcome on CQN.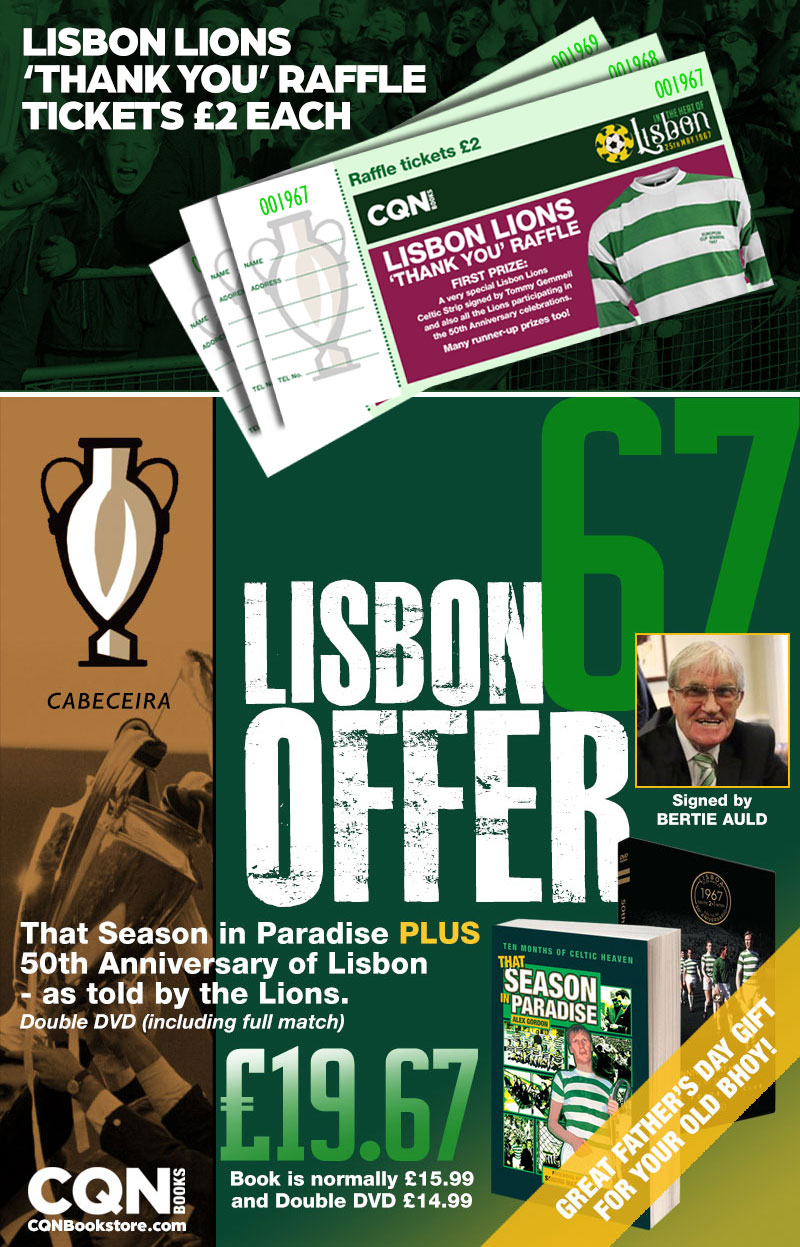 Click Here for Comments >