As Motherwell won their semi-final yesterday against the second most expensively assembled team in Scotland, the penny began to drop with the last hold-outs that Brother Pedro will be remembered as little more than an expensive stop-gap in the attempt to stop Celtic winning 20-in-a-row.
Let's be clear: Pedro is not in the top two managers in the league, in fact, Celtic, Aberdeen, St Johnstone, Motherwell, Hibs, Hearts, Kilmarnock and Dundee all have demonstrably better bosses. But there was a reason he was appointed late last season, despite better candidates being (under)employed in Perthshire.
Appointing a competent, provincial, manager, like Tommy Wright, would be an acknowledgement that Newco had no illusions of competing with Celtic. In that role, Wright would out-perform Hibs, Motherwell and St Johnstone, and give Aberdeen a run for their money, but he is not an alchemist.
There is a difference when you appoint an exotic as manager, even an incompetent one. Few potential season ticket customers know what you really have with an exotic. He could be incompetent, but you can equally hope that he turns out to be a truly great appointment, with access to hitherto unexploited talent.
There was no point in Newco giving the job to a reliable but unspectacular candidate like Wright. This club needs to propel itself into a position where it competes against an elite Celtic team, and can navigate its way through four Europa League qualification rounds.
If it lowers the Union Jack and raises the White Flag to mark Surrender of league aspirations, its self-image would be destroyed. I could debate the commercial viability of an aspirational Newco with you all day (fanciful), but it appears that even the decision makers at Ibrox regard the viability of a subservient Newco as untenable.
The club faces Hobson's Choice. Throw money it cannot afford at strategies selected BECAUSE correct due diligence is impossible, or downsize to a point they know will have a negative impact on ticket sales and future income.
20 years ago this week, Rangers beat Dunfermline 7-0 and were hot favourites to win 10-in-a-row, but the business model had a fundamental weakness: the club were haemorrhaging cash. You can debate whether the subsequent liquidation and newco phoenix club is the same or different to the Rangers some of us are old enough to remember.
What is irrevocably true is that Newco is unrecognisable from Rangers in one hugely important aspect: it will not win the league. Ever.
JUST OUT! MATCH DAY SPECIAL CQN PODCAST FROM HAMPDEN, FEATURING SOME OF FIFA'S BEST FANS IN THE WORLD…
ORDER Charlie Gallagher? What a Player! and we'll send you a copy of The Winds of Change for FREE only at www.cqnbookstore.com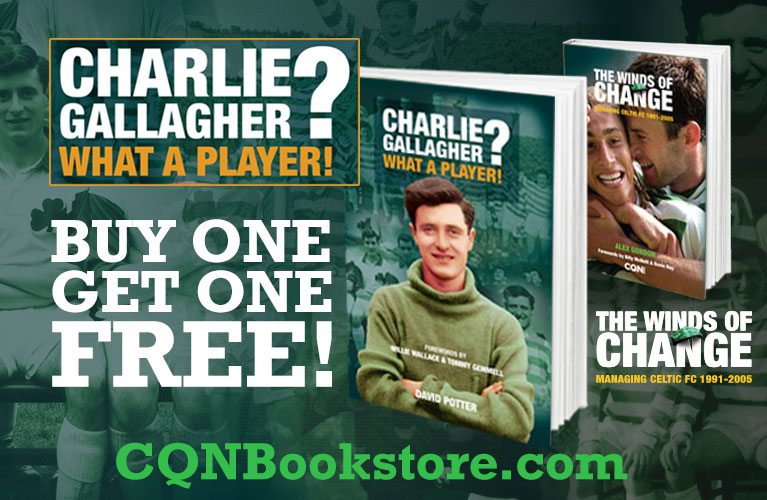 Click Here for Comments >