MIKAEL LUSTIG was substituted just before half time after suffered a groin injury in Sweden's opening match with Ireland in Euro 2016.
In a post-match interview with Swedish TV, Lustig revealed that he suspected to be out for up to 10 days. The Celtic player, already out of Sweden's next group stage match with Italy, will get a scan later today which will reveal whether he will be fit for the final group match against Belgium.
"I felt pain when I went up for a header," Lustig revealed. "I will have a scan and we will see how bad it is then.
"I hope this is a long competition for Sweden and I have a feeling this won't be my last game. I hope to be ready for the Belgium game but I will know more after the scan."
However, with the Swede having a career plagued with injuries, the fear is  that this could put his availability for Celtic's Champions League Qualifiers into question.
Lustig did tell Swedish TV that he should be back and fit for the gruelling campaign ahead of Celtic as they wish to conquer the qualification hurdles that have stopped them in the last two years of trying.
Since arriving at Celtic in 2012, Lustig has been a regular in the team and, as a senior member of the squad, has been given the armband in the result of Scott Brown and Charlie Mulgrew's absences. The possibility of missing out on his experience will be worrying for Hoops boss Brendan Rodgers, who looks to assess his squad upon their return to training ahead of their pre-season and European adventures.
Celtic have little cover in the right back position and this may well be a concern for Brendan Rodgers as he looks toward the European qualifiers starting next month.
Lustig's injury is suspected to be a muscular tear in the groin region; however, Lustig must undertake the scan today to determine the severity of the knock.
The match with Ireland finished 1-1, which doesn't really suit either side. Italy's win over a Belgium side ranked number 2 in the world indicates that both Ireland and Sweden will have their work cut out to progress from this, the toughest group in Euro 2016.
_____________________
IT'S FATHER'S DAY this Sunday! Order a copy of CHARLIE GALLAGHER? WHAT A PLAYER! – signed by the Lisbon Lion, and we will send you a copy of THE WINDS OF CHANGE for FREE!
Order now and we'll post straight away so you have your two books in plenty of time!  Order the Charlie Gallagher book at www.cqnbookstore.com and we'll do the rest!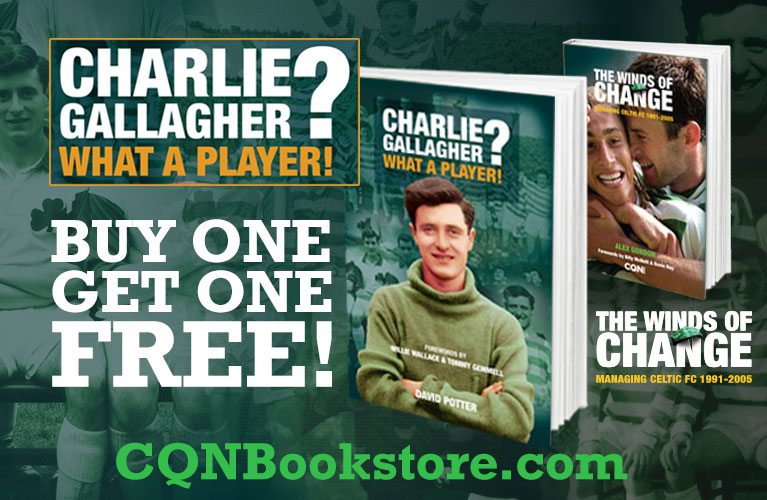 Click Here for Comments >