LISBON LION Bertie Auld celebrated his 78th birthday yesterday and joked: "Make mine a double, Ronny!"
The Celtic great admitted he was prepared to wait for his perfect gift until the end of the season when he hopes Ronny Deila delivers the league title and the Scottish Cup to Parkhead.
Auld said: "That would be the perfect ending to a difficult campaign. My old club have been far from vintage and I think we all accept that.
"However, we are still in pole position as we go for our fifth successive Premiership title and I think most of us would have settled for that at the start of the term.
"We are four points ahead of Aberdeen with a game in hand and, really, we shouldn't lose it on the run-in.
"The Scottish Cup is possibly only three hours away and there is the little matter of an intriguing semi-final next month and, without being disrespectful to anyone, Celtic should win that one.
"So, I'm quite willing to hold off my birthday celebrations until some time in May to enjoy a double success."
Auld recalled the good times at Fortress Paradise when he won five league championships, four League Cups and three Scottish Cups as well as the European Cup in the unforgettable 2-1 victory over Inter Milan in the Portuguese capital on May 25 1967.
The former midfield architect said: "Under Jock Stein, we were always confident of winning, especially at home with the place packed with our wonderful supporters.
"In fact, before some games our players even wondered what the winning margin would be. I know that sounds complacent, but that could never be the case with Big Jock around.
"But we went into every game looking to win and win well. The manager was never content with one goal. If we scored one, he would tell us to go and get another one. And then another.
"Different times, I accept, but that's the way we were brought up in the Celtic tradition.
"We wanted to excite the fans and give them something to cheer and talk about until the next game.
"I can even remember an away game where we won 6-0 and Big Jock was raging afterwards.
"He gave us all pelters. We were coasting 5-0 at the interval and, maybe understandably, we took our foot off the gas in the second-half.
"That didn't please The Boss. He growled at us: 'The fans pay hard-earned cash to watch 90 minutes of football – not just 45.'
"As usual, he made his point, but today's Celtic team would be happy to score six goals home or away and I hasten to add that is not a dig at Ronny Deila.
"Remember, back in my day, we had an abundance of players who could put the ball in the net. I'm talking about Stevie Chalmers, John Hughes, Bobby Lennox and Willie Wallace. Jimmy Johnstone contributed, too.
"And there was a guy called Tommy Gemmell who was more than useful from 30 yards or so.
"Today's team relies heavily on Leigh Griffiths and if he wasn't in the side there is little doubt they would struggle up front.
"Ronny is working with what he has at his disposal.
"What I can't accept, though, are people talking about the Celtic manager's job while the club still have someone in position.
"I know what I'm talking about because I understand the horrible feeling of being sacked as a manager.
"It happened to me at Hibs in 1982 and I think I must have been one of the last to know at Easter Road I was getting my P45.
"So, let Ronny Deila concentrate for the remaining months of the campaign and make sure Celtic win the Double.
"And I can have a belated celebration."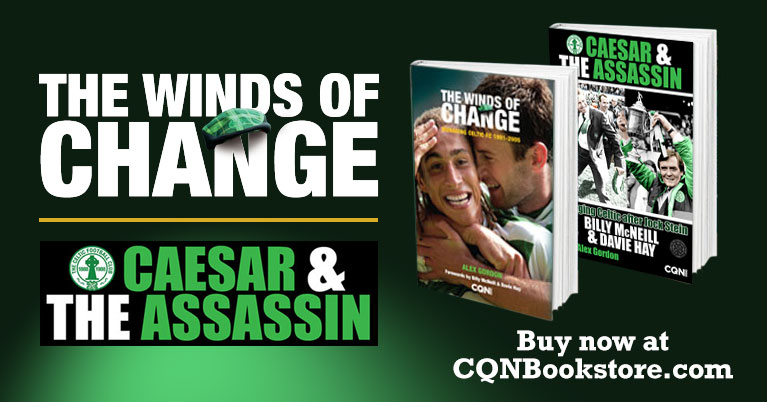 Click Here for Comments >