MIKAEL LUSTIG has apologised for his x-rated blast at unsporting Italy fans – shortly after receiving a dressing down from his wife Josefin.
And she was in the news too yesterday after posting on Instagram an exchange that she had had with a vile online troll – who are these people? You don't need to translate to get the drift of how disgusting the message is and no mother should have to read this type of hatred about her children.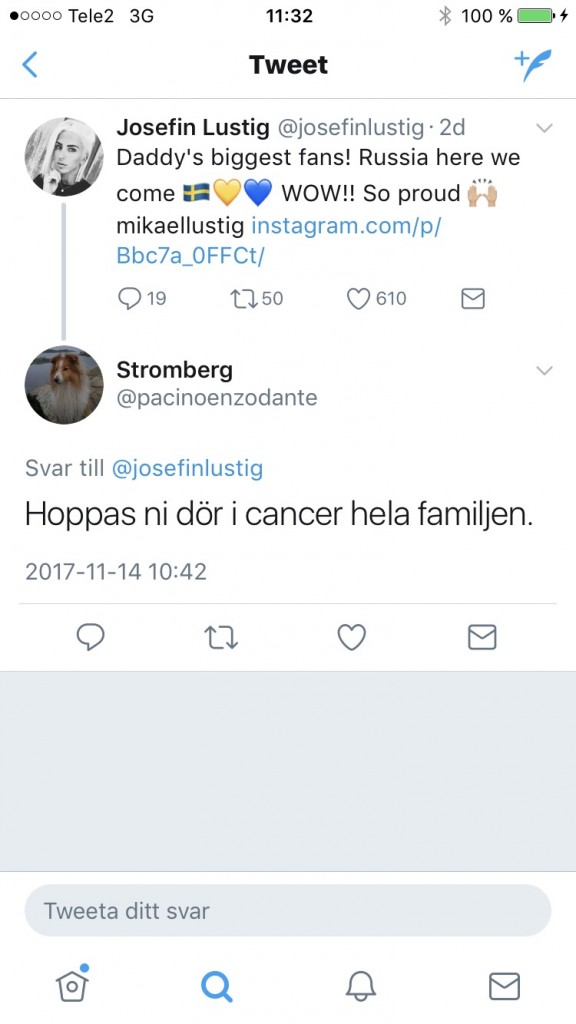 Anyway, the Celtic defender was clearly unhappy at the home supporters in Milan as they jeered Sweden's national anthem before the kick-off for Tuesday's World Cup second leg play-off.
Footage of raging Lustig's outburst went viral, but led to a slap on the wrist from his wife Josefin.
Writing in her blog, she said: "Some may have seen that Micke used a gender word after the national anthem before the match.
"Were Micke's words something I support? No.
"Is that a word that he or someone else in our family usually uses? Absolutely not.
"I have obviously talked about this with my husband. He says that it was an incredibly stupid word choice.
"But in the heat of the moment it happens that you say things without thinking. We all probably do that."
Lustig has now said sorry for his actions. The 30-year-old right-back admitted he got angry at the Italian fans and "screamed right out of frustration".
But he added: "I've been feeling very bad about this. Now I hope that we can learn lessons from this and help to remove these bad words by means of my bad example."
Lustig and his Swedish team-mates produced a solid defensive display in the San Siro as they ended the Azzurri's bid to reach Russia next summer with a goalless draw to give them a 1-0 aggregate win.
NEW FROM CQN BOOKS! JIM CRAIG – RIGHT BACK TO 67, THE LISBON LION DIARY, ORDER A SIGNED COPY NOW!
CHECK OUT SOME OF THE GREAT CELTIC BOOKS AVAILABLE AT CQNBOOKSTORE.COM…
Click Here for Comments >