DAVIE HAY took over as Celtic manager 37 years ago and kicked-started a rollercoaster four seasons in the Hoops hot-seat.
CQN has been looking back at those eventful campaigns in which the former Scotland international won the most dramatic title race in living memory and added a Scottish Cup during a turbulent period for the club.
Here is the sixth instalment from Davie Hay's excellent autobiography, 'The Quiet Assassin', co-authored by his long-time friend Alex Gordon – in another CQN EXCLUSIVE series.
WE had three games to play and Hearts, two points ahead, only had two. They were in the driver's seat. We beat Dundee 2-0 with goals from Brian McClair and Mo Johnston in Glasgow on 26 April while Alex MacDonald's outfit came so close to faltering against Clydebank, who finished bottom of the table.
It was tied at 0-0 at Tynecastle with only a handful of minutes remaining when Gary Mackay rifled a drive high into the net from the edge of the box. We had a midweek fixture against Motherwell at Fir Park to look forward to as things got extremely sweaty. McClair, who started his career at Well, flashed in two superb goals in a 2-0 triumph and now it was all down to us and Hearts on the Saturday.
The situation was simple. All they needed to do was avoid defeat against Dundee at Dens Park and the championship was theirs. They were also four goals better off on goal difference. We had to beat St.Mirren at Love Street by at least three clear goals, taking into the equation that Hearts would have to concede at least one to lose in Dundee. We also had to hope for a miracle.
And, as my mother always insisted, miracles can happen.
A nation waited with baited breath at the grand finale to an enthralling season, but Celtic went a long way to clinching that title on the FIRST day of the campaign. It's funny how people can so often overlook the obvious. We were losing 1-0 to Hearts at Parkhead on day one after my former player John Colquhoun put them ahead. Obviously, we couldn't have even guessed at how important events would eventually unfold if we didn't get something from this match. We pulverised their defence as we searched for the equaliser. It didn't look as though it was going to be our day, though.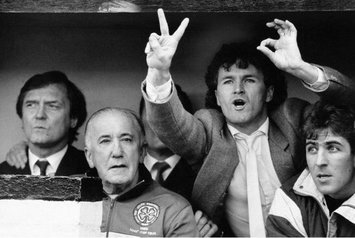 SIGN OF THE TIMES…cool customer Davie Hay (extreme left) looks unperturbed in the countdown to the incredible 1986 climax with Davie Provan letting his team-mates know it is 2-0 for Dundee against Hearts. Jimmy Steele, the club's physio, and Mark McGhee look apprehensive.
The referee was glancing at his watch when a ball was squared from the right and Paul McStay, racing towards the penalty box, struck his shot with devastating power and wonderful accuracy. Henry Smith had been a giant in goal for the Edinburgh men that August day and I realised it was going to take something extra special to beat him. Paul came up with that required ingredient with only seconds to go and we got our leveller in a 1-1 draw.
We were to discover just how absolutely vital that gem from our gifted midfielder was when we lined up in Paisley thirty-five games and nine months later.
There are defining moments in football and in life when you realise the gods are smiling on you. One such occasion arrived on the afternoon of 3 May 1986 at the city of my birth. I had watched a sports programme the night before and I was left with the impression that the trophy was as good as already in the Tynecastle trophy cabinet.
I was well up for the challenge. I told my players before the game, 'It can be done. We can win this title.' As rallying speeches go, it wasn't quite Churchillian, but it got the message through to my guys. They nodded and, once again, I detected a ruthless determination in my players.
There wasn't a quitter in sight. We were five goals ahead against St.Mirren before the hour mark and I was standing on the touchline in awe of my own team. Everyone remembers Brazil's fourth goal against Italy in the mesmerising World Cup Final in Mexico in 1970.
I'm talking about the one where it seems every Brazilian player gets at least three touches of the ball before Pele nonchalantly rolls a pass across to the right where the rampaging Carlos Alberto comes thundering in to first-time an almighty effort low past the bewildered and beaten Enrico Albertosi, the Italian goalkeeper. It was a fitting end to a glorious and memorable World Cup.
STARTER FOR FIVE…Brian McClair opens the scoring as he leaves Saint keeper Jim Stewart helpless.
Take it from me, Celtic scored a goal against St.Mirren that was every bit as good and it was just a pity that the planet wasn't tuned in to witness it. Danny McGrain, a truly world-class right-back, started it on the edge of his own penalty area. He moved the ball to Murdo MacLeod who gave it back to Danny as we were swiftly building a move down our right-hand side.
Danny shifted it inside to Paul McStay who switched it to Roy Aitken and once again the ball landed at Danny's feet. He touched it on to Brian McClair and he flashed a ball across the face of the Saints goal. Mo Johnston, lurking in the danger zone as usual, came sliding in at the back post to nudge the ball into the net. It was all done at bewildering speed and it is right up there with any goal I have ever seen scored by any side.
It was enough to win the title on its own. However, it all looked as though it was going to be of no avail. Johnston (2), McClair (2) and McStay had us 5-0 ahead after fifty-four minutes, but Hearts were hanging on at Dens Park. It had been goalless at the interval and we were in the dark about what was happening in the second-half.
We didn't have a radio in the dug-out as I didn't want any distractions and, remember, these were also the days before mobile phones.
THAT CHAMPAGNE FEELING…Danny McGrain and Roy Aitken celebrate.
After eighty-three minutes at Love Street, we were coasting to what might have been an impressive, but ultimately meaningless, victory. Then something quite amazing happened. I remember their keeper Jim Stewart had the ball in his hands and was about to launch it downfield when a huge roar came up from the terracings. He looked startled for a moment. Our fans were going doolally.
We all knew what had happened – Dundee had scored. I knew there were two players named Kidd on the pitch that afternoon, Hearts' Walter and Dundee's Albert. I was told Kidd had scored and, by the reactions of our support, I didn't have to enquire which one.
There was unconfined joy as the fans danced jigs everywhere and then there was another massive cheer.
Dundee had scored again. The title was ours! Albert Kidd had netted a second and that was that. Hearts had slipped up, but, all credit to them, they made it one helluva championship run-in. I always liked Albert Kidd, by the way.
OUR HEROES…the Celtic players are congratulated by young fans after the final whistle at Love Street.
He was signed by Ally MacLeod from Arbroath and played for me at Motherwell. I could never have guessed the landmark role he was to play in my career.
I must state here and now that we were not lucky in being crowned Premier League kings. The league race, as is so often claimed, is a marathon and not a sprint. The best team over thirty-six games deserve to be the winners. It was tight, but we were the champions on merit. We were the league's top scorers with sixty-seven goals.
We were locked on fifty points with Hearts, but, in goal difference terms, we were plus twenty-nine and they were plus twenty-six. That was the winning margin.
TOMORROW: The return of Davie (Part Seven)
Click Here for Comments >