STEVEN GERRARD has made some remarkable comments following the Ibrox side's 2-1 loss against Celtic at Parkhead this afternoon.
The Govan gaffer watched as Alfredo Morelos was red-carded for the FIFTH time this season after an elbow to Scott Brown's jaw just after the half-hour mark.
Ryan Kent escaped similar punishment when he fired a left fist into the face of the Hoops skipper following the champions' second goal.
And defender Andy Halliday picked up a second yellow card after the game following another rumpus involving the Parkhead midfielder.
Gerrard saw his team's season come to a halt as they slipped THIRTEEN points behind Neil Lennon's team who are now within seven games of their eighth successive crown.
Incredibly, the rookie gaffer, who will end his debut campaign in Scotland empty-handed, claimed his players were antagonised by their 33-year-old opponent.
Gerrard believes BOTH sides need to be punished following a dramatic confrontation which saw Kent wipe out Odsonne Edouard's first-half opener, but James Forrest struck the decisive goal in the 86th minute.
The club will now fine Morelos who faces at least a four-game suspension while SFA retrospective action will be taken against Kent. Halliday, too, will be disciplined by the SFA.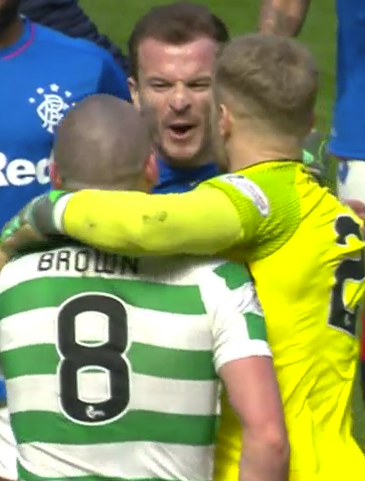 GROWLER…Andy Halliday gets in Scott Brown's face at the end.
Gerrard, speaking to Sky Sports News, said: "You're playing against a player who loves to antagonise. Morelos and Kent are both provoked.
"Celtic fans have the right to celebrate, but to do it right in your face, Halliday has the right to protect his own people.
"The guy who antagonised it all from the beginning deserves to be punished, as well. When you're provoked, it's only fair that both sides get punished in my view.
"We've hurt ourselves badly this season with a lack of discipline. I've given my players the benefit of the doubt on too many times.
"The gap was already big and it's even bigger now. The buck stops with me and I'm ready for that. We will move forward from this and try to finish the season as strong as we can."
Brown said of the first-half flashpoint: "He gave me an elbow and you can't do that in modern-day football, the amount of cameras there are.
"It was all about us today. It's about our performance. We dictated play in the first-half and in the second we had to dig deep."
When asked about the Kent confrontation, Brown said he could not recall it and when pressed on his altercation with Halliday, he added: "He came up to me at the end to congratulate me."
Click Here for Comments >