CQN today continues our EXCLUSIVE extracts from the book by the late, great Celtic legend Tommy Gemmell, 'All The Best', co-authored by Alex Gordon.
Today, the Hoops icon reveals all about the time when fellow Lisbon Lion Bertie Auld knocked back the Dundee manager's job – and put forward his former Hoops team-mate as a candidate.
Here is the real story behind Gemmell's move into football management, told in Tommy's own words.
FOOTBALL chairmen and directors often have the backbone of a banana. So, it is to the credit of the Dundee board that they afforded Jimmy Johnstone the opportunity to relive the glory days. A lot of boards, realising the Wee Man's wayward, carefree reputation, wouldn't have even considered it.
If that jigsaw had come together – and Jinky had behaved himself – it could have been a marriage made in heaven.
Football is loaded with fairy tales. Sadly, this wasn't one of them.
Over the years, thankfully, I didn't have too much hassle from my respective boards at Dundee or during my two stints at Albion Rovers. When I became a manager first time around at Dens Park, I made it clear I didn't want any interference in team matters. I wasn't one bit interested in anyone else's input. I had seen it, of course, at Celtic before Jock Stein arrived in 1965. Pre-Big Jock, chairman Robert Kelly selected the line-up and team boss Jimmy McGrory had no say in the matter.
I wasn't having any of that. If I thought someone was butting in to a territory where they were most unwelcome, I would have a quiet word with them. Normally, it would go along these lines, 'You want to be in charge? That's fine. I'll just quit here and now. You can take the training. You can pick the team. And you can select the effin' tactics.' Remarkably, it did the trick every time. They backed off to where they belonged and I got on with my job without any silly suggestions from unwanted quarters.
My old mate Brian Clough was talking to me at a sporting function in Nottingham one evening when I was at Forest and he was manager of Derby County. He asked me, 'Are you interested in getting into management, young man?'
I told him it was something that had a certain appeal and he warned me to always remain on my guard.
HEAD MASTER…Tommy Gemmell in action during his Dundee playing days.
He said, 'Most directors are shithouses and backstabbers who would have given Julius Caesar a good going over!' Then he laughed and added, 'The authorities often ask about football hooligans. Well, there are ninety-two chairman, for a start!'
In his autobiography, the great Len Shackleton, a goalscorer who attained legendary status at Newcastle and Sunderland in the forties and fifties, once devoted a chapter entitled 'What Directors Know About Football'. Under the heading, there was a blank page.
Actually, there are guys who sit on boards up and down the country who do know a little about the game. But, as they say, a little knowledge is dangerous. I may not be in a dug-out these days, but I am still a firm believer that a manager must be allowed to manage. As simple as that. You are brought to a club for your expertise by owners, chairmen and directors who must believe you are the right man for the job in the first place. And then they want to do it for you. Doesn't make much sense, does it?
We all know it's a precarious job and we carry the can when things don't quite go according to plan. When did a chairman ever sack himself for getting it wrong? That would be a first. Some clubs change their managers with the frequency most people change their socks.
Mind you, I don't think there will ever be a quicker sacking than that of former West Ham player Leroy Resenoir in May 2007. He lasted TEN MINUTES as manager of Torquay United. No sooner had he been unveiled as the team's new boss when he was told that the club had been bought by a business consortium and his services were no longer required. Everyone realises it's a results-driven business, but spare a thought for poor old Leroy – he didn't even get a chance to lose a game!
I went into the job with my eyes wide open. I was well aware of the pitfalls. For a start, the manager who had brought me to the club was Davie White and he had just been sacked. The team had missed out on a quickfire promotion back to the Premier League and the board had been ruthless.
Remember, Davie White was a manager who had won the League Cup – with me as his captain – in December 1973 when we beat Celtic, of all clubs, 1-0 in the final. It was the first major piece of silverware the club had picked up since the heady days of the 1963 title-winning team that contained such players as Alan Gilzean, Ian Ure, Alex Hamilton, Andy Penman, Gordon Smith and Bobby Cox.
The club had been a decade in the wilderness until White arrived after being sacked as manager of Rangers. In 1973 the club also finished fifth in the Premier League and won a place in the UEFA Cup where, unfortunately, we failed to make an impact.
Three years later Dundee were relegated on goal difference after finishing with thirty-two points, the same total as Aberdeen and Dundee United. St.Johnstone had already lost the survival struggle weeks before the end of the season. It was as tight as that. But the directors made it fairly obvious that the team's stay in the second tier was to be a brief one.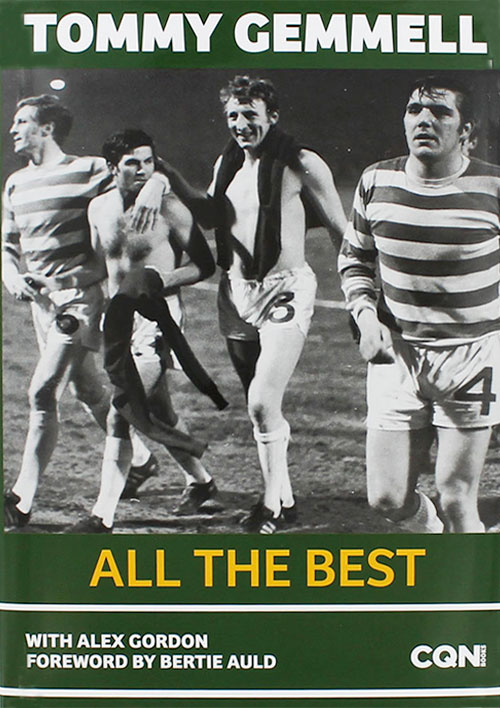 Their mantra was, 'We're a Premier Division team playing in the First Division.' Unfortunately, that made Dundee a target for other clubs round about them. A game against us was one of the biggest of the season and our opponents were well primed for those occasions. At the end of the campaign, in which I was playing in central defence after admittedly losing a yard or so of pace at the age of thirty-two, we finished third. We were eleven points behind a very good St.Mirren team, managed by a certain Alex Ferguson, and seven behind an extremely competent Clydebank.
I was on holiday in Majorca when I received the news that Davie White had been given the sack. It was a sad ending to an adventure that had promised so much only four years earlier. That's football, though. Just look at Manchester United. They won the European Cup in 1968 and were relegated in 1974. Now that's what I call a fall from grace.
As I travelled back from my vacation, I had no thoughts about becoming manager of Dundee. Take it from me, there was no skullduggery behind Davie White's back. I liked the man and used to socialise with him and Willie Henderson on the odd occasion. As a matter of fact, Ian Gellatly, the Dundee chairman, asked me for a recommendation about who should become the club's new manager.
I didn't have to think too long. I put forward the name of my good friend and former Celtic colleague Bertie Auld. There was no reason for doing so other than I knew Bertie was doing a marvellous job with no money to spend at Partick Thistle. I was asked to phone Bertie which I did.
Naturally, Bertie was interested in talking to Dundee to see what was on offer. I arranged to meet him at my hotel in Errol. Bertie asked me what to expect from the directors, their ambitions, their hopes, their plans and so on. When he had his interview with the board, he knew fully what to expect.
Bertie went to meet the directors at the sprawling home of Gellatly. According to Bertie, the chairman asked him, 'What do we need to do to make you manager of Dundee, Mr.Auld?' Bertie replied, 'Buy me a house like this for starters!'
READ ALL ABOUT…Bertie Auld poses with the European Cup and a copy of his autobiography, 'A Bhoy Called Bertie', co-authored by Alex Gordon, Tommy Gemmell's biographer.
Bertie's move from Maryhill to the City of Discovery never materialised, of course, but his meeting with the board had massive consequences for me. Before he left Gellatly's palatial home, my pal said, 'I don't know why you are talking to anyone else when you have your next manager on your very own doorstep.'
He was asked to identify the individual. 'Tommy Gemmell's your man. He's the guy you want.' Somehow the story leaked to the press that Bertie was wanted by Dundee. (My wee mate had plenty of pals in the media – that's all I'm saying.) Partick Thistle, alarmed at the prospect of their manager leaving them, immediately gave him a pay hike. Me? I got an interview and got the job. Now for the hard bit.
I had been told there was no money to spend, so, on that score, the board had been completely up front. There had been no false promises. They also wondered if I would combine playing with managing. I gave that some serious thought. After a couple of days I informed the board I believed it would be best all round if I concentrated one hundred per cent on management.
To be honest, I thought I could have played on for another couple of years, at least, but I could see there would be huge problems in twinning the jobs. For a start, as a manager I could give someone a bollicking at half-time if I didn't think he was pulling his weight. How, though, could I criticise someone else if I was having a stinker myself? And who was going to give me a boot up the backside?
No, it had to be one or the other and I had made my choice; I would be the manager.
TOMORROW: Tommy Gemmell reveals his first steps into management.
Click Here for Comments >