CELTIC'S best player so far in 2018 has been French midfielder Olivier Ntcham. With squad numbers low and reducing all the time it seems – Leigh Griffiths and Craig Gordon the latest two players to be ruled out for a period of time – it is a crucial stage in the season for Celtic as they seek to maintain their 11 points lead at the top of the table.
Two narrow single goal victories against Partick Thistle (2-1) and Hibs (1-0) have brought in six points – but not without a substantial cost. Griffiths, whose two goals won these points, only played 45 minutes at Firhill when he was introduced to turn things around at the break. On Saturday his game was over after 20 minutes when his calf injury returned.
By that time Celtic were one up, it should have been two had Scotty Sinclair not managed to miss the sitter of the season, and Moussa Dembele came on for his first action of the year.
The French striker was out of sorts and although he didn't hide at any stage, nothing seemed to go right for the player that Celtic will now not sell in this window. Moussa has to re-capture the sparkle that made him one of the hottest young prospects in European football last season. And with Griffiths likely to be out for at least 3 weeks, he is going to have to step up to the plate.
Ntcham spoke about Moussa after the 1-0 win, recognising that his close friend had had a difficult afternoon. He also gave an explanation as to why this was the case and revealed that any criticism coming his way won;t worry Moussa in the slightest.
"Every time you play you get better," Olivier said.
"If you don't play it is a little bit difficult to come into the game and start the game. You have to get the rhythm.
"But I speak with Moussa all the time and everything is fine. He is nice and relaxed.
"He doesn't listen to what is being said about him. He just concentrates on what is happening on the pitch. That is it. If you start to worry about what is being said you lose your head.
"You have to be focused on the pitch and that is it. I think his focus is strong. When you have pressure on you that means you are doing good work on the pitch.
Referring to the enforced lay-off for the Scotland strike following his calf injury, Ntcham reckoned that his mate will be leading the line for Celtic beyond the transfer window as he is going nowhere for now.
"It is not about Leigh now, it is just about Moussa. He is a young player and I think he is feeling good here.
"For me, he is here and he is going to be here until I don't know when but this season anyway. He is my friend and I believe in him."
Ntcham was sympathetic towards both Griffiths and Gordon and revealed that the players were on a low after the win against Hibs due to these two injuries.
"I am disappointed for him because when he came on in the last game he scored and then he scored again on Saturday. It is disappointing to lose him again now," Ntcham said.
"I think we have a good squad. If Leigh is injured we are a little bit disappointed, but Moussa and Edouard can come in and lead the line. It is good for us."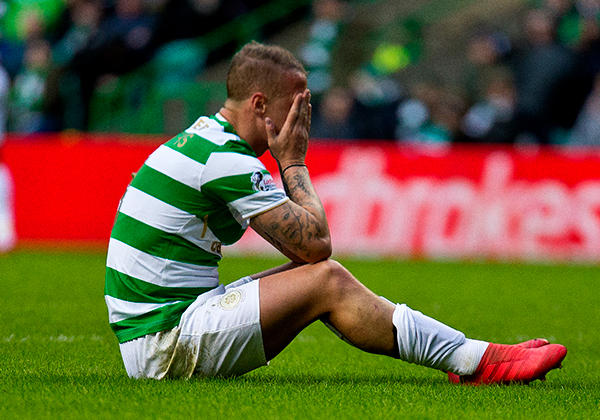 "Everybody was disappointed after the game. Craig been an important player for Celtic this season. He will be a miss it's true.
"He's a good goalkeeper. Every time we are in trouble in a game he makes a save. He has helped us a lot."
Holding out for the points after the injuries disrupted Celtic was important.
"I think it was a good result, but I think in the game we can improve a little bit and keep the ball a little bit more.
"But it was a good result for us. Everybody is happy."
Next up of course is Hearts at Parkhead tomorrow and the Frenchman reckons that this is a chance to put things right after the 4-0 mauling Celtic took at Tynecastle in December on a day when nothing went right for the team.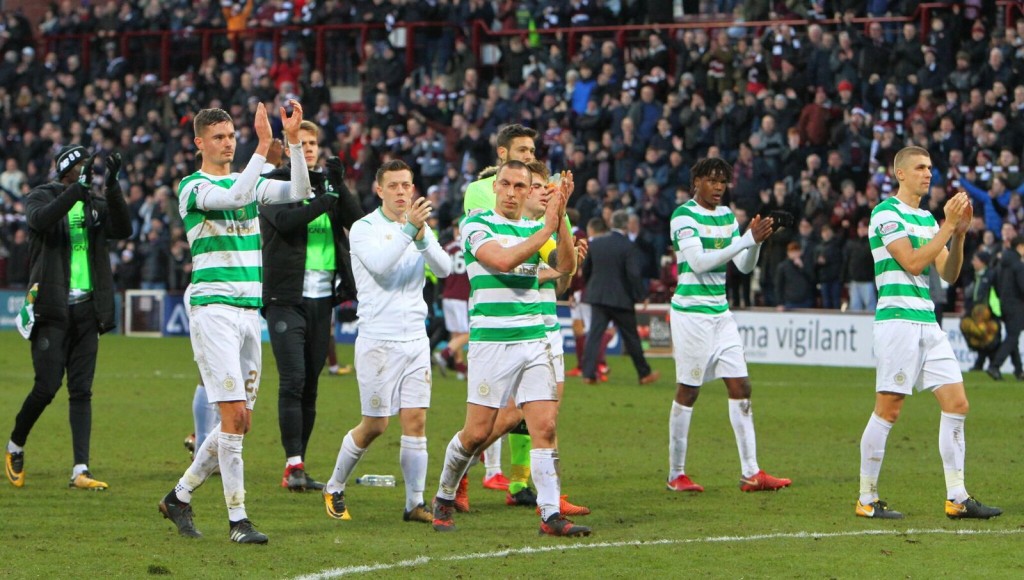 "It is important for the team and for the supporters as well that we beat Hearts after the defeat the last time we played them.
"Sometimes it is good to lose. When you lose you learn. So it is not bad. Sometimes it is like that.
"Sometimes everything is good, sometimes everything is bad. We have to take it and learn from it.
"What did we learn from it? If you don't play 100 per cent you can beaten. I think in this game they want to win more than us.
"I feel better. I am a little bit tired but that is normal. I feel better on the pitch now."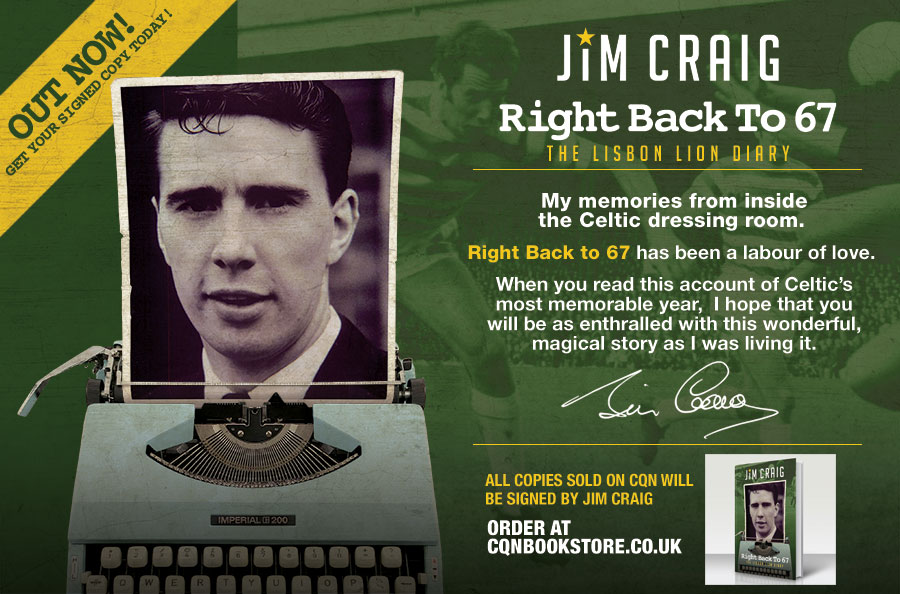 Order Jim Craig's new Lisbon Lion Diary – Right Back to 67 from CQNBookstore.co.uk and you will receive a signed copy from the man himself plus a FREE copy of That Season in Paradise – Ten Months of Celtic Heaven signed by fellow Lisbon Lion Bertie Auld! Simply order Jim Craig – Right Back to 67 and the second book will be sent automatically. Stocks are running very low so hurry! THIS DEAL WILL END IN A FEW DAYS!
Click Here for Comments >