MARTIN O'NEILL has revealed he still has NIGHTMARES over Celtic's loss to Porto in the 2003 UEFA Cup Final.
The former Hoops boss admitted he will never get over the defeat to Jose Mourinho's outfit – or the league clincher at Rugby Park four days later.
A goal from Derlei five minutes from the end of extra-time gave the Portuguese the European silverware after Henrik Larsson had scored twice for O'Neill's side.
And, despite winning 4-0 at Kilmarnock on the last day of the season, Celtic surrendered the championship by the slenderest of margins on goal difference to Rangers, who beat Dunfermline 6-1 at Ibrox on the same afternoon.
O'Neill, though, still has vivid memories of the evening against Porto when his team ended the game with 10 men after Bobo Balde had been ordered off.
He recalled: "Their goalkeeper, Vitor Baia, went down with about five minutes to go and didn't know which part of his body to clutch just to waste time. I've never forgiven it.
"Listen, they had about FOURTEEN doctors going on to look at him.
"With 70,000 Celtic fans descending on Seville, it was really heart-breaking to lose that Final in extra-time.
"Then we lost the league against Kilmarnock in the last day of the campaign when we got four, but should have won by six or seven.
"We didn't and Rangers got a result elsewhere and they won the title.
"I still waken up and feel really bad about it. These two moments seem to outweigh everything else I have achieved.
"They say you learn more in defeat than in triumph, but I'm not so sure if that's true.
"When I look back on my time at Celtic now, we won the Treble in my first year and that was absolutely terrific.
"It even feels good now. Jock Stein did it, of course, and he's the greatest manager the club have ever had.
"So, to follow in his footsteps and do something like that was just terrific.
"Funnily enough, though, the memory that still sticks out the most is that defeat against Porto."
O'Neill, who won three league titles, three Scottish Cups and one League Cup between 2000-05, admitted he treasured his stay at Parkhead.
He said: "I absolutely loved it at Celtic. It was a delight to be there for five years.
"I had a really great time and life in Glasgow was great, too.
"I'm from Northern Ireland, so the weather was kind of the same. You could open your window in the morning and not know if it was June or October!
"Glasgow is a city of culture. I can honestly count on the fingers of one hand the amount of times I was verbally abused by Rangers fans in the streets.
"It was a different matter when you went to Ibrox, of course. A TOTALLY different matter.
"But it's a great city and I loved almost every minute of it."
Celtic, of course, are missing in action as another European week kicks off tonight.
Ronny Deila's men failed to qualify for the Champions League for the second consecutive season and finished last in their group in a disastrous Europa League campaign.
And O'Neill thought he got it bad 13 years ago in a campaign that saw memorable victories over the likes of Liverpool, Blackburn Rovers, Celta Vigo and Stuttgart en route to Seville!
—————————–
CQN SPECIAL OFFER!
We have reduced the price of a selection of our Celtic books on CQNBookstore.com
The Winds of Change and Caesar & The Assassin are reduced to £13.99 each, Seville The Celtic Movement and The Quality Street Gang are now only £9.99 each. The Jock Stein book, Willie Wallace & Tommy Gemmell's books are all just £6.99 each.
Order ANY one of these and we'll send you a copy of the 2015 CQN Annual absolutely free and we may add a wee something to enjoy when you're reading!
Order now at www.CQNBookstore.com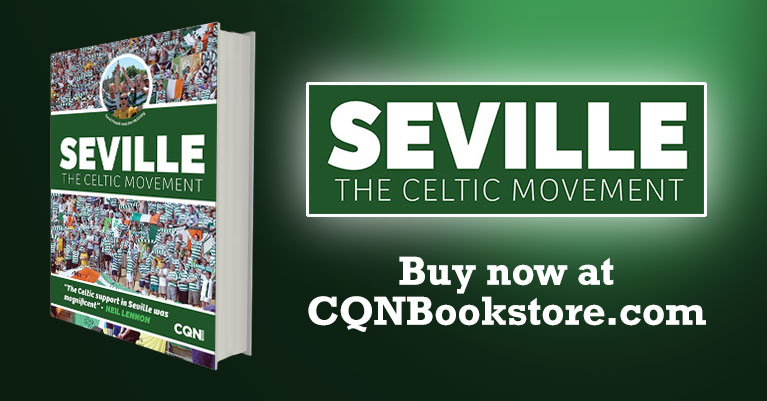 Click Here for Comments >